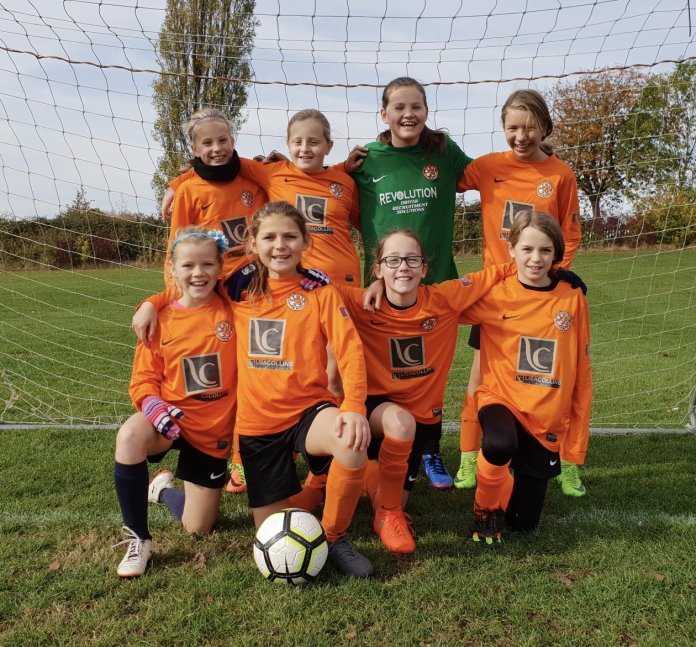 An absorbing game of football which ebbed and flowed one way and then the other. Rugby started the brighter and were soon on the attack to force their way through the Anstey defence. A couple of chances went to Melissa, who was causing them all sorts of problems with her quick movement. One was struck just wide and the other hit the post.
Anstey were relying on quick breaks from defence and from one of these attacks they found an Anstey forward who outran the Rugby defence to open the scoring. Back came Rugby and once again it was Melissa with the chance to cut inside the Anstey defenders and make no mistake from close range. The game opened up even more after this and both teams made chances before Anstey again took advantage of the Rugby defence not clearing their lines from a corner, to go into half time with a slender lead.
The second half kicked off very much like the first with both teams making chances. Up front, Melissa was still causing the Anstey defence problems aided by the good midfield play of Jasmine, Lila and Holly. However chances were not converted or goal bound efforts were saved by the excellent Anstey keeper. Although not having much luck in front of goal they once again hit the post before eventually Melissa converted.
This brought about a change in play as Anstey started to dominate the midfield and test the Rugby defence of Marley, Rosie and Katie for a sustained period. They were aided by the shot stopping of Jenna when the Anstey forwards did get through. Rugby got over this rocky phase and started to exert themselves again and the Anstey keeper pulled off some tremendous saves to prevent further goals going in for the hosts.
 It was looking very much like a stalemate when, from a Rugby corner, the ball was lost on the edge of the Anstey penalty area and quickly fed forward to their striker who got round the back of the Rugby defence to deliver a hammer blow. Rugby tried to take the game to Anstey but as their last chance went past the post the referee called time on a very good game.
The girls can see and feel that this league is providing a tougher and more physical environment than last years. I am sure the girls will re-adjust to this but we just need to keep faith in what we are doing in training and bring this to match days. All our games have been close affairs, so we are not far off getting back to our best.
Parents player: Melissa – Coaches player: Marley