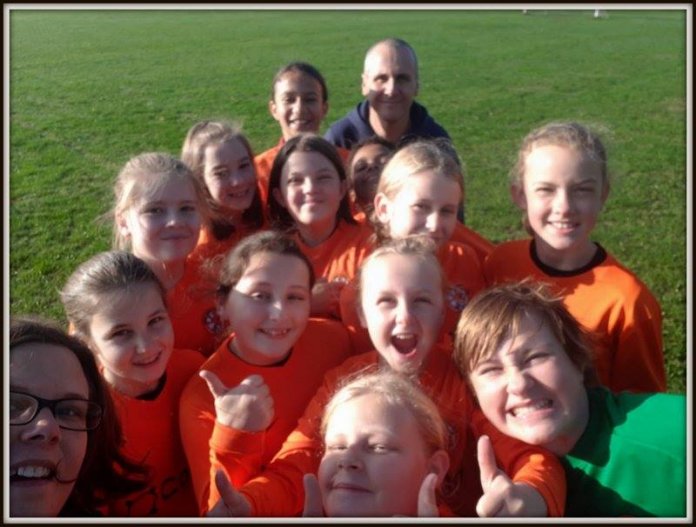 Sponsors: Lisa Collins Hair Design and Caring Help At Home Ltd
Rugby Town Squad: Ellie A, Ella (C), Hannah, Erin, Kelsey, Evie, Sophia, Izzy, Tash, Ava, Elle J, Mia
After the International Break (aka – chucking it down last week!), Rugby were keen to continue and improve on their impressive league form so far this season. A full squad of 12 gave us options and the benefit of fresh legs against the smaller Cosby Squad.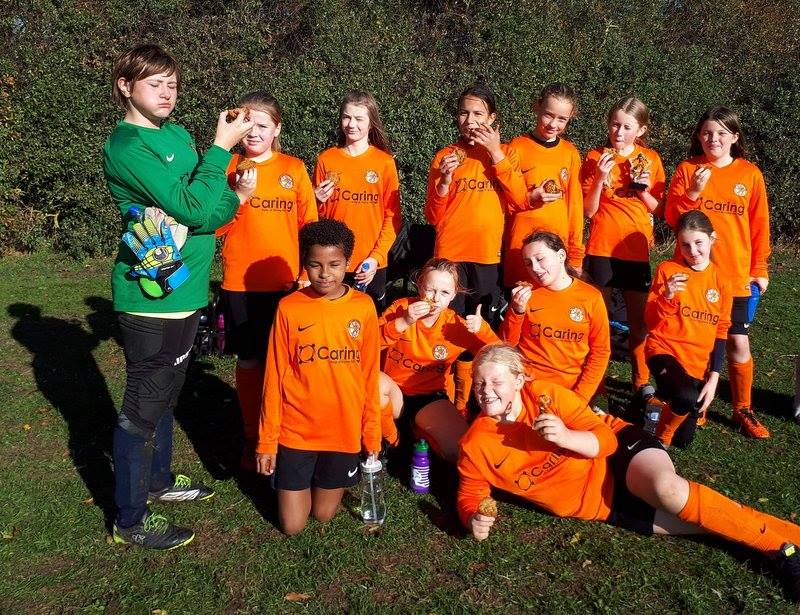 1st Half
Cosby were quick of the mark and immediately displayed impressive attacking pace, something Rugby were going to have to get a grip of quickly. Cosby produced an early shot on goal, easily handled by Sophia. This attacking mentality rattled Rugby who struggled a little in the first 10 minutes to find their flow.
Tash provided some great throw ins on the wing, which allowed Rugby to gain some ground. However, Cosby were always there to make a tackle or secure a loose ball. With possession, Cosby were lightning fast, forcing Izzy to make some very important moves in defence. Izzy had a very good half, showing an ever increasing confidence in 1 on 1 situations.
Ella, our left back during the first half was caught on the hop a few times early in the first half. However, she quickly got the measure of the fast Cosby attack and did well during the rest of the half to position herself well to clear as many of the Cosby threats as possible.
Rugby slowly found their game, and showing good pace and game awareness; Ava released a great ball to Kelsey who finally had a chance to run at goal. The shot was cleared by Cosby for a Rugby corner.
Hannah stepped up and delivered a powerful shot across the goal, unfortunately Rugby could not connect with the ball, but their confidence was now growing. However, never a team to miss an opportunity Cosby gained possession, charged on mass at the Rugby goal, and released a shot that Sophia did well to control. Rugby really had to keep their wits about them to handle the Cosby counter attacks.
Goal kick and Rugby pushed forward, assisted by Ava and Tash, and another shot on goal just wide. Predictably, Cosby were now back on the attack, but this time beat the Rugby defenders. Luckily, their shot was just wide of the Rugby goal. Cosby were having an exceptionally strong spell, and another shot a minute later just rattled the Rugby far post.
Rugby were now under significant pressure and had to work to turn the game around. Hannah and Tash took a couple of throw ins apiece, both delivering the ball well. Rugby, again making ground, were turning the tables on Cosby.
Rugby won another corner, with Hannah again stepping up. Cosby pulled all their players back for corners, which lead to a very crowded goal mouth, making any chance of scoring very slim indeed. Into the last 5 minutes and Rugby had found their feet and were giving Cosby a run for their money.
Ava over on the left wing had really settled into her role and was making some very fine tackles and provided excellent balls to the Rugby forwards. Kelsey again managed an excellent run and Ava moved up into a perfect position to the left of the Cosby goal. Kelsey crossed a beautiful ball in from the right and Ava just missed the connection. Had the ball found the net, this would have been the move of the game.
Rugby won a corner in the dying seconds of the first half, after another fine delivery by Hannah, the ball found itself at a surprised Kelsey's feet who just shot wide.
2nd Half
All change, with only Kelsey and Sophia staying in position for the second half. The team now banked on 5 pairs of fresh legs providing an advantage over Cosby.
Mia took her position in defensive midfield in her first game this season back from injury. It was like was never away, and Mia displayed excellent desire and tenacity throughout the game. Involving herself in the heavy midfield action without any hesitation.
The second half had a different feel, with the pace a little slower but with much harder tackles being delivered by both sides. Ellie A, in defence, had an excellent game, provided a strong and stable presence in the right back position. Erin also had her best game yet, getting into the action and really pushing tackles to gain possession and clear with penetrative passes up field.
Rugby were awarded a free kick, for yet another heavy and clattering tackle which saw Kelsey on the floor. Mia took the kick, which went out for a GK.
Evie, on the right wing, is always absolutely consistent and dependable. Her work rate was excellent, and her positional play, insightful. If the team can get the ball to Evie in the space she finds, there would be goals aplenty!
Elle J was working the left wing well, but some heavy tackles in recent weeks has seen her confidence knocked. With a bit of encouragement, I could really see her facing her fears and involving herself heavily in the midfield action.
A Cosby attack saw Rugby scramble a little in the goal mouth, and Sophia losing the ball from her hands. Ellie A, spotting the danger, shot in, turned and cleared the ball out right for a throw in.
Rugby conceded a couple of corners towards the end of the 2nd half. They were well defended, with Sophia placing her team well. Ellie A stuck herself right between the corner taker and the goal, and her height and confidence served her well, distracting the corner takers.
Rugby had 3 thrown ins on the bounce which gained over a 3rd of the pitch, putting them in a much better attacking position. Kelsey and Elle J joined up and some fantastic teamwork saw a very dangerous charge on the Cosby goal. Only some excellent defending from the last Cosby player denied Rugby a clear shot on target and a certain gaol.
Summary
Cosby United 0 – 0 Rugby Town
A 0-0 draw was a fair result for this very equal, but hard fought game, from which we will happily take a league point.
Rugby fell back on a few, what I call, desperation passes (mainly hoofing the ball in any direction), when put under pressure. We will work on how to handle attacking pressure again this week in training. Overall, a good performance, with the second half being more productive in terms of Rugby attacking play.
6 games unbeaten, the team continue their very impressive league run!
Well done Rugby Town Girls U12s!
Thank you Tash for the excellent cake!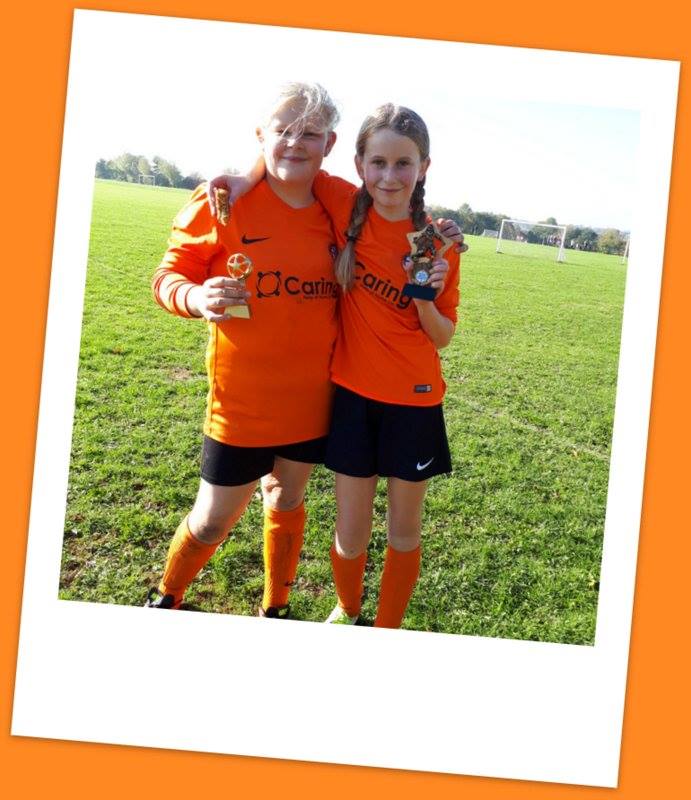 Coaches Player of the Match – for an amazing performance in her first match of the season after returning from injury: Mia
Parents Player of the Match – for superb defending and commitment to the game: Ellie A