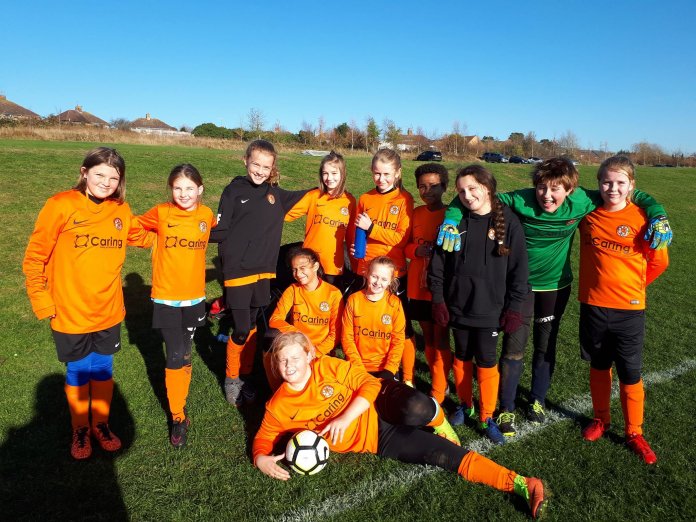 Rugby Town Girls U12s vs Measham Welfare U12s – Sunday 18th November
Sponsors: Lisa Collins Hair Design and Caring Help at Home Ltd
Rugby Town Squad: Ellie A, Ella, Hannah, Erin, Kelsey, Sophia, Ava (C) , Elle J, Mia, Izzy, Evie, Tash
A full squad of 12 arrived at a gloriously sunny Kilsby Lane, keen to play some good football and continue this seasons unbeaten run. We welcomed Measham Welfare U12s, who we played away in the opening game of the season
1st Half
Evie and Ava started strongly and showed the beginnings of a great partnership from the whistle. Rugby kept the ball moving well and were clearly keen to gain the early ascendancy. A slightly slower paced first half usual, allowed Rugby to retain possession and use the pitch space well.
A long ball from Measham was easily gathered up by Sophia. A good goal kick out found Tash who moved up pitch before delivering a very sweet, smart and clean pass to Ava. Who, with a cool head, easily tapped the ball past the Measham keeper.
Rugby 1 – 0 Measham
From the restart, Rugby continued to press the Measham midfield and defence. Ava was making the best use of the space she was allowed on the left wing, and made a number of fine runs. One of these resulting in an Measham clearance and corner for Rugby.
Hannah was our corner taker for the first half and delivered them all very well. This first one was a barnstormer, straight across the goal mouth, sadly, no Rugby player could get their toe on it and the ball shot out for a Measham throw in.
Ella and Erin had a good half in defence. Erin is really coming on well in her first season on football. Her confidence is growing and she is now putting herself well in the mix for tackles. Ella is a great support for Erin and ensures she drops back and covers when Erin is in the action. Ella made a number of very good clearances during the game, and was her usual calm and dependable self.
Hannah showed exceptional game awareness today with great covering play in her experienced defensive midfield position. Hannah and Tash, over on the right wing, were drumming up some good play between them, reading the game well and combining passes to beat the opposition in midfield.
Ava and Evie continued to cause Measham trouble up front, winning another corner for Rugby. It was scuffed clear by Measham but well collected again by Ava, who had a good run up the spacious right wing this time and just shot wide.
Play continued, with Rugby mainly keeping possession and dictating the game, the forward Rugby players displaying great determination and drive to run at the Measham goal. There were only a couple of times Measham threatened the Rugby defence but Ella, Erin and Sophia dealt with any attack without fuss.
Rugby gained a few more throw ins during the half as well as several corners, Measham did well to stem the flow of attack. The last five minutes saw quite a bit of action with Ava just shooting wide of the right hand post before play moved into the Rugby half.
Measham won two corners in quick succession, the first easily cleared by Hannah and the second well saved by Sophia. The ball was quickly released to Ava, who enjoyed another great run back up to the Measham goal and only being denied a goal by the cross bar as the half time whistle blew.
2nd Half
5 changes saw only Sophia and Evie staying on from the first half. Five pairs of fresh legs are always a trade off against settling into the game, but this tactic has served us well so far this season. However, Rugby were a little on the back foot in the first few minutes and Measham seized the opportunity of some haphazard defending from Rugby and evened the score
Rugby 1 – 1 Measham
The equalizer jolted Rugby into action and it was game on! Ellie A was straight into the action with some cracking long distance and powerful throw ins, finding Kelsey, who shot off up field, just poking the ball wide of the post.
Shortly after, a Rugby corner delivered now by Ellie A, with Mia dropping back into defence to cover, saw Kelsey just missing the connection and the ball booted clear by Measham.
Mia had a strong game today in midfield, her determination to not let Measham attacks through was obvious, her play brilliantly blunt and to the point. Another corner and another delivery by Ellie A to Elle J, with a soft connection which was saved by the Measham keeper. 2 more Rugby corners in quick succession saw Ellie A kept busy but did not prove fruitful for the Rugby side.
Rugby are starting to find that putting pressure on the opposition from goal kicks really can pay dividends and the positivity in this style of play is now well displayed. A slow goal kick from Measham was well intercepted by Kelsey and now 1 v 1 with the keeper, had no issues putting the ball into the net.
Rugby 2 – 1 Measham
Measham kept trying to push Rugby back, but Rugby worked well and very cohesively dealt with the pressure. Rugby were very quick on the counter attack, and were now seeing that a fast turn of pace could see Measham caught out at the back. A clear and on target clearance by Ellie A over the Measham midfiled, found Kelsey, who beat the defender and found another 1 v 1 with the keeper and another goal!
Rugby 3 – 1 Measham
Rugby were enjoying their football now and the counter attacks were coming thick and fast. A great clearance by Izzy to Elle J who made huge ground up field before releasing to Kelsey who just shot wide. Measham tried to turn the pace back on Rugby but unfortunately for them Elle J was lying in wait. A goal kick interception by Elle J leading to Rugbys 4th
goal
Rugby 4 – 1 Measham
The rest of the half continued with waves of Rugby attacks that Measham could do little about, despite battling really hard in midfield. Kelsey hit the post several more times during the second half and Elle J shot wide.
Mia delivered 3 great throw ins, allowing Rugby to stay camped in Measham territory, frantically trying to clear the ball. The final throw in of the set found Elle J, who provided a number of exceptional assists today, to find Kelsey to slot home Rugby's 5th goal
Rugby 5 – 1 Measham
Elle J, having a great spell, passed an excellent ball to Kelsey who just caught the cross bar, the ball falling to Evie, just missing the connection to score. Very disappointing for Evie who, throughout the entire game, seemed to have a sixth sense in regards to where the ball and her team mates were going.
In the first half, Evie mirrored Ava's play and found space to receive, and pass through balls onto goal. During the second half, Evie again found some excellent positions from some very intelligent and well thought out runs. As in previous games, if the team can get the ball to Evie a few more times, I have no doubt she would be knocking goals in for fun.
In the final 5 minutes, Rugby kept up the quick pace and refused to sit back and defend their lead. Ellie A again feeding some great balls from the back, allowing Kelsey to collect in acres of space, facing the goal keeper unsupported and scoring Rugby's 6th of the game
Rugby 6 – 1 Measham
A fired up Rugby kept going right to the end and maintained the enthusiasm for a 7th Rugby goal, and 4th from Kelsey in the last minute.
Rugby 7 – 1 Measham
Summary
Rugby Town 7 – 1 Measham
Rugby were denied a number of goals by the woodwork but still put in a very strong performance today. Positional play by all players was very good today. Passing of the ball is improving, especially as the team worked to get the ball up front. The numerous corners were also all taken very well.
A very good all round display by the U12s resulting in an eighth game unbeaten.
Coaches Player of the Match – for 100% effort and superb positional play throughout the game: Evie
Parents Player of the Match – for commitment, attacking play and bagging 4 of the goals: Kelsey
Thank you to Jake for refereeing our game.
Thank you to Tash for the cakes