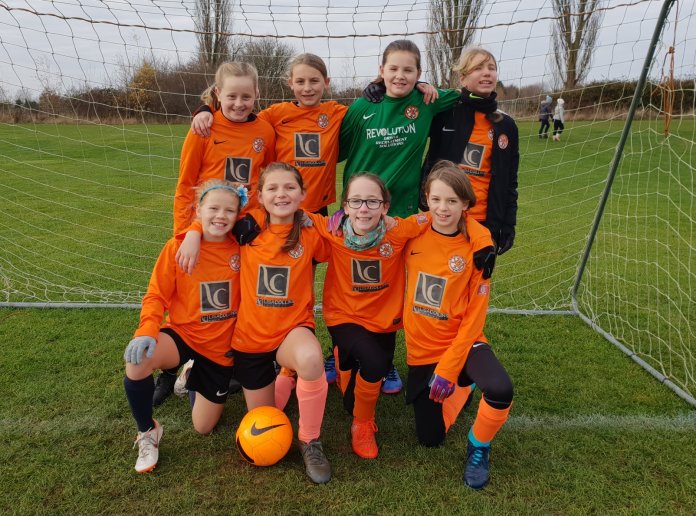 This return fixture at Kilsby Lane started with a quiet and somewhat disjointed beginning until the u11s finally got their passing act together and started to make chances.
With Lila missing, the midfield of Madi, Holly and Marley took some time to get accustomed to their roles but eventually started setting up chances for Melissa although the Groby keeper was again in fine form and managed to hold on to most of the shots that came her way.
At the back, Rosie and Katie looked composed as they soaked up any Groby attacks and Jenna was on hand to cover any through balls that were not intercepted. Jasmine⚽⚽⚽ came on as a substitute and made an immediate impact as Rugby started to dominate the game and they went into half time with a healthy lead.
The second half began much like the first with Rugby creating many more chances. Madi ⚽ in particular was in the thick of most things and got her just reward before Marley nearly got in the act by scoring what would have been the goal of the season when she dribbled the ball from the edge of her own penalty area going past everyone apart from the Groby keeper.
The team were now in full flow with Melissa, Jasmine ⚽⚽⚽ and Madi ⚽⚽ spearheading attack after attack ably supported by good passing work from Holly and the runs of Marley ⚽ Rosie and Katie from the back. Despite this, Jenna was still being called upon to make decisive stops especially when Groby broke quickly with Rugby caught up field. As full time beckoned the chances were still being made and taken as Rugby ran out with an emphatic score.
Supporters Player: Jasmine
Opposing Coaches Player: Madi
Thanks to Lauren for refereeing the game.
Next game is on the 9th of December at home v Leicester LFC