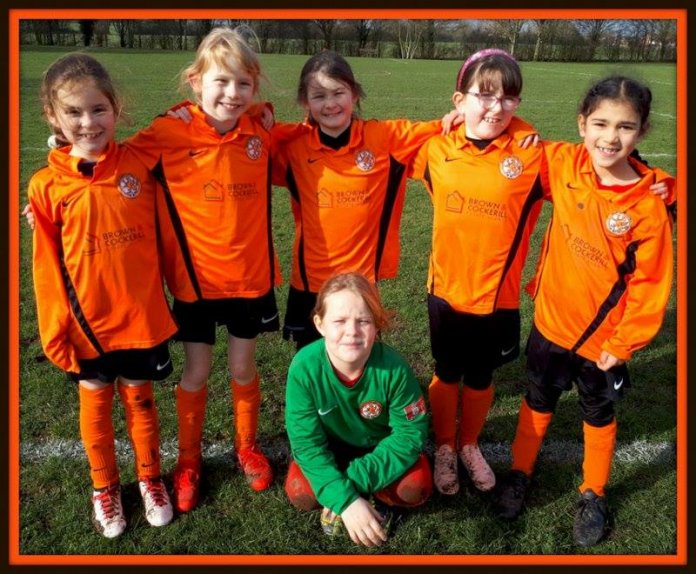 Rugby Town Squad: Holly, Chloe, Megan (c), Anna, Anya, Maddie
A guest coach spot today with my favourite u8s team! We travelled up the A5 to Barlestone to play AFC Market Bosworth in the first round of the league cup.
Megan started in goal and was called in to play early to execute a strong save against a feisty Market Bosworth. Holly and Anya in defence were showing early confidence in what was to be a very strong and confident game for them both.
Market Bosworth won two early corners from some effective clearances by Rugby. Both corners were defended very well with Rugby showing great understanding of their roles.
There was several tough tackles in midfield with both sides having some very able players, all displaying some very good on ball skills. Rugby pushed up and forced a clearance, earning themselves a corner.
Maddie delivered a very good ball, which Anna worked well into a strong position for Chloe. Chloe had two shots on goal, one saved by the keeper and one scraping the paintwork on the wrong side of the left post.
A very evenly matched game with both teams sharing possession and neither team particularly dominating during the first half.
Holly, in left back, made a sublime pass forward to Anna, who ran on well with the ball, releasing to Chloe, who shot just wide again. A very good period of play for the Rugby side.
Market Bosworth pushed forward, and with a great combination of passes, just managed to overwhelm the Rugby defenders and slot the ball into the next on the half time whistle.
AFC Market Bosworth 1 – 0 Rugby Town
Holly swapped out for Megan in goal and the Rugby players were keen to even the scoring. Rugby had a very strong period which saw most of the action in the opposition half.
Chloe, displaying very positive play, was defending well from the front and won the ball to let fly a very strong shot. An excellent save from the keeper, earning praise from both sides, was the only thing denying Rugby the equaliser.
Maddie had a very good second half, defending the left wing well and preventing the opposition clear crosses. Megan delivered a number of good throw ins, her distance really coming on well.
Rugby were working very well as a team, Anya making confident charges forward and providing soon good passes to the forward due of Anna and Chloe. Anya had a couple of solo forays up front, one particular run was a certain goal, but again, a shot just slightly wide meant Rugby had to keep working to equalise.
Market Bosworth were now trying to turn the table and they made a super run forward, hitting the right post, with Holly having it well covered. Holly had an excellent half in goal, making two superb saves.
Rugby kept working away and the team work was now really paying off. Rugby won a corner, well delivered by Megan and the team passed between themselves allowing Chloe to find a clear scoring position to even the game.
AFC Market Bosworth 1 – 1 Rugby Town
Full time 1-1 and as this was a cup game, there had to be a winner, so Rugby now faced 8 minutes of extra time and then possible penalties.
Rugby had run their legs off during the game and were clearly tired and a little daunted by the thought of extra time. Anya was still giving her all and causing the Bosworth players some concern, another well times run and another excellent save saw Andy denied a goal.
Sadly, all the effort earlier meant the Rugby tanks were now empty and AFC Market Bosworth made two very strong plays, both resulting in goals.
Final Score after extra time AFC Market Bosworth 3 – 1 Rugby Town
The Rugby Town u8s gave a great account of themselves today. There were some great individual skills and efforts shown, but the teamwork was also impressive.
Communication is fantastic on the pitch and their game awareness has always improved each time I see them.
Thank you girls for letting me join you today – I am always secretly happy when my u12s don't have a game and your regular coaches are away, I need little encouragement to come and spend a morning with you.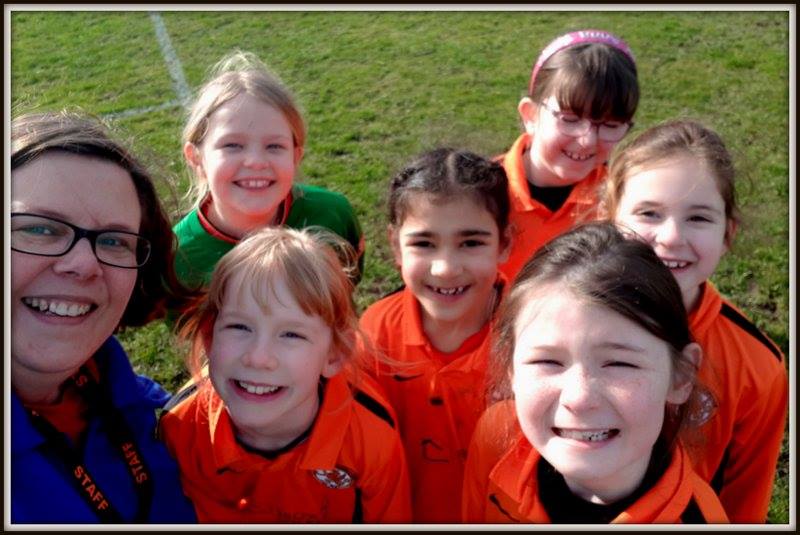 Thank you to the parents for bringing the players over to the game and the fantastic support. Thank you also to AFC Market Bosworth, the fantastic opposition coaches, players and supporters made it hugely enjoyable for the girls and I.
Player of the match, for excellent work, great skills and total commitment: Anya.