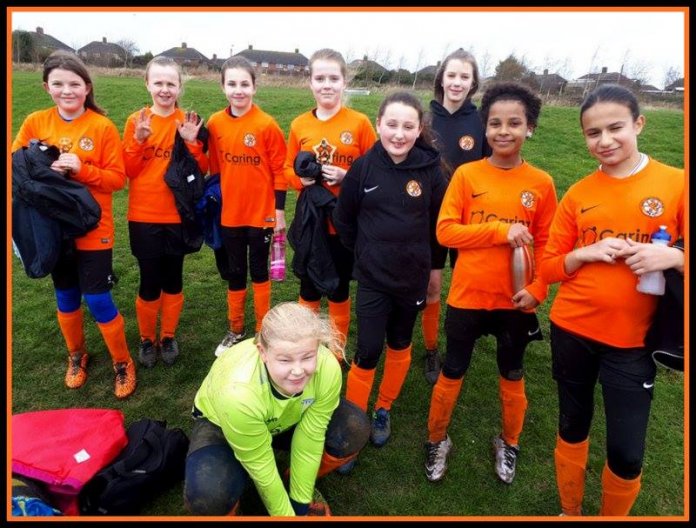 Sponsored by Lisa Collins Hair Design and Caring Help at Home Ltd
Rugby Town Squad: Ellie A (c), Ella, Erin, Kelsey, Elle J, Hannah, Izzy , Evie, Tash
Our final league game saw us at home at a very damp Kilsby Lane, playing Asfordby Amateurs. The team were keen to finish off their league season in style before embarking on the league cup first round next week.
1st Half
Rugby had a slightly different set up for today's game as we are trying out some new positions ready for moving to 9v9 next season. Erin and Izzy were a new paring at the back and will both playing a full game, concentration was going to be needed. They both gave a very good account of themselves, both working to contain a quick Asfordby centre forward.
Ellie A had a day in goal today, as our second keeper, it was great to see her getting some game time in and she delivered a very confident display, communication with her defence was excellent.
Ella moved into the defensive midfield position for the first time this season and was very comfortable playing higher up the pitch and getting into the thick of the action from the off.
Elle and Tash started on the wing, and both had a tremendous game today. Their skills and work rate some of the best of the season. The passing between them, and linking up with Evie up front, was excellent. All three played some very clever football indeed.
Rugby conceded a very soft goal early in the first half, with the cut up goal mouth meaning a lot of bobbling of the ball, certainly contributing. However, Rugby showed great recovery and were keen to level the scoring.
Tash, playing some excellent football on the right wing, soon delivered and excellent ball across from the right to Elle J who was not about to pass up the opportunity and scored her first and Rugby's equaliser.
Evie was making some excellent runs forward and was getting herself into some really space. A few scoring opportunities just evaded her, but with her style of play it was just going to be a matter of time.
Ella was providing some great throw ins, allowing Rugby to make up ground down the wing. Finally, after another couple of tentative opportunities, Hannah, Elle J and Evie combined some great passes which allowed Evie to score.
Just before half time, Asfordby managed to find a gap through the middle of the Rugby defence and scored their equaliser.
2nd Half
A 2 player swap out at half time say Kelsey in as striker, and Hannah as defensive midfield. Rugby set the tone of the second half play early with Kelsey attacking the Asfordby defence and scoring an early goal.
From then on in, Rugby totally dominated the game, with as good a second half performance as you are ever likely to see.
Tash, Elle J and Kelsey were deadly up front, with waves of productive attacking runs and Hannah providing excellent support and through balls in midfield. Our defenders and goal keeper had little to do in this half, and sat further forward than usual.
Elle J scored 2 goals in quick succession, securing her hat trick. Asfordby were a little stunned at the pace of the Rugby attack and were now showing signs of being overwhelmed. Rugby continued to push and Kelsey's well timed runs and eagerness to defend from the front, win the ball, and press forward again, were rewarded by 2 goals in quick succession, for her hat trick and 4th goal of the game.
With 10 minutes left to play, a rare swap around mid game for the Rugby side, saw Hannah move to the right wing, and Ella join the game again in midfield. Both players again performing well in these new positions.
Hannah was showing agility and great movement on the wing and claim her reward of her first goal of the season and Rugby's 9th and final goal of the game.
Summary
Rugby Town 9 – 2 Asfordby Amatures
An excellent team performance, especially in the second half. We tried some players in new positions and I was very impressed with how the team worked so well together .
Some special mentions:
• Erin – great work in your first full match for the squad
• Evie, Ella and Hannah – excellent displays of football in unfamiliar positions
• Hannah – for her first goal of the season
• Elle J – for a great hat trick
• Kelsey – for a hat trick + 1 and exceeding her target of 30 goals for the season
Coaches Player of the Match: for playing an excellent half up front, despite being nervous, she put in a determined and committed performance, and for scoring one of the goals: Evie
Parents Player of the Match – for a confident display in a new position on the wing, and scoring her first goal of the season: Hannah
Thank you to the parents for your continuing support.
Thank you to Lauren for refereeing our game.