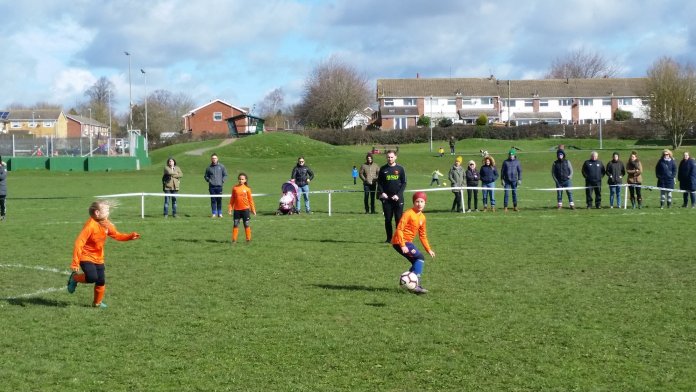 The Under 9's were on the road today facing a Market Bosworth side for the first time with a number of new faces in the squad. Hopes and excitement levels were high ahead of what proved to a very competitive, fairly contested match with both teams playing good football in the right sprit. The opposition once again wanted to play seven-a-side in preparation for next season and this often suits the Rugby girls with less space on the pitch and better support for the defence.
Captain Connie started in her regular defensive role alongside a new addition to the squad, Layla; both had to be on their toes from the outset as the opposition looked to push forward. Connie displayed her customary poise and intelligent positioning, always playing it safe and never putting the team under pressure. Layla showed no signs of inexperience and slotted comfortable in at the back, getting stuck in from the outset and making some important challenges and big clearances.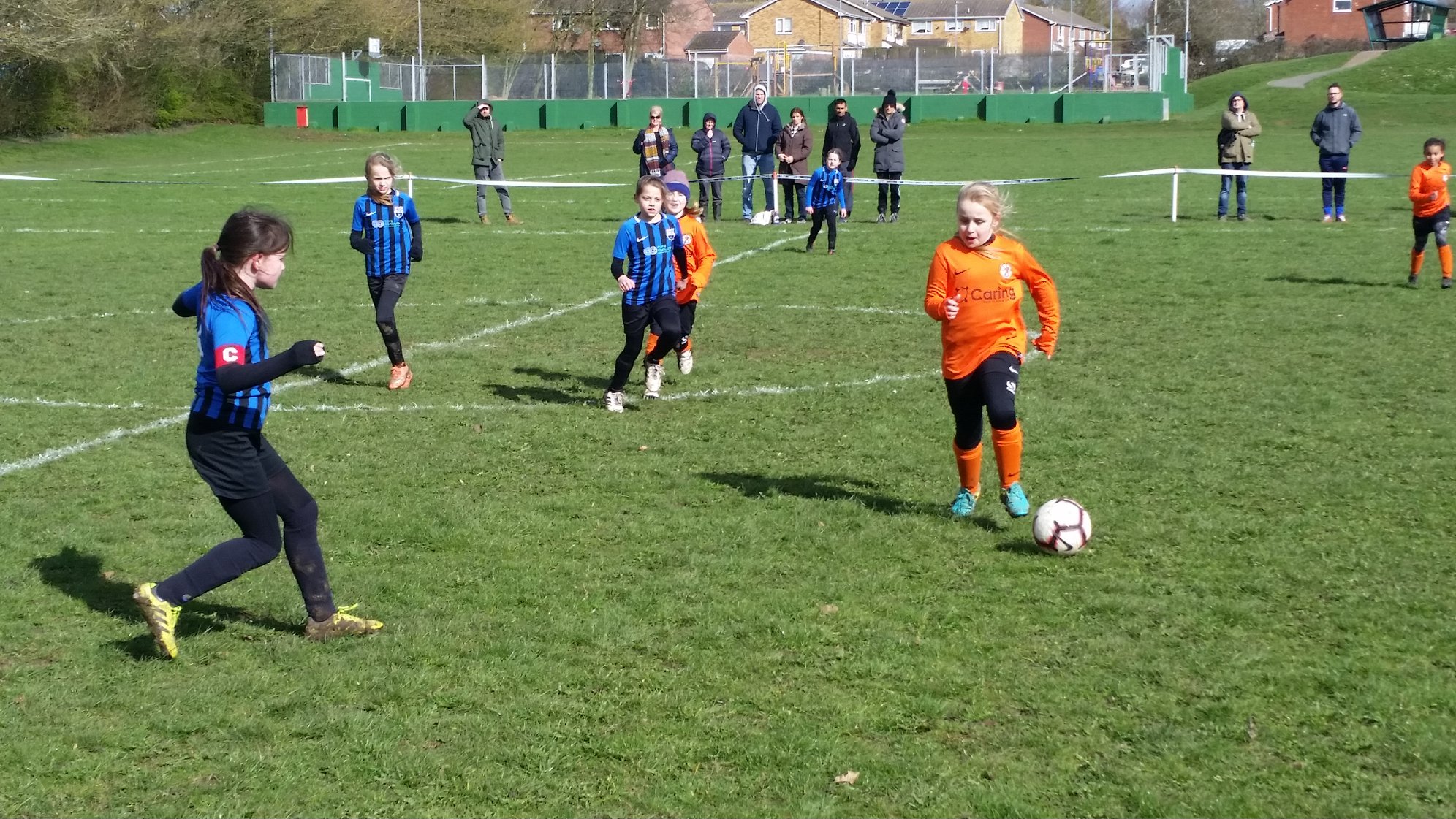 They were supported from behind by Isobel in goal, who is quickly making the position her own and settling in to her new role – she made some brave saves and was quick off her line when she needed to be. Katie was the first line of defence as always and is perfectly suited to her defensive midfield role; she was strong once again and made some great tackles to keep Market Bosworth at bay.
Beth started in a more attacking midfield role and once again showed her energy and enthusiasm, often getting past the last defender to give Rugby options going forward. She was joined by Aurora who didn't stop running once again, making some important tackles at the back whilst also managing to support the Rugby attack – she shows great resilience and is always dominant in every performance.
Talismanic striker Sofia completed the Rugby line-up and chased every loose ball as she always does, never giving the opposition defenders time on the ball – it's great to see Sofia and Aurora linking up well and consistently moving into space to help one another. As usual the Rugby girls fought for every ball, showing great determination and commitment to the team – they always support and encourage each other whilst playing fairly and behaving impeccably.
Both teams had chances to score and played some excellent football; Rugby attacked with pace and found themselves past the last defender on a couple of occasions and were unlucky not to score. As half time approached the home team were able to inch in front but there was nothing between the teams' in terms of performance and the Rugby girls kept battling until the whistle.
There were promising debuts from new members of the team, Indie and Lola, who both fit straight into the Rugby midfield and immediately got to work – they both showed great energy and commitment from one end of the pitch to the other and demonstrated their determination to help the team. Ria came on to play most of the game in defence and put in a storming performance – she made many brave tackles and showed great energy with strength and power on the ball to put a stop to the Market Bosworth attack.
As the second half progressed Isobel made a number of crucial saves, one in particular to tip the ball over the crossbar, to keep Rugby in the game. At the other end Sofia and the rotating midfield kept battling for every loose ball, hounding the Market Bosworth defenders and their hard work nearly paid off as Rugby were awarded a number of corners and dangerous free kick. Sadly is wasn't to be on the day and the girls just couldn't find that incisive final pass to carve out a clear-cut opportunity.
Nonetheless it was a tightly contested affair and there was nothing between the performance of the teams – on another day the girls would have had the luck of the draw and things could easily have fallen their way. Market Bosworth did well to take their chances but the whole Rugby side should be proud of their performance and it's more positive experience for the girls to take forward to Under 10's particularly with new players being introduced and a couple of regular faces missing. Well done to all the girls involved and thank you to all the parents for their continued support and commitment!
Parents' Player of the Match: Isobel showed great maturity, bravery and concentration in only her second match in goal today and made some excellent saves at key moments.
Coaches Player of the Match: Ria put in an exceptional performance in defence, didn't let one girl get past her today and made countless strong challenges and big clearances.