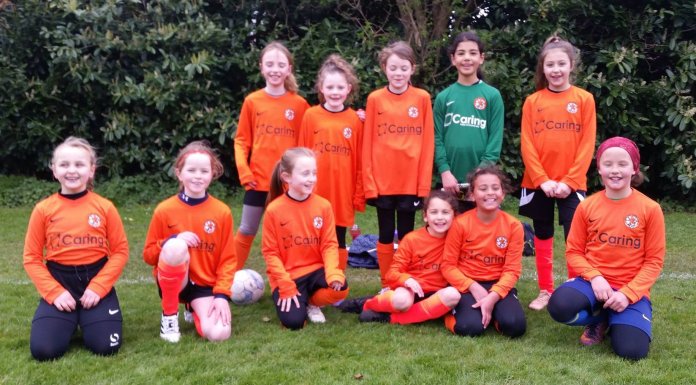 The Under 9's were on the road again this week, travelling to Wigston to take on Leicester City; with a large enthusiastic squad of eleven girls for a six-a-side match frequent changes were inevitable. Captain Lola led the team out at the start in what proved to be an exciting match with lots of excellent football on show.
Layla bravely volunteered to start the match in goal and played confidently, collecting the ball well and making a number of great saves, one in particular onto the crossbar keeping a surefire goal out. Connie started in her customary position on the left of defence and once again showed great intelligence and positioning with and without the ball. She kept the opposition's best player out of the game and wasn't intimidated by the Leicester number 11 who had a good two-foot height advantage and a ferocious shot.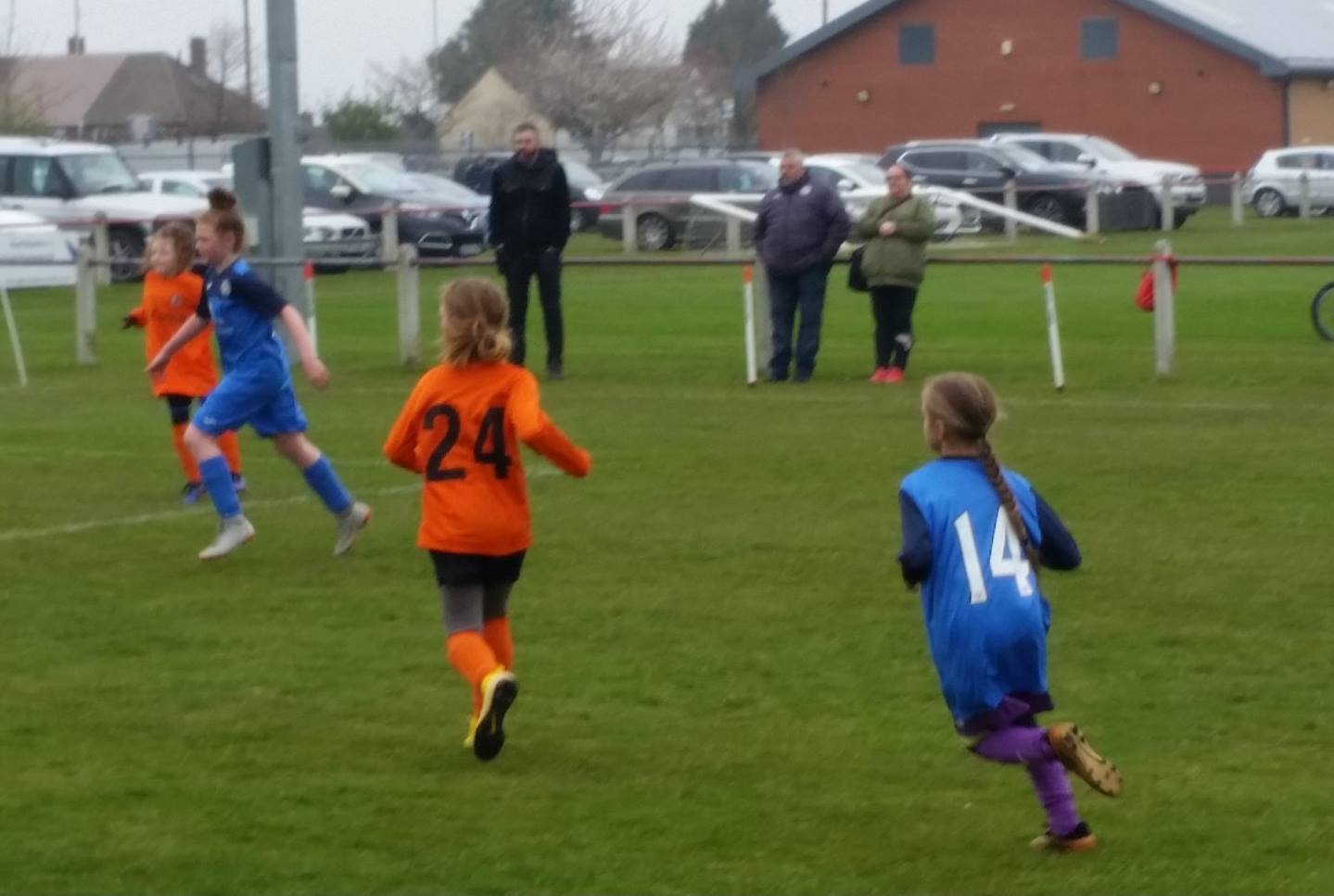 Ria joined her in defence today for the first-half and put in another strong performance with some brave tackles and big clearances – she gets great power on the ball and intelligently plays it into the dangerous areas. Poppy and Aurora started in midfield and both put in a high-tempo appearance, covering every yard of the pitch. Poppy showed her usual skill and great footwork to easily pass the opposition and Aurora was unlucky not to end up on the scoresheet with a number of strong attacking runs.
Star striker Sofia led the line and we all hoped her clinical finishing would be on display once again – she chases down every loose ball and never gives up, pressing from the first kick and always piling the pressure on the opposition's defence. There was some great football on display in the first-half and an excitable crowd were on the edge of their Respect line as both teams had lots of chances in an end-to-end encounter.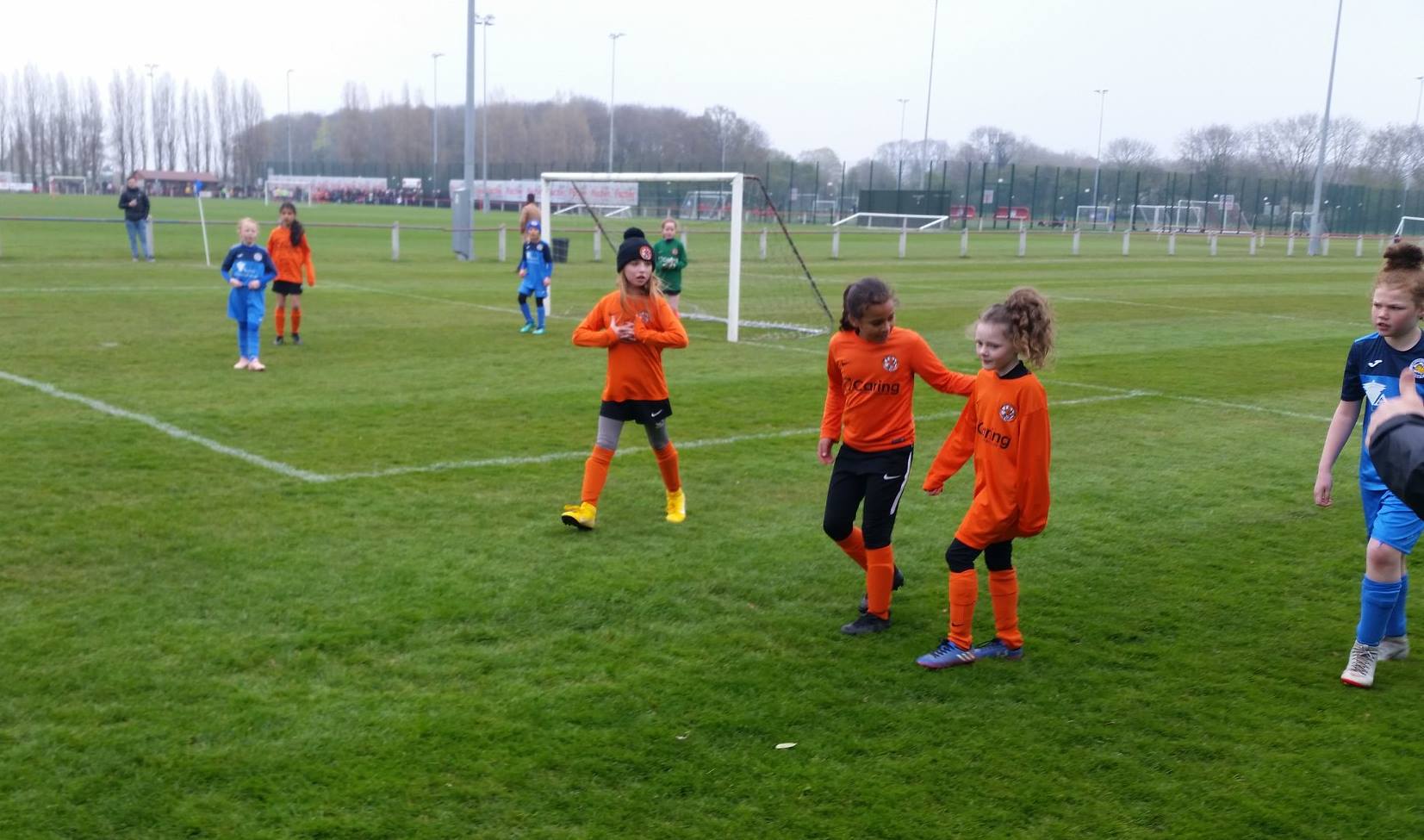 A Leicester corner led to a half-chance when a wild effort was excellently saved onto the crossbar by Layla, but it ricocheted back into the net to bring Rugby in behind at the break. Izzy came on to play in defence and once again demonstrated her bravery and commitment, she didn't allow herself to be pushed around by the physically imposing opposition and always appeared calm and in control. Indie also had spells in midfield and defence and demonstrated what a valuable addition to the team she is with an energetic performance despite being injured!
Lola again came on to inject some additional pace into the game, showing her adaptability to have spells in midfield and up front – she didn't look out of place against a much more experienced side and Tottenham fans are always welcome at this Rugby team. Bethany ably deputised up front, showing her strength and determination to hold the ball up well and moving well off the ball – she got into a number of scoring positions once again and could have had a couple of goals on another day.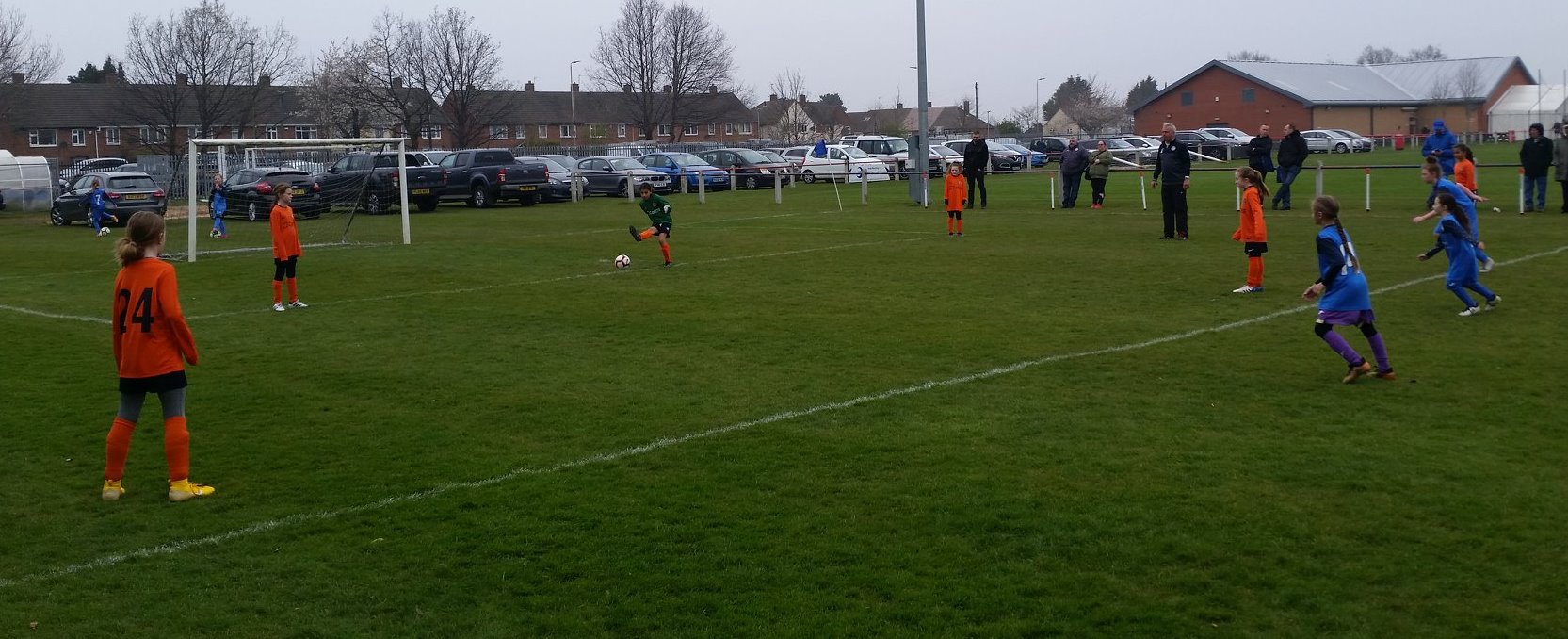 Katie shored up the midfield when she came on, adding a defensive tenacity which allowed other girls to get forward – she plays with great strength and resilience every week and her long throws are always a danger. Half-time saw a goalkeeper change with Ria taking over the gloves and playing extremely well, demonstrating great bravery to put herself in harm's way to keep the Leicester attack out. The girls carved out a number of chances in the second half with Aurora particularly unlucky not to be rewarded for her efforts but sadly Rugby couldn't find a way through; a freak clearance from the Leicester defence somehow ended up in the Rugby goal to double Leicester's advantage but it was against the run of play and the final result did not do the game or the girls justice.
It was a closely contested encounter with both teams having chances and the luck falling to the opposition this week – a really competitive match which was great to watch. All the girls should be incredibly proud of their performances as they were unlucky to end up on the wrong side of the result in a match which could have gone either way. Well done to all the girls involved and thank you to our fantastic parents for your continued support and understanding – hopefully we'll have more luck back at home next week!
Parents' Player of the Match: Ria put in a great performance in defence in the first half and then donned the gloves for the second to make another fantastic appearance in goal!
Coaches Player of the Match: Connie did fantastically to mark Leicester's best player out of the contest and wasn't intimidated by the physical opponents. Well done girls!