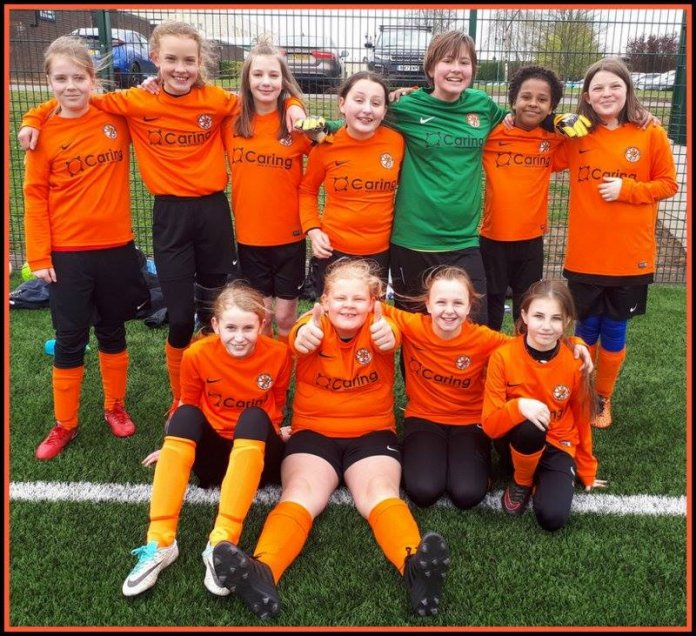 Sponsored by Lisa Collins Hair Design and Caring Help at Home Ltd
Rugby Town Squad: Ellie A, Ella, Erin, Kelsey (C) , Elle J, Hannah, Izzy , Evie , Mia, Ava, Sophia
An away day at East Goscote for the RTGLFC U12s team to play their League Cup Quarter Final fixture, in what turned out to be a colossal battle during a very physical game.
Rugby were a little shell shocked during the first 10 minutes of the game and struggled to cope with a number of very quick opposition players and a very physical squad.
Rugby were appreciative of a very fair referee, who kept the game under good control and were awarded a fair number of free kicks throughout the game, all taken well in midfield and up front.
Unfortunately two quick counter attacks by East Goscote caught Rugby on the hop and a slightly disorganised defensive line saw Rugby concede 2 goals within the opening 15mins of the game. Rugby's heads had dropped and a quick reshuffle of positions to settle down the team was needed.
Rugby started to push back and found the measure of East Goscote, taking the game to them and generally playing with more determination and positivity.
Elle J had a cracking game and despite being floored by the opposition on several occasions, she continued to out play the opposition midfield.
Ava was an absolute rock on the wing, pushing forward and trying to create chances to release Kelsey clear on goal. Ava also tracked well back on a number of occasions, displaying perfect examples of defending from the front, always attempting to thwart any East Goscote challenges.
Kelsey had great positional play, identifying that she could outplay the opposition defence, and just waiting for chances to work with the midfield players to open up a change to run and score. Kelsey's speed and skill was spotted early on by East Goscote, and was another of the Rugby squad that was bundled unceremoniously to the ground on a number of occasions. One particularly heavy challenge lead to Rugby winning a penalty, which Kelsey calmly and cleanly converted to start closing the deficit.
Sophia had a very well controlled game, being called upon to make saves a number of times. She proved to be a very safe pair of hands who served Rugby well throughout the game. She controlled the goalmouth well during corners and during one direct free kick, setting the wall well to divert the ball wide of the Rugby goal
Erin and Ella had to work hard at the back today to contain some very pacey attacks from East Goscote, especially their speedy and very skilful number 8. They worked well together and covered the space well. Both were committed in the tackles and did not shy away from a fair amount of shoulder barging as the East Goscote attack came storming down the wings.
The Rugby midfield and defence did have to do some aerial work as we lost a fair bit of possession in their air, but a good training point for the coming weeks.
Hannah re-joined the game in the second half in a new position on the wing with a renewed sense of vigour. Her commitment to chase down the opposition and feed the ball into Elle J and Kelsey was great to see and she should be commended for picking herself up from a disappointing first half to deliver a very strong and capable second half performance.
Ellie and Izzy took their places in defence with Ellie providing some height and presence in the hope she would intimidate the Easy Goscote forwards and put them off their stride. Ellie made some thundering clearances, allowing Rugby to open up the midfield and turn the tables on East Goscote.
Izzy was sharp today, and although the opposition tried to overpower her, she leaned into her tackles well. This is something outside of her comfort zone, so i appreciated her efforts.
Mia replaced Hannah in midfield and again played a blinder. Her grit and determination is second to none and I am always impressed with how she does not stop working to come out on top. She linked in well with Evie, joining on the wing and Elle J.
Evie putting in a tireless performance out on the wing, working her space well and causing the opposition problems by quickly shutting down any embryonic advanced by East Goscote.
The second half continued apace, with Rugby in the slight ascendancy. The Rugby squad kept pushing, winning back possession from any lost balls and dealing admirable with some pretty heavy challenges.
Finally, their hard work paid off and some calm play, in a now pretty frantic game saw Rugby pass out to Ava on the right of the goal, who putted the ball low and hard. Although the keeper got her finger tips on it, a slight stumble and the momentum saw the ball cross the line and gave Rugby their equaliser.
The score remained 2-2 and we moved into extra time. Although both teams had a number of shots, none were converted. Both teams were extremely fired up and it was probably anyone's guess which way the game would go. However, at the end of extra time, the score stood at 0-0 and into penalties we went.
Both Rugby and East Goscote missed a couple of penalty opportunities and the Rugby keeper also made 2 very strong saves, which under the high pressure circumstances was excellent. Ultimately at the end of 5 penalties a piece, the score was 1-1 and this never ending semi-final moved into sudden death.
The Rugby team were fizzing with nerves, but supported misses and celebrated goals as a squad, proving just what a tight knit and supportive team they are.
Finally, and probably overall pretty fairly, with skill (and a little luck), Rugby won the sudden death penalties 2-3 and much shrieking erupted. Myself and Richard finally allowed ourselves to exhale. Thanks and handshakes to an understandably disappointed East Goscote side and Rugby were free to celebrate a pretty epic quarter final match.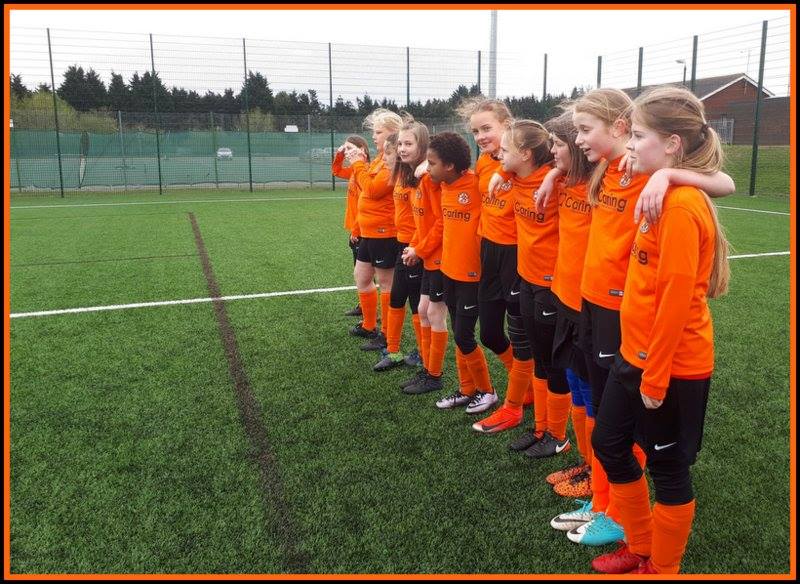 Summary
East Goscote 2 – 2 Rugby Town (NT)
East Goscote 0 – 0 Rugby Town (ET)
East Goscote 1 – 1 (Pen)
East Goscote 2 – 3 Rugby Town (Sudden Death)
A very determined performance from the whole squad. This season, Rugby have not been used to having to come from behind, so it was great to see they kept fighting for that win that they most definitely wanted it. Easily one of the most committed performances this season.
Although no single player was awarded player of the match, due to the exceptional performance of the whole team……
A VERY special mention must go to Sophia, our goalkeeper, who won the sudden death penalty shootout by scoring for Rugby and immediately saved the East Goscote reply.
A truly inspired performance from Sophia.
For the second season in a row, the U12s have won their Quarter Finals via penalties and are off to the Semi Finals. A home tie against Blaby and Whetstone in two weeks' time, and with high hopes of going one better than last year and progressing to the league cup finals.
Thank you to the parents for bringing the players to the game and for your continuing support.