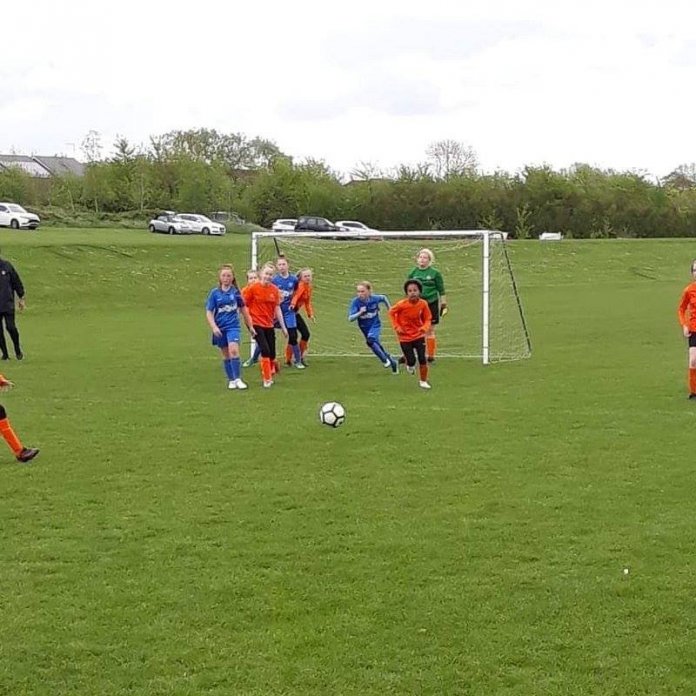 Rugby Town Squad: Ellie A, Ella, Erin, Kelsey , Elle J, Hannah, Izzy , Evie , Mia, Ava (C) , Tasha
Sponsored by Lisa Collins Hair Design and Caring Help at Home Ltd
Finally, a home draw cup fixture saw Rugby Town U12s host Blaby and Whetstone U12s at Kilsby Lane. Rugby Town were eager to go one better on last year's cup performance and make it to the U12 League Cup Final.
1st Half
Ellie A was called upon early in goal to make a couple of quick saves as Blaby set out their stall for the match. Blaby were clearly a skilful and determined side, in particular, their number 6 caused Rugby all sorts of problems in midfield with her lightning quick pace and good ball skills.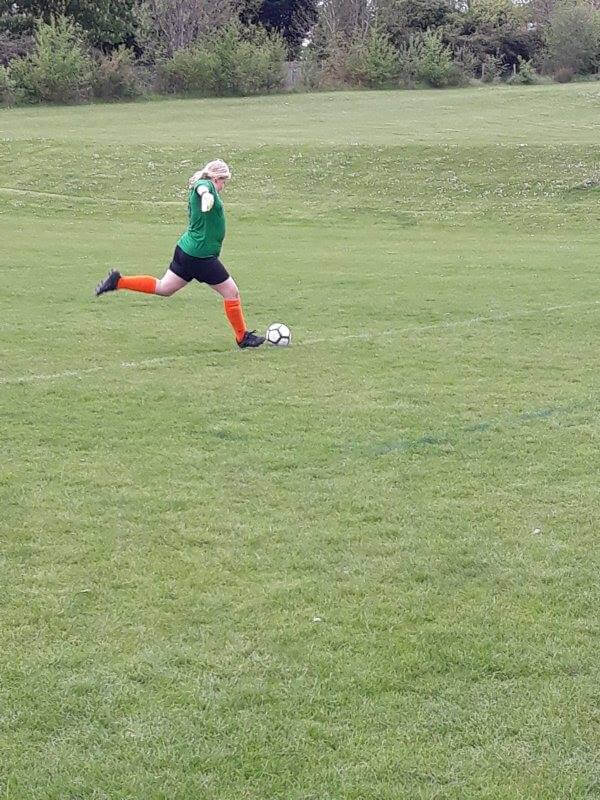 Rugby were doing their best to limited Blaby's opportunities to break forward, but having to most unusually, play a very defensive game, Rugby found little opportunity to counter attack.
An early corner by Blaby was well converted and Rugby saw themselves in the unenviable position of having to chase the deficit.
Rugby Town 0 – 1 Blaby and Whetstone
From the restart, Rugby were pushing hard to generate some play and release the forward players. Good defence from Blaby thwarted Rugby, but gave two corners in quick succession to Rugby. Both corners were well delivered by Ava but neither converted.
Blaby came straight back to Rugby on the attack and somewhat overpowered the Rugby players. Erin was doing very well in getting up close and personal to the previously mentioned number 6 with Ella in strong support, giving a determined performance.
Hannah was put to work in midfield today, and although she found marking the troublesome number 6 very difficult, she did well and certainly game 100% commitment to the game.
Ava put in a very good first half performance, covering huge distances on the left wing and coming back to assist the defence against the pretty constant onslaught Blaby were throwing at them.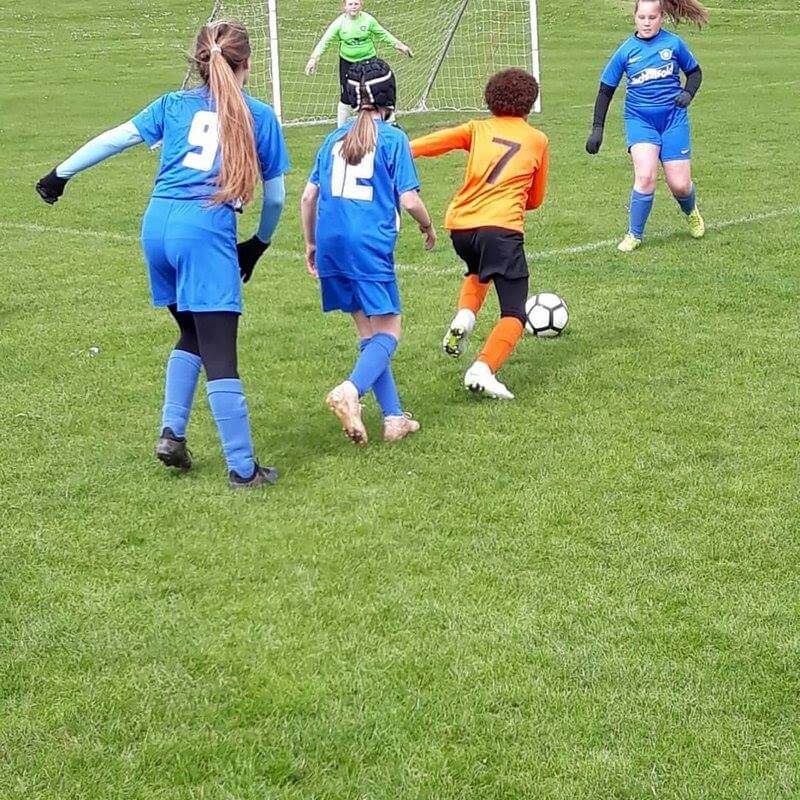 Kelsey, up front, was fizzing with energy and clearly desperate for a change to pick up the ball and take her chances with the Blaby defence. Blaby had quickly figured out Kelsey's speed and marked her very closely throughout the game.
Ellie A continued to provide a commanding performance and was working well with her defenders. An excellent goal kick, sent soaring over the pitch, found Kelsey on a well-timed run. Kelsey hammering the ball, leaving the Blaby keeper with no chance, levelled the score for the home side.
Rugby Town 1 – 1 Blaby and Whetstone
Blaby were not going to let the equaliser put them off and they came barrelling out from the restart. Rugby found the Blaby passing game quite overpowering, and their counter attacks were quick and intuitive. A great charge by Blaby saw the Rugby side comprehensively beaten and Blaby again took the lead.
Rugby Town 1 – 2 Blaby and Whetstone
Rugby were looking a little disappointed, but to their credit, they kept working hard to find that allusive space for form their own push. However, Blaby were simply not budging an inch, and held firm in midfield, again denying Rugby and meaningful chances.
Ava, Tash and Kelsey worked well front, and were trying to work some combination play. Tasha especially, showing some good ball skills which was great to see after a period off through injury.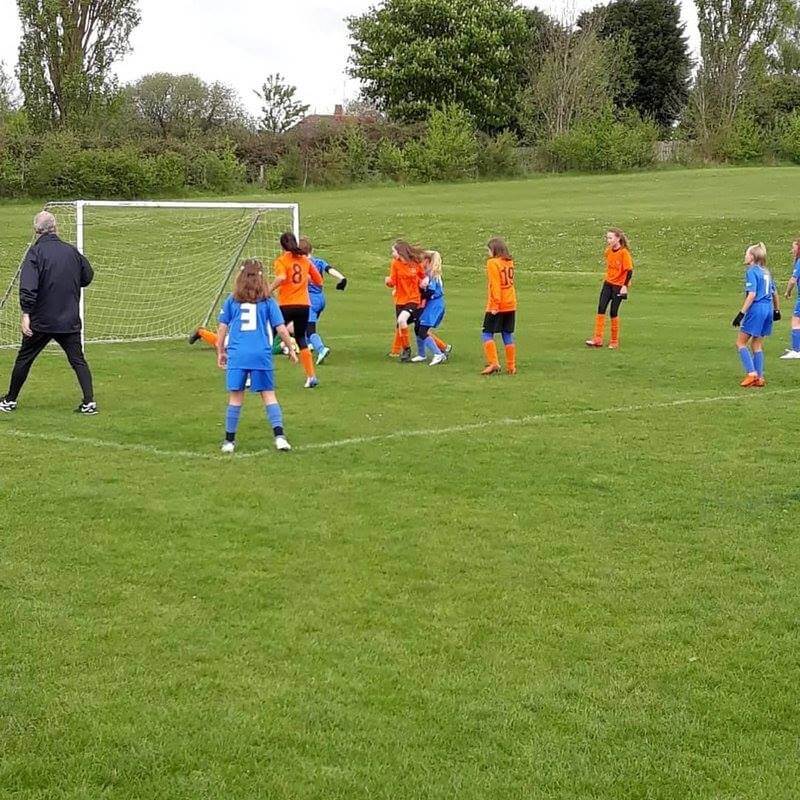 Towards the end of the first half, Blaby had a couple of shots wide of the target and a corner that was well defended by Rugby. Overall, Rugby did well to come off at half time chasing only a one goal deficit.
2nd Half
Rugby started the second half moving the ball well. Fresh legs in midfield and defence was hopefully going to provide some opportunities to equalise.
Mia stuck like glue to our nemesis, the Blaby number 6, and was winning some heavy tackles with grim determination.
Ellie A was properly tested and pulled out an excellent save, denying Blaby the chance to increase their lead.
Blaby were awarded a free kick for a slightly over enthusiastic challenge, but defended well. The clearance allowed Evie and Elle J the opportunity to push back, and a charge was mounted towards the Blaby goal. A soft shot from Rugby was cleared out by the keeper for a Rugby corner. A barnstorming corner kick from Elle J sailed across the entire pitch, proving that the U12s are certainly ready to move up to 9v9 and a larger pitch.
Izzy was doing a good job in defence and was again kept busier than in recent games. Where she could match pace, her positional play was good and she prevented Blaby the freedom to get as many shots as they wanted. However, a lightning quick attack from Blaby, completely overwhelmed Rugby, who were scrambling back to defend, but a strong strike beat the Rugby keeper and Rugby conceded their third.
Rugby Town 1 – Blaby and Whetstone 3
Rugby were beginning to show signs of frustration at not being able to dictate the game. These frustrations were evident in some of the tackles, and one such tackle resulted in a deserved free kick for Blaby. The shot was defended well by Rugby and Mia flew in to try and clear the Rugby lines and take the pressure off.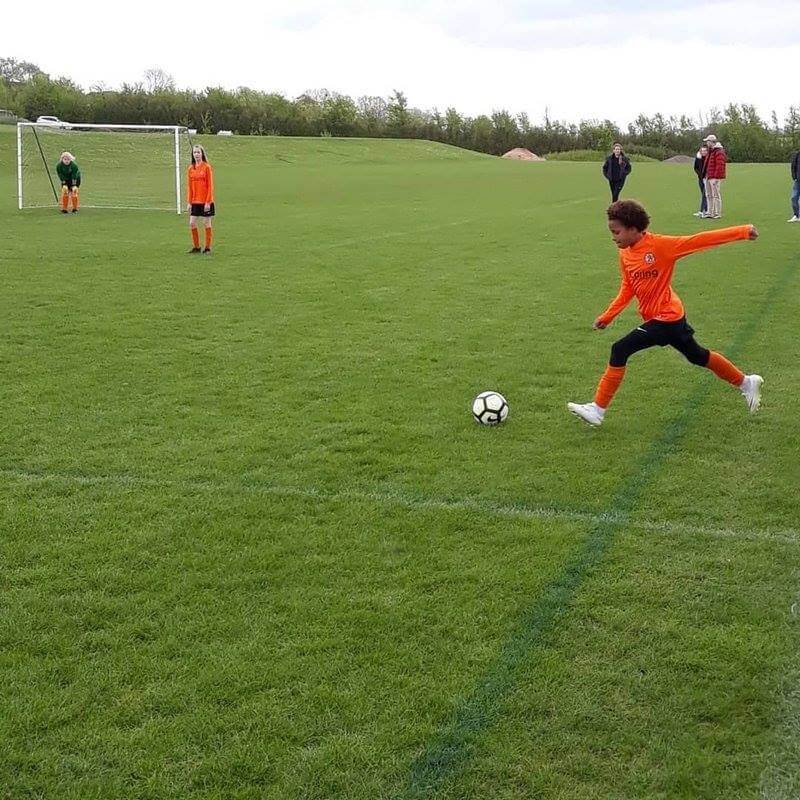 The next ten minutes proved to be some of the most demanding of the season for the Rugby squad. Blaby won a number of corners and free kicks, with Rugby pulling all available bodies back to prevent a fourth goal. Ellie A made 3 exceptional saves / clearances in this time, amongst the melee of bodies in the goal mouth.
Finally, Rugby managed to find that elusive space and push forward and take the pressure of Rugby's frazzled defence. Evie, Elle J and Kelsey passed the ball well and Rugby's shot was poorly saved by the keeper allowing Kelsey in to pounce on the parry, sadly just scraping wide of the right goal post.
Blaby showed no let up from the restart and Rugby were quickly caught out at the back, seeing Blaby score their forth.
Rugby Town 1 – 4 Blaby and Whetstone
Into the last ten minutes, Rugby were showing a bit of the necessary fire needed to turn the game around, and were still chasing the opportunity for a goal. However, Rugby attacks seemed to simply provide Blaby with counter attack opportunity and Rugby soon needed Ellie A to deliver two more saves in quick succession.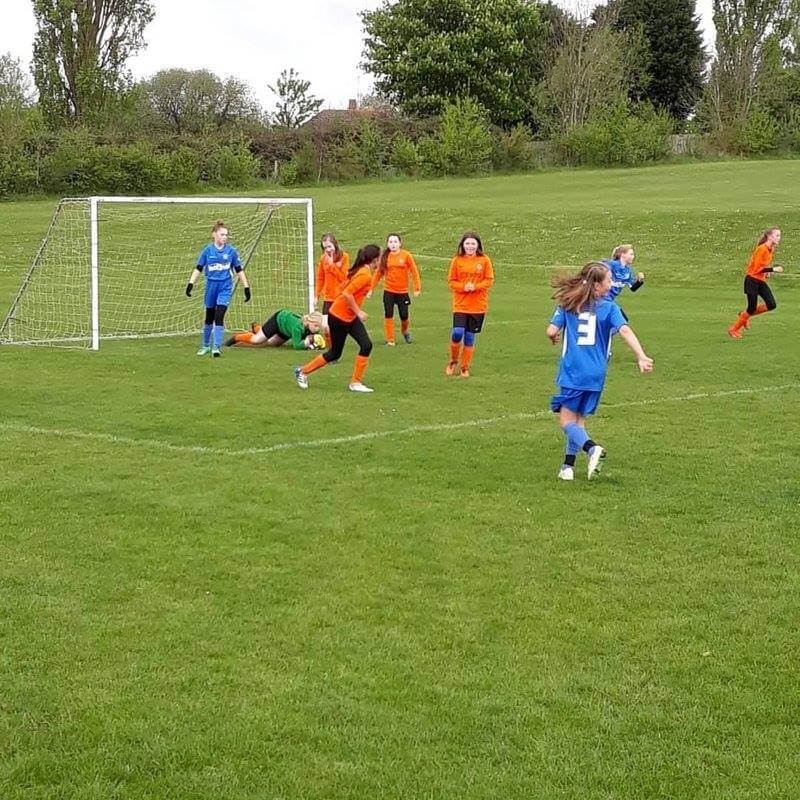 Blaby were proving just too strong for Rugby, all credit must go to them for playing some very nice football. The Rugby player's body language was now showing their disappointment and the understanding that perhaps today was not going to be their day.
In the closing minutes, Blaby again showed why they deserved the win, with a ferocious run at Rugby, who struggled to find much in response, seeing our opposition seal the game with their 5th goal.
Rugby 1 – 5 Blaby and Whetstone
Summary
Rugby Town 1 – 5 Blaby and Whetstone
Rugby Town were beaten on the day by a strong and determined Blaby squad who were deservedly the better team on the day. Our passing game was pegged back by a comprehensive Blaby defence, limiting our chances thought out the game. Rugby Town's reluctance to challenge aerial balls also proved detrimental.
However, although understandably disappointed they lost this game, they should remember that this is the second year in a row that the girls have reached the last 4. Additionally, having won the 2019 U12 Girls Green League, they can be exceptionally pleased with a fantastic season.
Well done on your 2019 Season Girls – your coaches, parents and club are very proud of you.
Coaches and Parents Player of the Match, for a truly excellent performance as stand in keeper, undoubtedly preventing a cricket score of conceded goals – Ellie A
We now look forward to the summer tournaments and moving to 9 a side football in the coming season.
Thank you to the parents for your support and good humour throughout the season.
Big thanks to Des who stepped in and was our referee for our game, very much appreciated.