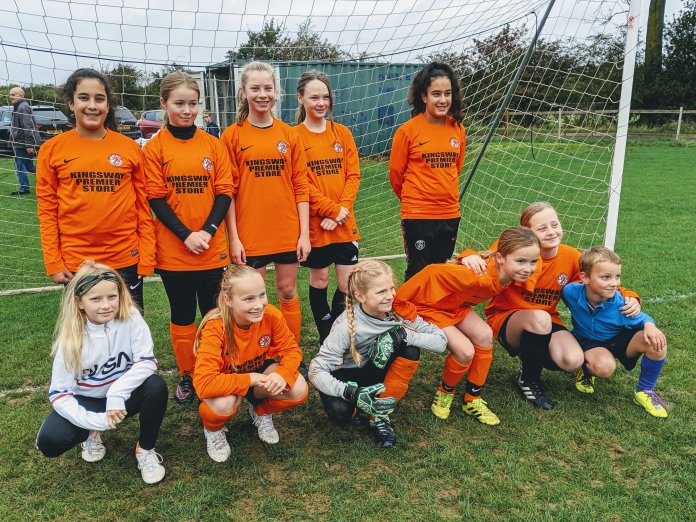 Crick Colts vs Rugby Town
Saturday 12th October 2019
Sponsors: Shambles, Lutterworth
Weather: Wet, 11c
Team: Lily, Carly-captain, Emma, Rosie, Hav, Ava, Zara, Evelyn and Hev
Injured: Skye
Away: Lois and Charlotte
1st Half
Rugby Town KO with an early attack but lose out to Crick who are on the charge, Carly kicks out and Crick are awarded a corner, there's a fumble and indecision in the box, and Crick are 1-0 up.
After the restart Zara and Evelyn are working well together down the right wing, Evelyn takes a shot but it goes wide! Crick are on the counter attack, and force a couple of corners. But Carly and Emma are defending well and both go wide. Lily plays a short goal kick but Crick are alert and latch onto the ball. A shot hits the post and goes in, 2-0 to Crick after 7 minutes.
Rugby haven't looked awake and maybe the early start wasn't such a good idea! But they start to perk up and are not letting Crick win the ball so easily. Rugby are trying to command their half with Evelyn, Ava and Zara working together and using the open space. Hav and Hev are playing well down the wing and assisting the midfield.
Last 5 minutes of the 1st half and Rugby have gone into sleep mode again and let their guard slip, with Crick scoring 2 goals in 4 minutes. A lack of communication between each other and Crick are having too much of the ball… 4-0 to Crick.  Team talk from Paul at half time is a very honest assessment of the game so far. The girls haven't shown their best. Andy and Paul try to motivate the girls to improve their positioning and desire, to press more, and to 'win the half'.
2nd Half
Ava is substituted with Hev who is working down the left wing. Crick kick off but lose it very quickly to Rugby who are on the counter attack already. Crick's defence are on the back foot and Rugby are awarded a throw in, just in line with the box. Rosie takes, to the Rugby forward who goes past Crick's defence, shoots, and scores. 4-1 to Crick.
With only 2 minutes gone, Rugby's team talk seems to be working as their performance seems to be solid, and they are keeping their shape much better. The pairing of Carly and Emma are passing brilliantly and keeping that defensive line strong and not letting Crick break their new-found resolve. Also Ava, Evelyn, Rosie and Zara are showing strength and determination effectively to break up play and finally putting pressure on Crick's defence.
The energy levels this half are extraordinary with some great interceptions and clearances. The game settled and got into a good rhythm for Rugby as Ava and Evelyn continued to have chances but can't quite find the net. Rosie passes a lovely short ball to Evelyn who tries to go by herself, she plays a cross-come-shot but it goes over the crossbar. The girls are playing so much better in the 2nd half, it's like a different team!
With only minutes to spare and with Rugby throwing everything forward to score another consolation goal, Crick's forward goes through and beats the defence to take on Lily. She shoots and scores… 5-1 overall score to Crick.  After having a shaky and uncharacteristically nervous start in the 1st half, Rugby pulled it back in the second with great levels of determination and energy from all involved.
Coaches player of the match – Carly for showing commitment in defence
Parents player of the match – Zara for being supportive on the field
Thanks to Tony for running the line.