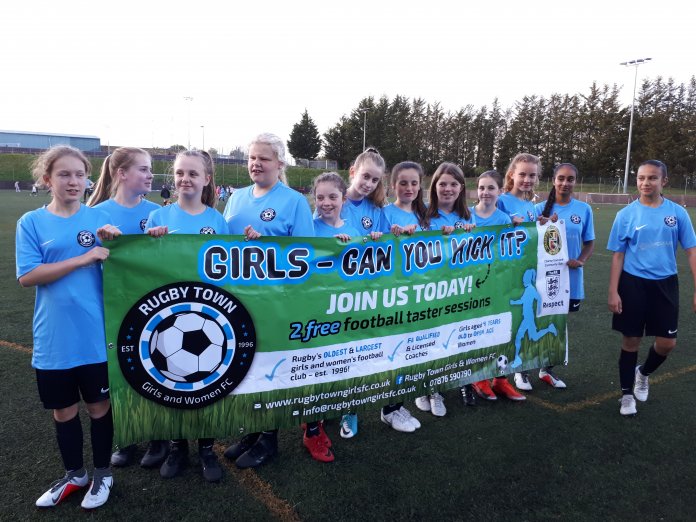 The relaunch of the logo coincides with the girls football moving to their new training ground at Butlin Road in Rugby, where the girls and women have been training since the start of the summer this year. The new logo is a simple reflection of female football being at the heart of everything Rugby Town Girls' and Women's Football Club do. The logo also reverts back to the Club's original club logo with a modern edge added.
RTGWFC has a long-standing history of running football for females in Rugby and has been at the heart of female football in the town for nearly twenty-five years. The Club started to play a key role in forging the heritage of female football within our town in the early 1990s going on to become an FA registered club in 1996. It is independently run for the benefit of its members since then.
The Club has gone from strength-to-strength starting out in a local school to a club with over one hundred members for the upcoming season training at the stadium site just outside the Town Centre, one of the best non-league grounds in the country.
Boosting coaches with years of experience all trained to FA Level 1 standard as a minimum. The Club plays over 200 of matches each year spread across its 11 sections.
Current members play in the Leicester City and County Girls' League, Northampton Girls' League and Women's Regional Leagues.
The club has a proud history of bringing talent through the Club to a high level in women's football: girls every season play and attend centre of excellence venues with players going on to play for WSL teams in the top flight and GB University games.
Young leaders are another example of the Club's investment in young people looking to there futures in sport, with many of them going on to teach or coach sports as profession, and also working with in the FA have won many awards over the years.
Looking to the future, Club Secretary, Tony Dand explains he would like to see the Club go to be one of the biggest in the county, if not the Midlands and to see the women's game as popular as men's across the town.