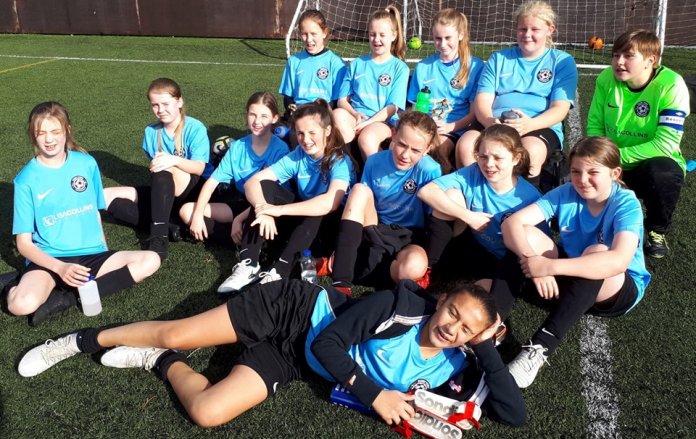 Rugby Town Girls U13 vs Kibworth Town U13s – Sunday 20th October
Sponsor: Lisa Collins Hair Design
Rugby Town Squad: Ellie, Ella, Kelsey, Hannah, Izzy, Evie, Tash, Sophie, Ava, Mia, Lucy, Robyn, Sophia (C)
Back in action at home after the Leicester Schools half term break, Rugby Town were keen to continue their positive league run. Keen to continue the development of the squad, today's game saw several positional changes for some of the Rugby Town players.
1st Half
Kick off sees the game start at a very quick pace with possession swapping between the two teams in quick succession in the opening 5 minutes. Several Rugby players are trying out new positions to develop their skills and to increase the options we have as a squad.
Tash has a very good half up front for Rugby Town. Good positional awareness and lots of energy sees her work to obtain several attempts a goal, unfortunately just shooting wide of the post on each occasion. The goals will come though Tash, trust your touch!
Robyn, moving out to the left wing today also has a great game, lots of energy and speed winning possession time after time and playing some excellent through balls to the Rugby forwards. Mia, starting the game in centre midfield and showing some very good technical football today also played some great balls out to the right wing for Evie and Hannah to collect and move forward.
Robyn, Tash and Hannah combined for some lovely linked play, allowing Hannah to put the Kibworth keeper under pressure with a good strike and forcing a save to keep the score at 0-0. Hannah and Evie worked very well down the right wing, forcing the Kibworth team to defend deep to try and limit the quick forward play.
Evie's position play was again, top notch today, her natural awareness is impressive. Her selfless attitude means she often passes rather than taking a shot, Evie has a lot of goals in her, I cannot wait to see them start to flow.
Lucy, starting in centre back, is improving week on week, showing off some very good footwork today. Her confidence on the ball is really coming on well now which is great to see.
Tash gets another shot released and the Kibworth keeper, who was not their main keeper, provided a very good save indeed. Shortly after Hannah gets another opportunity but unfortunately shoots just wide. Rugby defended the few corners they conceded very well, Sophia retain great control of her goal mouth with a calm, confident display of goal keeping, and Robyn provided some excellent cover of the short corner.
Izzy had an excellent half, a recent 11 a side game with her school team visibility improve her confidence in the tackles and great effort shown throughout. Ella completed the Rugby back 3 and was rock solid, never flinching, and providing great clearances on the odd time Kibworth managed to get back the Rugby midfield. Rugby had no fewer than 4 more shots on goal by Tash and Hannah which saw 3 saved by the keeper who had a very good half, and 1 go wide.
2nd Half
Fresh legs with Ava, Ellie, Kelsey and Sophie coming on as well as some positional changes for Evie, Mia and Lucy saw Rugby keen to push Kibworth hard and get on the scoresheet. Ava provided a quick and secure presence on the left wing. Again, another player today who had some very good periods on the ball, keep to press forward and get some link play working with the forward.
Ellie, playing in centre midfield for the first time had an awesome game, huge energy, drive and commitment providing a formidable, and probably quite intimidating presence for Rugby. Ellie had a very capable shot early on in the second half, just flying wide past the left post. Mia, seemingly enjoying a change in position to right midfield had a cracking second half, increased time of the ball and some really confident football played, I was really impressed with her attitude and energy.
Kelsey was chomping at the bit and early on was weaving around the Kibworth defenders and causing a bit of a panic in their back 3. Kelsey got a great cross in to Evie who, working very well with Ava, teamed up to work the ball forward, allowing Kelsey to find some space, Ava played the ball back and Kelsey scores to open the Rugby Town score sheet.
Rugby Town 1 – 0 Kibworth Town.
After the restart, Rugby were back at Kibworth, forcing them to clear for a Rugby corner. Ellie delivered in a very tidy ball, scrambled clear by Kibworth.
Rugby were now camped in the Kibworth half and showing little desire to take their foot of the gas, almost continue pressure from Rugby saw Kibworth having to pull their players back to withhold the pressure. This meant the Rugby forward had to beat a fair few pairs of legs to get towards the Kibworth goal. Kelsey, Ellie and Evie put together some accurate, quick moves and Evie scored a well-deserved goal in from the left.
Rugby Town 2 – 0 Kibworth Town
Games restarts and Rugby and off again, with Kelsey shooting wide, Evie shooting just over and another excellent individual run and shot by Kelsey saved by the Kibworth keeper. The Rugby back 3 of Ella, Sophie and Lucy were loitering around the halfway line, not seeing much in the way of action, but playing high to limit any long balls and speculative runs that Kibworth may have been able to muster. Sophie was straight onto any ball that did make it near her, using her teammates in defence to play some intelligent football out from the back.
Kelsey, with excellent feet on the ball, was giving the Kibworth defence some headaches, and drawing their defence to her, opening up gaps at the back. Despite being heavily marked, Kelsey dribbles past the Kibworth defenders and slotting in her second of the game.
Rugby Town 3 – 0 Kibworth Town.
Another restart and Kibworth play a long ball forward, a chase by a Kibworth forward is thwarted by a very confident and proficient Sophie coming well off her line, and not flinching, kicking a barnstorming clearance back up field.
Kibworth, trying to clear their back lines in a fluster, passed the ball back and forth in front of their goal, only to find an eagle-eyed Kelsey again on the rampage, and providing and easy ball for her hat-trick and Rugby's 4th.
Rugby Town 4 – 0 Kibworth Town
The game continued at the same pace, Kibworth now clearly disheartened and unable to absorb the unstoppable Rugby midfield and forwards, saw Mia play an excellent ball from the right, to Kelsey, who easily passed the Kibworth defence. Kibworth were playing too high and did not have the pace to track Kelsey back, put their keeper in a 1 on 1 situation where there was only going to be one outcome, another Kelsey goal, and Rugby's 5th.
Rugby Town 5 – 0 Kibworth Town
Summary
Rugby Town 5 – 0 Kibworth Town
A dominant display by the Rugby Town girls again, elusive final touches in the first half paints an unfair picture as some very nice football was played with a huge amount of enthusiasm and effort throughout the whole game.
Unusually we play the away fixture next week, so will be interested to see if Kibworth take experience from todays game to plan next weeks match.
Coaches Player of the Match: for a strong game, but particularly for a very strong, confident and commanding second half performance. Also, for adapting well to two different positions in the game; Mia
Parents Player of the Match: for a confident performance and some visibly improved skill set on display. And again, for adapting well to two different positions during the game; Lucy
The team and coaches would like to thank:
Parents for your continuing support and helping with equipment set up / put away.
· Bert for truly volunteering for linesman duty.
· Dave for refereeing