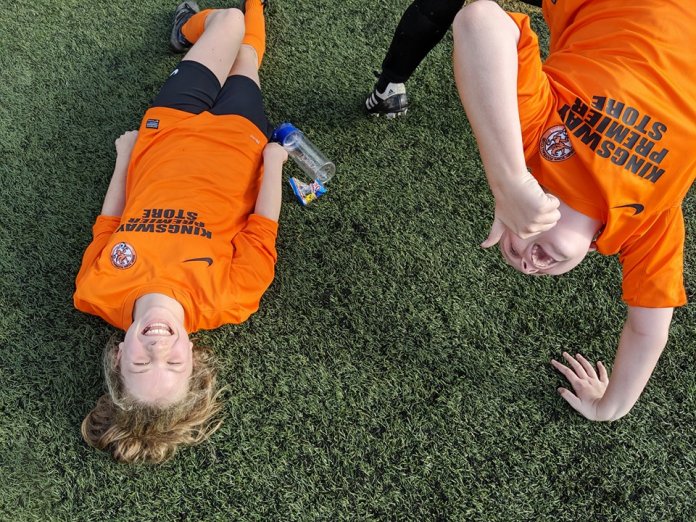 Rugby Town Girls vs Rushden and Diamonds
Saturday 19th October 2019
Weather: Dry 15c
Team: Emma, Lois, Lily, Carly (captain), Rosie, Ava, Charlotte & Frankie
Away: Skye, Zara & Evelyn
1st Half
Rugby Town kick off and press forward with an early attack on goal as Carly has an early shot that's saved well. The Rushden and Diamonds goalkeeper clears the ball whilst Rugby are coming back from the attack, and their striker gets past our defence, but Lily rushes out to sweep up and clears well.
Rushden and Diamonds are attacking hard but face Rugby's mighty defensive line up who are battling well and keeping them at bay. The ball is cleared by the defence and put into the feet of Rugby's forward who takes a well placed shot that again is saved well by the Rushden keeper. Both goal keepers seem on top form today!
Fouls are coming in left, right and centre for a while and clearly the teams are committed today. Rugby move forward again looking promising, playing the ball well to each other and finding the feet of Rosie who who puts it in the net in the 14th minute, 1-0 to Rugby.
Rushden and Diamonds push up in force and manage to lob Lily, and Carly managed to get back and clear it from the goal line. Rushden are eager to get that goal back and are pushing up getting corner after corner, but are also faced with save after save from Lily.
2nd Half
Hot off the mark Rushden and Diamonds attack and manage to lob the ball over Lily for a fantastic goal making it 1-1 in the 31st Minute.  Rugby have not lost interest and continue to play good football and manage to push forward immediately afterwards, leading to a great goal from our striker. 2-1 Rugby after 34 minutes.  Clearly the talk from Paul about being slightly more committed continued to hold sway as we give away several free kicks.
Rushden and Diamonds rush forward with pace and once again try to lob Lily who manages to get a hand to the ball and put over for a corner after 50 Minutes.
The lack of any subs is starting to take its toll as the girls become worn out and Rushden manage to equalise in the 53rd Minute. 2-2. Shortly followed by another goal at 56 minutes, 3-2 R&D.  The girls are unable to find the energy for an attack and unfortunately another one is put in the net. 4-2 R&D at 59 minutes.  The girls are tiring and this results in a 5th goal by Rushden and Diamonds in the 59th Minute.
Final score 5-2 to Rushden and Diamonds. Despite the result the girls played amazingly well as a team, and the scoreline was a little flattering.
Parents player of the match is awarded to Lily for outstanding performance throughout the match.
Match Stats
Shots on goal from Rugby: 9
Shots on goal by R&D: 19
Offsides: 3
Corners: 4
Fouls: 8