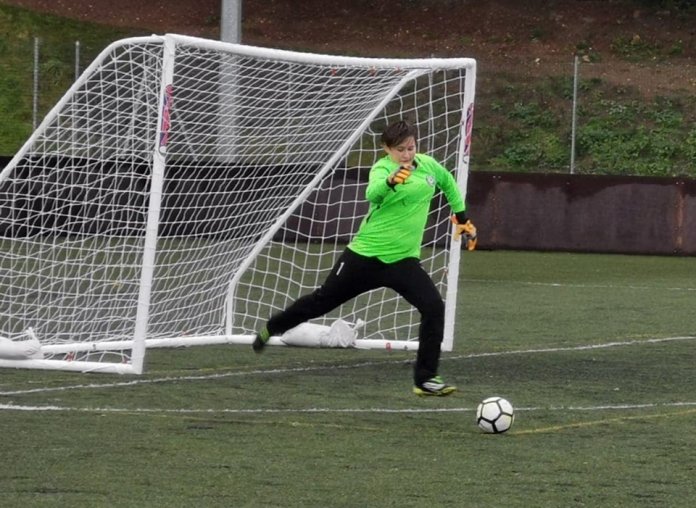 Rugby Town Girls U13 vs Coalville Town U13s – Sunday 3rd November
Sponsor: Lisa Collins Hair Design
Rugby Town Squad: Ellie, Ella, Kelsey (C), Hannah, Izzy, Evie, Sophie, Mia, Robyn, Sophia, Priya
A top of the table clash saw Rugby Town U13s host Coalville Town at Butlin Road. A smaller squad than usual for Rugby against a strong opposition promised an interesting game.
1st Half
Rugby Town knew that Coalville were going to be more than a match for us and the first few minutes of the game were pretty even between most teams. It was shaping up to be a physical and demanding game for both sides. Rugby's back three of Izzy, Sophie and Ellie held their shape well and played high to limited speculative runs by Coalville. The three worked very well with Izzy stopping quick runs in from the left, Ellie providing some thumping clearances and Sophie having a keen eye and quick feet to chase down any Coalville attacks.
Coalville quickly got the measure of Kelsey's speed up front and were keen to shut down opportunity for Kelsey to win and maintain space to run. This game plan of hard marking inevitably won Rugby several free kicks for pushes against Kelsey. Hannah, working out on the right wing, and playing a full game, worked hard to offer support and space to allow Kelsey to free herself from the close marking. Hannah had a couple of excellent runs forward in the first half and showed good commitment in her tackles.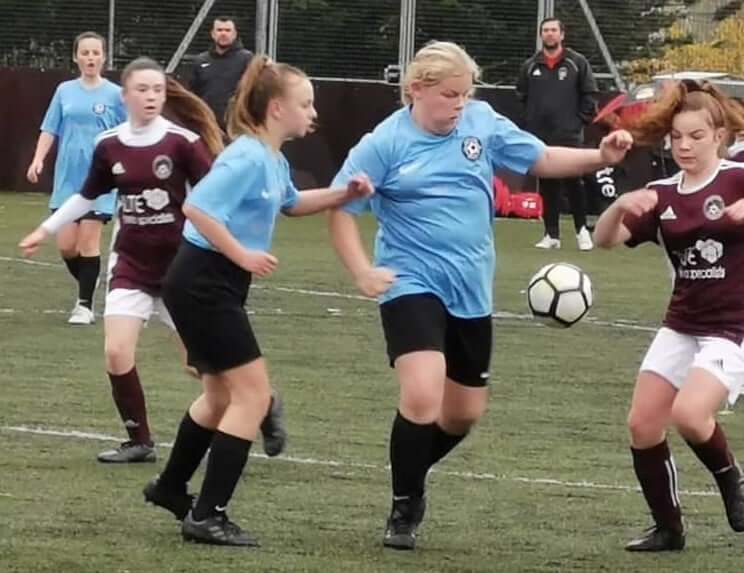 Robyn played the full game today and gave an excellent account of herself in centre midfield, playing some sublime through balls to release counter attacks as well as giving 100% energy on tracking back and supporting the Rugby defence when needed. Robyn, Kelsey and Priya were putting together some pretty link play football allowing Rugby to make good ground against Coalville. Priya's presence was needed today up front and she did not let herself be intimated by the very dominant Coalville right back. Coalville won a freekick for a Rugby handball which was cleared for a corner, well defended by Rugby.
Rugby now on the attack which a great ball from Sophie to Robyn in midfield who played an excellent through ball to Kelsey's feet. Kelsey took on the Coalville defence and let then standing and giving the Coalville keeper little time to react, opened the Rugby score.
Rugby Town 1 – 0 Coalville Town
The opening goal seemed to settle Rugby, who now were well into the game and playing focused football. Soon enough a lovely worked routine between Kelsey and Priya provided an excellent assist for Priya and Kelsey's second of the game.
Rugby Town 2 – 0 Coalville Town
Coalville were searching for their opening goal and were proving very strong in midfield, pegging back further Rugby play for a few minutes. Mia was working hard on the left wing against some very quick Coalville players. Mia dealt with the high balls very well today, great work Mia! Happily, Sophia did not have to work especially hard in goal during the first half, however, her communication with the Rugby defence was excellent and her goal kicks totally on point.
2nd Half
Ella on for Izzy in left back and Evie on for Priya to partner up with Kelsey up front. Rugby Town knew they needed to push from the whistle as a two-goal lead is nothing when playing a team like Coalville. Rugby pushed on the Coalville goal and won two corners in quick succession from Coalville clearances. Hannah delivered both corners very well, but both were well defended by Coalville who shut the door on any opportunity. The battle in midfield was heating up now, with a lot of action on both wings, possession swapping frequently. Priya came off and Mia came on to add a bit more of a defensive element to the game.
Coalville had not let their heads drop and had very quick players which could catch Rugby out on the counterattack. One such attack allowed Coalville a blistering shot on the Rugby goal, fortunately the post was our friend and denied Coalville what would have been an impressive goal. Rugby were now under significant pressure and tired legs were apparent and they were having to defend hard. They were still keen to push forward and increase their lead and another well thought out push forward and partnership between Evie and Kelsey allowed Evie a shot on goal, saved by the Coalville keeper.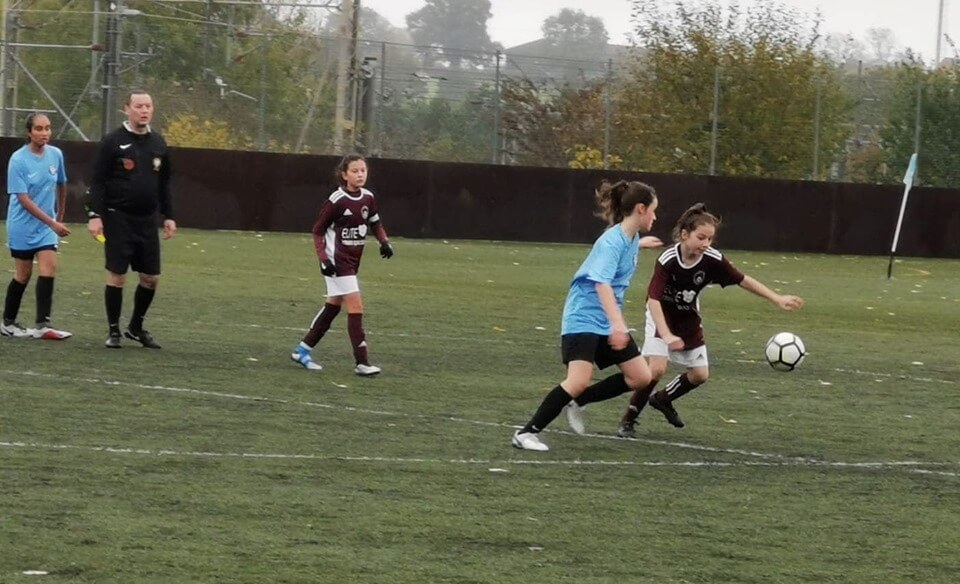 However, Rugby kept momentum and another fantastic piece of play between Kelsey and Evie, with Kelsey showing great teamwork by setting Evie up with a brilliant assist, allowed Evie to convert with a lovely calm strike.
Rugby Town 3 – 0 Coalville Town
Upon the restart, Coalville were like a team possessed and its fair to say the Rugby defence took a bit of a battering with some scrambled clearance. Finally, executing a great counterattack and finished with a very string strike, Coalville opened their score line.
Rugby Town 3 – 1 Coalville Town
Sophia was working hard now, being called upon to make several saves in the last few minutes of the game but was very committed and confident and denied Coalville any real chance. a tired Rugby Town were defending deep which invited Coalville into their half and encourage Coalville to attack. Ella did well in right back and proved to be an important piece in the Rugby defence. Coalville won 2 corners in quick succession, one well cleared by Ellie and one well saved by Sophia. When receiving the ball, Kelsey and Evie were showing what a great partnership they have. In the closing minutes a great goal kick from Sophia came flying upfield, and finding Kelsey and a well-timed forward run, fell beautifully to allow Kelsey her hat trick.
Rugby Town 4 – 1 Coalville Town
Summary
Rugby Town 4 – 1 Coalville Town
A confident and well-rounded display from all the Rugby players. They had to battle in the last 10 minutes when Coalville were throwing everything at them to get back into the game. Some very intelligent football played today against a very worthy opponent. Rugby Town were certainly challenged today and had to work very hard for this win, which makes it even more special. Well done girls!
Coaches Player of the Match: a determined second half performance and a well-deserved goal for all her hard work driving the play and creating chances for Rugby; Evie
Parents Player of the Match: for an excellent all-round performance between the sticks, especially during the last 10 minutes when Rugby were under significant pressure; Sophia
The team and coaches would like to thank:
> Parents for your continuing support and helping with equipment put away.
> Andy for volunteering for linesman duty with poorly fingers.
> Dave for refereeing