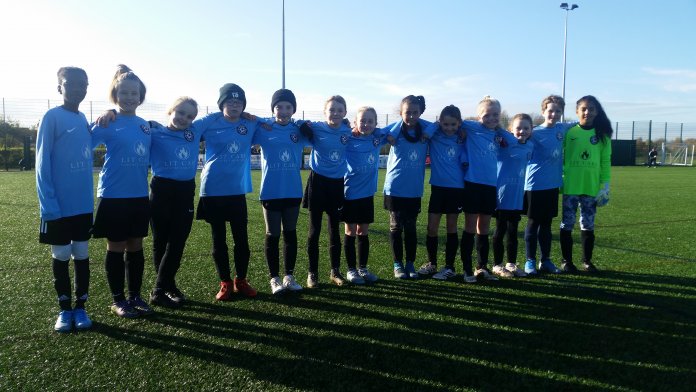 The Under 10's travelled to Leicester for a rearranged late fixture on the 3G – the girls had a large squad as always which meant countless and regular changes; and they all observed the minute's silence with the utmost respect, dignity and impeccable character.  I also have to say that, after a nervy start, it turned out to be the most comprehensive performance I've ever seen from this fantastic team – every single one of the girls put in an almost faultless display and should be incredibly proud of themselves.
It was an even start to the match with the first five or ten minutes being end-to-end and both teams having chances; Leicester showed that they had a couple of very talented players and it became clear the girls were in for a tough encounter.
Captain Isobel and Izzy started in defence – both girls have had the opportunity to play in more advanced positions recently and it shows; with their confidence on the ball growing they look assured striding forward and playing the ball out from the back, as well as posing a danger from corners when they take it in turns to go up.  Ria looked confident and comfortable in the Rugby goal, collecting the ball cleanly and bravely diving at the feet of the Leicester attack – her distribution of the ball improves week on week too with the practice she has been putting in with Jake in training.
Lexie put in her usual domineering performance in central midfield; passing the ball with purpose, showing great movement and breaking up play in the centre of the pitch to put Rugby back on the front foot.  Poppy was unlucky not to break the deadlock on a number of occasions with some strong shots from distance, including one which had clearly crossed the line, but she showed great character in persevering and not giving up.
Aurora's energy was relentless down the right-wing and she put in another determined performance, never afraid to put her foot in whilst also demonstrating her confidence on the ball as she surged forwards, creating countless opportunities for herself and the Rugby attack.  Sofia was cool and clinical in front of goal, determined in her perseverance and capitalised on a number of limited clearances from the Leicester goalie – she's always on the front foot and ready to pounce on any misplaced pass.
Beth put her strength and determination to good use, frustrating the Leicester defence with her perseverance, and got herself into some fantastic scoring positions with her forward runs and clever positioning.  Connie was confident and unforgiving in the Rugby defence, picking off every loose ball with some fantastic interceptions and clearances; always playing it safe to never put the Rugby defence in danger.
Lola showed her customary energy in the Rugby midfield and attack, she didn't stop running and was ruthlessly effective in breaking up play with her commitment and determined attitude.  Eleanor slotted effortlessly into the Rugby defence and made some brave tackles, confidently clearing the ball whenever she was called upon and her positioning and anticipation is improving every week as her experience grows.
Katie's energy and determination was once again an asset to the Rugby team – she covered every blade of (fake) grass from one end to the other and never gave up on anything; battling for balls which appeared to be lost and winning back possession on countless occasions.  A special mention has to go to Layla who was confident as ever in the Rugby defence initially, but then put in a fantastic performance on the right wing – unleashing some powerful shots on target at every opportunity which she was unlucky not to be rewarded for.
Despite the even start and Leicester taking an early advantage the Rugby Town girls fought back and relaxed into the game after the first ten minutes; they soon let their flowing football do the talking and looked unassailable by half-time.  In a game which was cut short unexpectedly after a late start, Rugby were relentless going forward and it proved to be a case of damage limitation for the capable Leicester side, who would have been relieved to hear the final whistle.
I cannot stress enough what an incredible team performance this was, with every single member of the squad contributing at the highest level.  Rugby played some amazing football – they were confident going forward, showing great movement off the ball and terrifying the Leicester back line.  In defence Rugby were strong, committed and determined – clearing their lines confidently and looking assured throughout.  If these girls carry on playing together like this they will go on to great things – well done everyone!
Coaches Player of the Match:  Sofia put in a FIVE-star performance in the Rugby attack and was clinical in front of goal, relentless and determined as ever as she hounded the Leicester defence.
Special Mention: Our other trophy has gone missing but a special mention to Isobel who showed great concentration, leading the Rugby side and demonstrating confidence on the ball in midfield.
Thank you as always to our committed parents for your continued support and understanding.