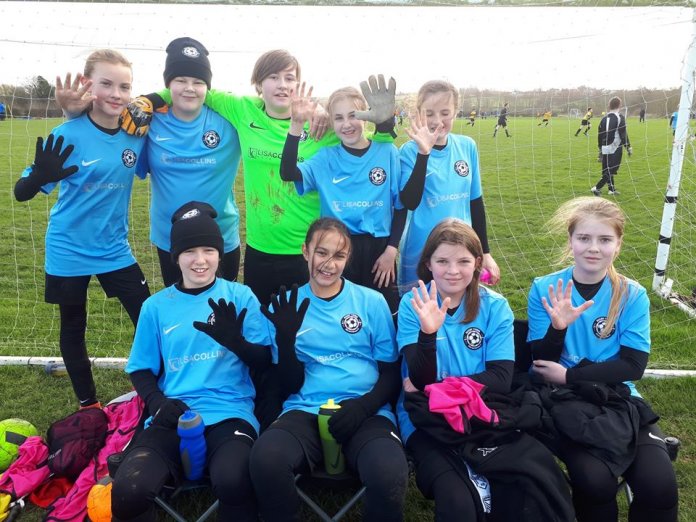 Asfordby Amateurs vs Rugby Town Girls U13 – Sunday 8th December
Sponsor: Lisa Collins Hair Design
Rugby Town Squad: Ellie (C) Hannah, Tash, Evie, Robyn, Sophia, Kelsey, Ava, Lucy
Due to illness and injury, a small Rugby Town (RT) squad of 9 arrived at Asfordby Amateurs FC (AA) for our away leg fixture. A keen, cold wind was blowing, and the pitch was heavy. Rugby Town had their work cut out for them today.
1st Half
Ava dropping from her usual LW position, back into LB to support our diminished defence. Robyn started will in CM with a couple of strong tackles. AA team started to work the ball forward into the RT half, clearly much more comfortable on the heavy grass pitch that their opponents. Lucy and Ellie working well to see of an early threat.  RT were playing a slower than usual game and were working out the speed of passes as the ball was stopping dead in the grass. Ellie played up to Robyn who delivered a nice through ball to Kelsey, running on and taking a shot, collected by the AA keeper.
Back down to the RT end again and AA secured a corner. Sophia gave clear directions and the RT defence worked well to clear the ball and allow the RT MF and forward chance to break on the counterattack. This time Robyn and Evie put together some nice play, with Evie having a shot on target, again, saved by the AA keeper.
AA won three thrown ins in succession, RT defended them well, but AA had made some good positions gains down towards the RT goal requiring RT to keep a calm head and clear the ball to prevent any AA attempts on goal. RT moved the ball around well and pushed AA, forcing a clearance for a RT corner, delivered well by Hannah but not converted.  Kelsey, Evie and Tash were working together well and creating some nice spaces. However, AA had spotted Kelsey's speed and recognised the threat, were now heavily marking her, meaning that using the width of the pitch to avoid getting in a tangle with a deeply defending AA was critical.
A spell of end to end play saw Tash shoot wide at the AA goal, and AA winning a corner at the RT end. AA were also now having a strong period of play and preventing RT from getting balls up front. A couple of AA corner in quick succession saw RT defending hard, before slowly turning the tables back on AA.  Ellie, Robyn and Evie played some smart football, with Evie battling in MF to release to Kelsey. Kelsey ran out to the right of the AA goal, struck the ball, and saw the ball hit the bottom of the left-hand side of the AA net.
Asfordby Amateurs 0 – 1 Rugby Town
RT were visibly more settled on the pitch now and were focusing on pushing forward. A lack of regular defenders, combined with a naturally attacking squad, meant RT were at times a little open at the back. The very quick AA striker (19) stalking the halfway line, looking for a change, RT did have a couple of little panics that Lucy and Ellie did well to manage, Sophia providing encouragement and a safe hand when required in goal. Nevertheless, another good RT run saw Hannah, Kelsey and Evie combined and Evie take a shot, fumbled by the AA keeper and RT second goal.
Asfordby Amateurs 0 – 2 Rugby Town
An AA corner cleared well saw a RT break with Kelsey on the ball, beating the AA defenders with a clear run on goal as the half time whistle sounded.
2nd Half
Evie stepped into CB to support our defence and to provide pave to keep tabs on the quick AA number 19. Ellie slid over to LB, Ava up to LW and Tash up to LS.  RT looked much more dynamic after the break and were playing much better football, with the passing more accurate and a little more passion being shown. Another great combination plays between Hannah, Kelsey and Tash, saw a calm and collected Tash jog up to goal, 1 on 1 with the keeper and a sweet shot, for RT 3rd goal.
Asfordby Amateurs 0 – 3 Rugby Town
A clearance from an AA corner saw Evie provide Kelsey with a great ball, allowing her to tear up the centre of the pitch, Hannah matching her pace with an excellent supporting run up the right wing. Kelsey just lacking the final shot to complete and otherwise excellently timed run.  The RT MF and forwards continued to dominate, with Robyn willing to put everything into her game. The RT back three of Ellie, Evie and Lucy were defending high and limited AA space. Lucy turn of speed came in useful again in this half to break some AA runs down the wing as Lucy pushed them out and stopped any threat of a cross.
Hannah, having a much better half, provided some good balls in from the right wing, one of which now found Tash in MF, playing off to Kelsey, who was off like a shot to score. Sadly, the linesman flag was raised at the pass between Tash and Kelsey and the goal was disallowed. RT characterised attacking enthusiasm saw them caught offside a few times in this half. The constate attacking threat was pushing back AA deep into their own half.
AA won a free kick in the centre of the pitch but RT soon relived AA of the ball and were back on the attack. Hannah, Kelsey and Tash teaming up this time and forcing the AA keeper to save a shot on target from Tash. Shortly after, a rampaging RT had another shot, this time from Hannah, but which saw the ball flying just wide of the right post.  Ellie and Sophia had a great partnership today working together to allow any stray AA long balls to be covered by Ellie and gathered up by Sophia. A clearance by Ellie was collected in MF by Kelsey, who simply ran around the AA defence and in a 1 on 1 with the AA keeper, stuck the ball in the net for her second of the game
Asfordby Amateurs 0 – 4 Rugby Town
A knockout by AA gave RT a thrown in which Hannah performed very well, out to Ava to turned beautifully, around the AA player and gave her a clear delivery to Tash for another shot on target, saved by the AA keeper. Back into play and Hannah received the ball out on the right wing, found herself being chased and tightly marked by 2 AA players, some nifty foot work and a squeeze through the tiny space between them, passed the ball out to Kelsey for a shot on target. Shot parried by the keeper, and Ava had positioned herself perfectly to the left of the goal to collect the ball and convert RT 5th of the game.
Asfordby Amateurs 0 – 5 Rugby Town
The final few minutes of the game saw RT maintain control, apart from a brief push from AA, wining them a corner which Sophia covered with no issues.
Summary
Asfordby Amateurs 0 – 5 Rugby Town
A bit of a shock to be playing on grass again today which took the RT team a while to settle back down on, a few faces showing their displeasure of having to clump through the mud. The heavy pitch slowed the ball and the game right down, which mean RT had to adapt their style of play to better suit the conditions. A much improved second half performance with great teamwork.
Coaches Player of the Match: for a hugely improved second half performance, showing tenacity and nifty footwork: Hannah
Parents Player of the Match: for stepping into defence in the first half and an energetic second half performance; Ava
The team and coaches would like to thank:
Parents for your continuing support
Bert for linesman duty
We would also like to say "Get Well Soon" to the rest of the squad, we missed you today!