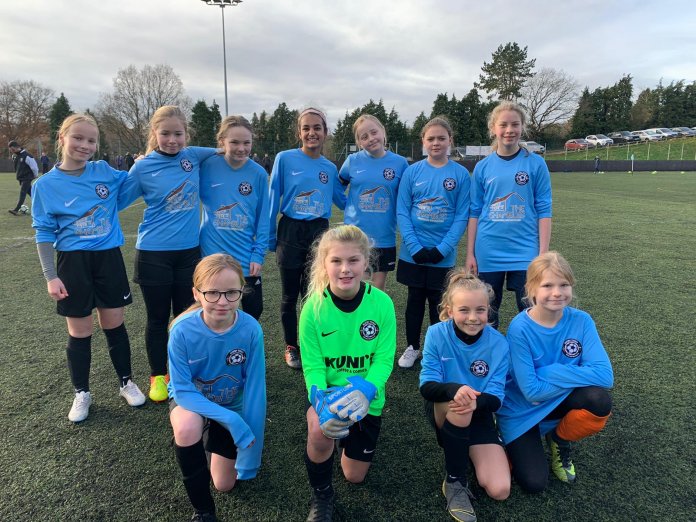 Rugby Town Girls U12 vs. Northampton Town
Saturday 7th December
Sponsors: The Shambles Restaurant, Lutterworth
Weather: 8c
Rugby Team: Frankie, Lily, Lois, Emma, Jess, Carly, Charlotte, Zara, Rosie (C), Ava, Evelyn
1st Half
Rugby Town kick off with a quick counter-attack comprising of Evelyn and Zara but quickly lose out to Northampton's defence. Northampton are very dominant with the ball and within 3 minutes they are 1-0 up. Straight after the restart Northampton are standing firm and putting a lot of pressure on Rugby's defence, Jess and Carly are working as a partnership together holding the defensive line, catching Northampton offside. Frankie takes a short free kick but Northampton are very assertive on the ball and score, 2-0.
The trio of Zara, Rosie and Evelyn are being positive down the wing, passing and crossing the ball to one another. The Northampton defence kick out and Rugby are awarded a corner. Northampton clear it, take control, go on the attack down the wing and across the centre, shoot, but Frankie saves! 8 minutes gone and Northampton are now 3-0 up after a short free kick from Northampton after being offside.
Jess and Charlotte are playing impressive football using Zara down the wing as the girls put pressure on Northampton.
The play is excellent between Rugby's players as they show a combined effort and driving the ball forward but lose out to a very strong Northampton side. Frankie makes some great saves in goal as Jess presses in defence, flying high on her debut. Great energy by Charlotte, Lily makes an appearance down the left wing and shows positive attitude towards the game. Carly and Emma are dominating the defensive line, but Northampton are calling the shots. Emma, Ava, Rosie and Evelyn are trying to stand firm and be positive but Northampton's defence are too strong for them.
After 25 minutes gone, Northampton are 5-0 up and score 2 quick goals in space of a minute of each other as Rugby let their guard slip.
2nd Half
Substitutes are made by Rugby with Lily now in goal, Frankie on the pitch in LM, Lois on in RM and Zara comes off. Northampton's turn to kick off and theyare straight on the attack, they drive forward with so much determination as they take a shot but it goes into the side of the net. Rugby are not deterred and keep going. 6 minutes gone and Lily's time to shine with a cracking save – Rugby are putting a lot of pressure on Northampton as Lily makes another great saves but this time it goes over the crossbar. Quick substitutes by Rugby – Rosie off, Charlotte replaces and goes in CM.
Northampton are so energetic and drive forward again, 7-0. Bang, another goal – Lily couldn't stop that!
12 minutes gone and some more substitutes made by Rugby – Frankie off, Zara into CM and Charlotte back into LM. The midfield trio of Zara, Rosie and Charlotte are playing excellently with exceptional skills from Ava and Evelyn. Jess is playing well in defence with backup from Emma, Carly and Lois, the ball is kicked out and Northampton are awarded a corner. It is taken quickly, goes across the box but is kicked out.
A lot of short passing that was used in training was being showed by Rosie, Charlotte, Zara and Evelyn throughout the game. In the last 10 minutes of the game, Rugby had been too close together in Northampton's half allowing them to create space with each other and score another goal into the top of the net, 9-0.
Rugby's playing skills were courageous and positive despite playing against a dominant and forceful Northampton side. A good all-round performance against a team who have scored in double figures multiple times already this season! Well done Rugby!
Parents player: Jess for showing massive confidence and energy on her debut
Managers player: Evelyn for her pressing and hold up play, playing upfront on her own