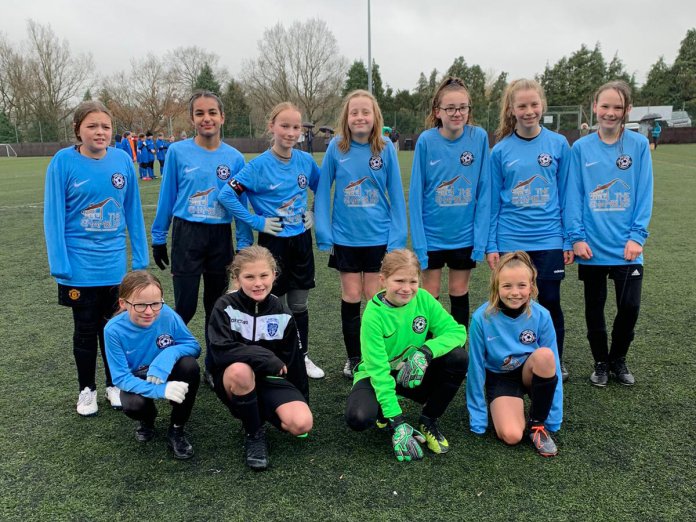 Rugby Town Girls U12 vs. Silverstone Racers
Saturday 14th December
Sponsors: The Shambles restaurant, Lutterworth
Weather: Wet, 7c
Rugby Town Team: Lily, Frankie, Carly, Lois, Jess, Ava, Zara, Rosie (C), Charlotte, Skye, Evelyn
1st Half:
Silverstone win the kick-off but Rugby are straight on the attack with a great start from Lois. Rosie and Evelyn all showing splendid composure, with a ball across the path to Skye who takes a shot but the defence closes her down. 5 minutes gone and Ava is unmarked, goalkeeper kicks out to her feet, ball zips into the top right-hand corn; 1-0 Rugby. After the restart, great play by Skye and Evelyn, pressing the kick but Evelyn is offside; all the Rugby players are flying high in the 1st 15 minutes with great determination and a positive attitude.
Ava, Charlotte and Carly are commanding the left wing with Jess, Rosie and Lois doing the same down the right hand side. Lovely running and short passes between Skye and Evelyn; Rosie has a few shots at goal but hits side of the net. 17 minutes gone, Lois off and Zara goes RM. Skye is showing great composure after a week off and goes by herself and scores, 2-0 Rugby. Straight after the restart, this time it's Rosie's turn, she strikes but the ball is tipped over the crossbar. Another substitute is made, Rosie off and Frankie plays CM.
The possession from Rugby is overwhelming as they keep testing Silverstone's goalie with every attempt they can get. Skye and Evelyn both takes shots but are disappointed as they just can't get it in the net; the ball goes wide with a little touch by Silverstone's defence. Rugby win a corner and play a cracking short one between Ava and Skye, who then passes to Frankie and she scores, 3-0 Rugby.
In the final 10 minutes of the half, the play between Zara, Evelyn , Ava, Carly and Jess is phenomenal as they are showing assertiveness and being forceful while controlling the ball between each other. More short corners are made by Ava and Skye but the ball goes wide. Skye is substituted and Lois comes on, and within the final minutes of play, Rugby's midfielder Frankie shows no fear and is calling the shots with Evelyn who goes on to score, 4-0 now to Rugby!
2nd Half:
Frankie replaces Lily in goal. Straight after kick off, Rugby are on the front foot with Evelyn passing to Ava, who scores; 5-0. Both girls are aiming for a hat trick, still a lot to play for. Zara also has a chance by herself but she's unlucky – the Silverstone goalkeeper kicks out and it falls to Charlotte, whose strike goes wide. After 5 minutes played, Ava comes off for a break – Skye is regenerated and replaces her, who then has a great partnership with Lois and Evelyn. Evelyn takes it in her stride and goes on her own, 6-0 Rugby, great goal! Silverstone are trying their hardest to keep Rugby on their toes but the home side are too hot to handle.
Less than 5 minutes to play and Rugby are thirsty for more goals so they are staying strong with excellent short passing between Zara, Evelyn and Ava. Ava is being fearless and is hungry for another goal, so she goes for it and scores 7-0. Ava is over the moon, 'A Hat trick'. Quick restart by Silverstone, but Rugby's forwards consisting of Evelyn and Skye intercept the ball very quickly, Skye shoots outside the box and it goes in, 8-0. She's in shock, what a goal!
Overall performance from Rugby was outstanding from attacking, midfield and defence showing positivity. The team were very impressive.
Parents player: It was very close between several players but it went to Charlotte for her energy and fearless attitude
Managers player: Carly, a one player defensive line who contributed massively to keeping a clean sheet, especially in the last 20 mins.