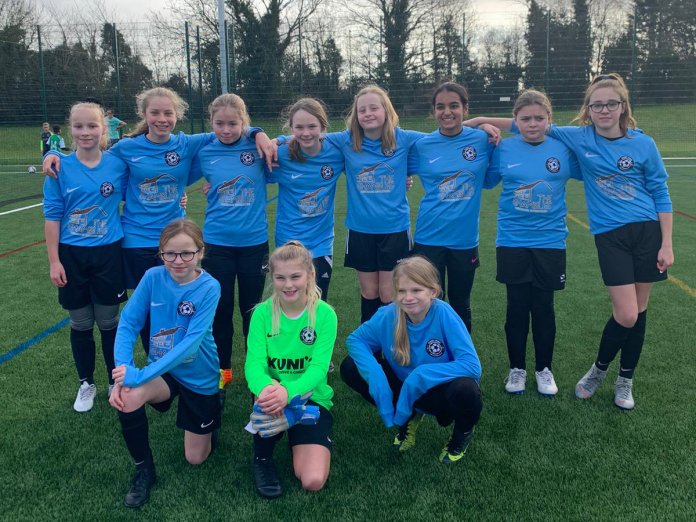 AFC RD Blues vs Rugby Town
Saturday 21st December 2019
Sponsors: The Shambles restaurant, Lutterworth
Weather: 10c
Rugby Team: Frankie, Lily, Lois, Emma, Jess, Carly, Zara, Ava, Rosie, Skye and Evelyn.
1st Half
AFC kick off and there's a quick interception by Rosie who passes to Skye, shoots and goes wide. This time AFC go on the counter-attack but Jess and Carly are showing leadership and communication skills between themselves as Frankie makes a cracking save. Zara is doing some running, commanding the wing with her energetic legs.
11 minutes gone and Rugby get a breakthrough with a mistake made by AFC goalie who gives a short pass to Rosie, shoots into an open goal 1-0 Rugby. Rugby keep the pressure on from Emma who is playing out of position in midfield with help from Zara. Now time for AFC's turn as they get a breakthrough as Rugby's defence have fallen asleep; 1-1 scoreline. A couple of substitutions are made – Lois on, Zara off as was kicked in the ankle and Ava off and Lily put into RM.
Between both teams, ref is calling quite a few foul throws! The stamina and endurance between Rosie, Evelyn, Skye and Lois is very intense as they keep pressing on AFC's defence.
A few corners are awarded to Rugby as each time AFC kick out, these are short corners quickly taken between Jess, Lois and Skye as practiced in training sessions but these are not working so it's switched back and Rosie walks up to take it who loops its over AFC defence and is placed in front of Evelyn, shoots and score 2-1 Rugby. Rugby are bursting with energy and team spirit. The defensive trio consisting of Carly, Jess and Lois are showing great togetherness, with Frankie making some fantastic saves.
2nd Half
Substitutes are made – Lily in goal for Frankie. Emma off, Ava into CM. Frankie off, Zara into LM. Rugby are dominating and are being very forceful from the start with Ava and Zara commanding LM as Zara goes across, shoots but goes wide. The intensity of Rugby's attackers is extraordinary as some excellent skills are shown by Zara, Evelyn, Carly and Ava as they put pressure on AFC. Evelyn has a few shots on goal but excellent goalkeeping keeps the ball out of the net, great strength and enthusiasm!
10 minutes gone, Lois off and Frankie goes RM. Frankie is calling the shots ever since being put out on the field, combined effort with Ava as Frankie makes an impressive start by scoring 3-1 Rugby. Straight after the restart, Zara is passed the ball by Evelyn who is approximately 25 yards from the goal and scores, Boom – wow, impressive! Rugby's players are elated: 4-1 Rugby. Lily is making some tough saves from AFC's forwards, who are testing the goal but Carly and Jess are commanding the defensive line and it shows.
15 minutes gone, another substitution this time, Carly off and Emma into defence. Rugby are flying high this time between Skye, Frankie and Evelyn who are leading the front line as Evelyn makes another shot on goal, 5-1 Rugby. This time she's on for her hat-trick. Ava and Rosie are bursting with energy in CM as they are driving forward and showing some rg4eat combinations with Frankie, Skye and Evelyn.
With 5 minutes left to play, Jess comes off as she has showed great determination in defence with Emma and Carly in the 2nd half so Lois comes back on. AFC have a few chances but Rugby are calling the shots as the Ava and Frankie partnership goes another level as Frankie scores, middle of the net, 6-1 to Rugby. Straight after the restart and Frankie intercepts and gains possession who passes to Evelyn who is unmarked and in clear space – she goes for it and completes her hat trick to make it 7-1 to Rugby
Overall performance – cracking 2nd half showing; so much determination and energy as they led the way right from kick off – a courageous and impressive display. Many thanks to all the parents for their support each week and to Nathan for running the line.
Parents Player: Frankie for her amazing saves in the 1st half and cracking effort and determination with all the players in the 2nd half.
Managers Player: Rosie for her explosive attitude and strength on the pitch.