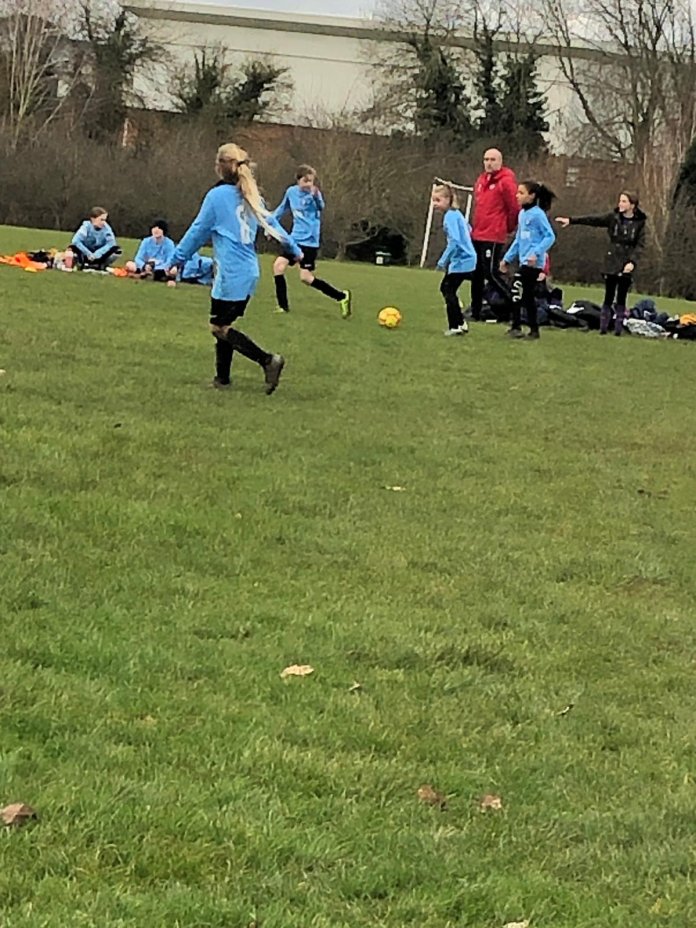 Oadby Owls U11 v Rugby Town U11 – Sponsored by Kunis Coffee and Comics
Venue: Coombe Park, Coombe Rise, Oadby LE2 5TU
Weather: Cloudy, partial sun but cold.
Ground: Soft and Muddy
Rugby Team: Frankie, Sophie, Ruby, Pauline, Emma, Vince, Bailey, Soapy, Kiki, Nicole.
First game of the new year and decade against an experienced Oadby Owls side – Rugby had previously played the Owls at Butlin Road; they were a well-organised, skilful and physical side that provided us with a stern test in the early stages of the season. A few months on, this would ultimately see how we had progressed as a team against one of the best teams in our league.
First half was a tight affair with both defences on top. Rugby Town showed some enthusiasm to win the ball and move forward as quickly as possible. Using the width of the pitch really well but the killer pass to striker was lacking and most of our attacks were dealt with by Oadby's defence. First half ended as an even affair.
As the second half started, the sun disappeared and the air got even colder. The pitch was beginning to cut up and would be heavy going for both teams. As the game wore on both teams were getting tired which opened up the game for attacking play; Rugby with most of the possession were attacking at pace, but again lacked the precise pass or delayed the pass before losing possession. Oadby were happy to defend in numbers and catch us on the break.
The game ended with a positive performance for the girls on a tough pitch, with plenty for the coaches to work on in training and a result for the girls to reflect on where we can improve.
On reflection, we can improve as a collective and be braver in front of goal, don't be afraid to have shots at goal. When we have the ball, we need to work harder to support each other and be more vocal moving forward. When we don't have the ball, we need to close the opposition down and read the game quicker so we can be in a position to tackle and win the ball. Watch the opponent's movements and don't be caught ball watching. When the ball is loose, be first to the ball and make sure we keep it by passing and moving.
Overall Performance: In control of majority of the game, just missing the cutting edge in front of goal. Great effort by the girls.