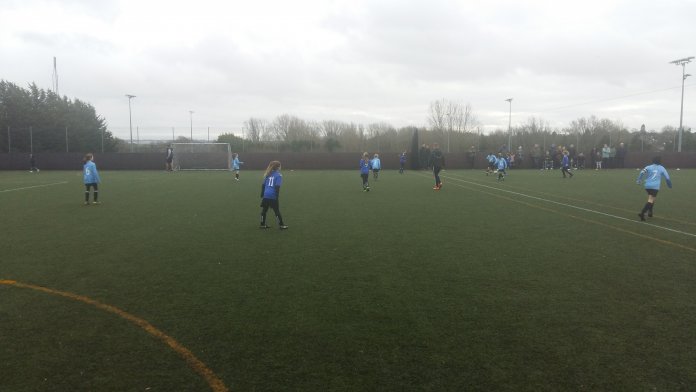 Rugby Town Girls U10 vs. AFC Market Bosworth
After a short festive break Rugby were straight back to it in the New Year hoping to start 2020 positively against familiar opposition. Market Bosworth are a very well organised, committed team with some skilful players and they came out on top in the return fixture before Xmas – this was the only game the girls have played on grass this season so it was set to be an interesting spectacle on 3G.
Layla started the game in goal for Rugby and made some excellent close-range saves from the outset, showing great bravery as she valiantly dived at the feet of the Market Bosworth attackers to protect her goal. Izzy and Connie formed the home defence and both girls played with great composure; looking confident on the ball whilst making some intelligent interceptions and playing it safe to keep Market Bosworth at bay.
Lexie controlled the game in the middle of the pitch, showing great vision with some insightful passing and exceptional through balls, as well as chasing back to protect the Rugby defence. Isobel had to be alert on the wing as Market Bosworth came forward in numbers down the left-hand side – she showed great energy and determination to get up and down the pitch relentlessly and was always strong in her tackles.
It was an even start to the game, with chances at both ends; both teams liked to keep the ball on the ground and play positive, attacking, passing football – Rugby cam in at half time with a slight advantage but would need to be on their toes in the second half to maintain it. Sofia put in a committed performance up front, hounding the Market Bosworth defence and dealing well with a physical opposition.
Sofia and Aurora both showed great movement off the ball and intelligent positioning to give Rugby options going forward. Aurora's energy was a real asset to Rugby as she put in some firm but fair challenges chasing back whilst still getting up the wing with some lively runs. Katie had a fantastic spell in midfield, didn't stop running and her pace and strength were always effective in breaking up play. Beth was strong and committed in the Rugby defence, determined to be first to every ball and showing some great marking, always playing it safe to remove the threat.
Lola put in a determined performance on the Rugby wing and then up front, putting pressure on the Market Bosworth defence and challenging for every loose ball whilst still getting into some positive scoring positions. Eleanor came on to shore up the home defence, making some critical clearances, and looked assured on the ball as her confidence grows with every performance.
The second half was largely even with both sides playing some good football but Rugby were able to regain the advantage in the last ten minutes to see the game out. Overall it was a fantastic performance with all of the girls showing great commitment in every tackle, fantastic determination not to be beaten and some intelligent and insightful passing proving to be the clinical difference – well done to everyone involved!
Thank you to Sam for refereeing and to our committed parents for your support and encouragement, what a great start to 2020!
Parents' Player of the Match: Layla showed great bravery and distribution in goal, making some exceptional saves to keep Rugby in the game
Coaches Player of the Match: Lexie's range of passing was exceptional and she showed vision beyond her years to carve out a number of chances for Rugby