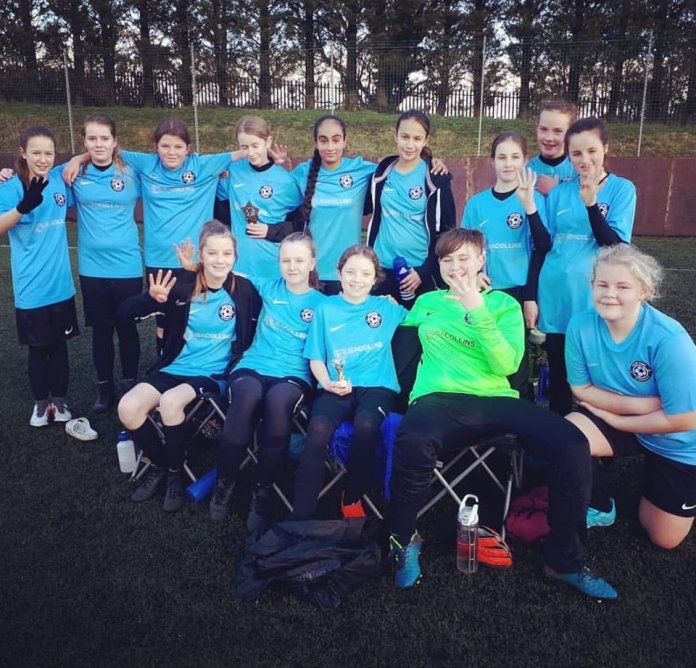 Rugby Town U13s vs AFC Leicester – Sunday 12th January
Sponsor: Lisa Collins Hair Design
Rugby Town Squad: Ellie, Hannah, Tash, Evie, Robyn, Sophia, Kelsey, Ava, Lucy, Sophie (C), Mia, Priya, Izzy, Ella
A full Rugby Town (RT) squad opened 2020 with a home tie against AFC Leicester (AFC). It had been over a month since they last had a match and the team were keen blow away the cobwebs. A more attacking formation from the coaches invited high play and hopefully encourage shots on goal.
1st Half
RT started strongly with a desire to attack and push against AFC. Mia on LW, had a very good start with some great on ball skills and excellent determined play showing the long Christmas break had not affected her at all. RT win an early free kick, taken well by Tash but cleared very effectively by AFC. Rugby continue well on the attack and are locking down their midfield, preventing any meaningful AFC reply. Rugby have a couple of chances on gaol early in the game, the shots going just wide.
Rugby win a corner, delivered in by Tash at a cracking pace, positioned well onto the far post, unfortunately no Rugby players are there to take the opportunity for a potential easy tap in. Robyn, playing attacking centre midfield, had a very energetic half, and good to see her pushing up towards the AFC goal with some creative football.
Rugby continue to dominate and Priya on the right wing, delivered a lovely ball in across the goal which just shot past Tash's toes, with a hairbreadth of space. This excellent period of play for Rugby continues with Mia playing the perfect through ball to Tash who just shoots wide. Rugby keep the pressure on AFC and Robyn seized an opportunity of a gap in the AFC defence with a solid shot to open the Rugby Scoresheet
Rugby Town 1 – 0 AFC Leicester.
The defensive trio of Izzy, Sophie and Lucy played high today, allowing Sophie to have more freedom to push forward. This formation meant they had to keep a clear head and watch for and counter attacks by AFC, which the generally coped with very well. Evie, up front on the right, was getting some good touches and working with Tash and Robyn to really open up the AFC defence. Goalkeeper Sophia, as not particularly threatened, but did make some very confident run outs from her goal mouth to clear and menacing balls, using good communication with her defence.
In the final minutes the ball played out from deep in Rugby's midfield from Sophie to Robyn and on to Tash who made a string run, kept her nerve and clicked will the ball well for her well-earned goal
Rugby Town 2 – 0 AFC Leicester.
2nd Half
A 5 player swap out at half time gave the team a good percentage of fresh legs for the second half. Hannah, attacking CM, came out with determination and was working well with Ava and Kelsey up front. Only a few minutes in and Kelsey was controlling the play deep in the AFC half, coming in and putting a sweet shot into the right side of the AFC net.
Rugby Town 3 – 0 AFC Leicester.
From the restart, AFC started to turn the table on Rugby and had a period of control in the game. A good play from them saw them waltz through the Rugby midfield and only a very proficient save from Sophia kept them off the scoresheet. Rugby kept their heads and started to reply more on their teamwork to keep possession and move the ball well. AFC withheld the Rugby pressure and forced 2 quick corners from the Rugby defenders. Both corners cleared without too much bother for Rugby.
Back up to the AFC half and Rugby win a corner, initially cleared but fell well for Ellie who crossed the ball well, seeing Ava just missing the perfect connection, the ball running out for an AFC throw in. AFC used the opportunity to break again and back down in the Rugby half, secured another corner. The corner was initially cleared out to the right wing, AFC collecting well and pushing back again, released a shot that caught Sophia by surprise to open their scoring.
Rugby Town 3 – 1 AFC Leicester.
The game restarted and, on the ball, Kelsey was showing some impressive skills with some overhead kick and collects. The pace of the game was slowing now as the end to end play was starting to fatigue some of the players on both teams. Ellie was now playing up front on the left with Ava dropping back to left wing. Both players working well, lots of effort and strong play. Ella had joined Sophie and Izzy in defence, and the three were concentrating hard on holding their defensive line as the minutes ticked on.
Kelsey, in possession on the right wing, showed some exceptional skill against 2 AFC defenders with several headers, and overhead kick and a run onto goal to extend the RT lead.
Rugby Town 4 – 1 AFC Leicester
The final minutes of the game saw Rugby with another couple of corners won by Rugby but which were unable to be converted.
Summary
Rugby Town 4 – 1 AFC Leicester
Not the strongest performance of the season with the attacking formation taking a little getting used to and leaving us exposed at the back at some points. However, as the game progressed, the team worked well together to push AFC Leicester into their half and the tenacity of the midfield and forward players resulted in a well-deserved win.
Coaches Player of the Match: for an excellent first half, showing some great positioning and on ball skills and well as a clear hunger to win the ball; Mia
Parents Player of the Match: for a very strong display when asked to play in a higher position, displaying determination and speed; Sophie
The team and coaches would like to thank:
Parents for your continuing support
Keith for linesman duty
Tony for being our "emergency" ref