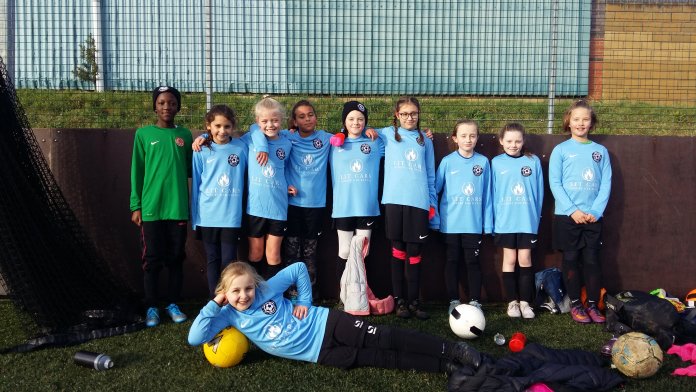 Rugby Town Girls U10 vs. Whetstone Juniors U10
Rugby welcomed Whetstone to Butlin Road for the first time with torrential rain proving to be the only obstacle – a large squad of thirteen girls convened for a seven-a-side match so there was always going to be lots of changes. Whetstone are a well organised, competitive team of experienced girls so we were well set for an interesting spectacle, and it proved to be just that with some entertaining football on display.
Star striker Sofia led the line for Rugby and started as determined as ever, making some competitive tackles to win the ball back in the opposition's half and keeping the Whetstone defence on their toes with some intelligent movement off the ball. It was a largely even start to the game, with both sides having chances and showing great technical ability; competing strongly and fairly for every ball whilst demonstrating a desire to keep the ball on the ground and play free-flowing football.
Katie displayed her customary energy in defensive midfield, covering every inch of the pitch and using her strength to break up play whilst supporting the Rugby attackers. Lexie was instrumental in the middle of the park, showing great distribution and confidence on the ball to put Rugby in a number of scoring positions. Ria looked assured and confident in the Rugby goal in the first half and later put in strong, determined performance in defence, snuffing out numerous Whetstone forays forward.
Aurora put in a dominant performance on the Rugby wing, switching sides and tackling back with great force to be involved with play across the pitch – her commitment and fighting spirit were rewarded today (x2) against a physical defence. Lola put her pace and determination to great use, first up front where she saved one surefire goal tracking back the length of the pitch, and later selflessly volunteering for a more defensive role where she continued to frustrate Whetstone.
Beth was strong and determined in the Rugby defence; her marking is second to none and she always plays it safe to avoid putting the team in danger and refuses to be beaten. Poppy returned from a long absence following a broken wrist and it was great to have her back on the Rugby wing; she hit the crossbar and was rewarded with another effort to show that she hasn't lost her touch, fantastic to see her silky skills and quick footwork back on the pitch.
Izzy was dependable and assured as ever, controlling the heart of the Rugby back line with her confidence on the ball and winning every 50-50 tackle; she's always the first to react and shows great communication and positioning. Indie put in an excellent performance in the middle of the pitch; breaking up play effectively and showing some insightful passing when she was on the ball. Eleanor slotted effortlessly into the back line and put in another composed, confident performance as her match experience grows; she is a solid defensive stalwart with a cool head who always plays it safe and puts the team first.
Captain Isobel started in her usual defensive role but also contributed with some fantastic runs and strong tackles out wide in the Rugby midfield, showing her confidence on the ball and flexibility for the team. Layla had a fantastic spell in goal in the second half, collecting every loose ball calmly and confidently; she distributed the ball well and also put in a great shift in the Rugby defence earlier in the game.
Rugby spent a large part of the game playing catch-up but their confidence grew in the second half and it turned into another fine display against a very strong and talented team. All of the girls should be incredibly proud of their performances; they were forced to dig deep and fight together for the result they deserved. Well done to all the Rugby Town girls involved and thank you to Kerri for refereeing.
Parents Player of the Match: for an unstoppable performance on the Rugby wing, fantastic energy, competitive spirit and clinical finishing; Aurora
Coaches Player of the Match: Izzy led the Rugby defence by example, communicating well and showing great confidence on the ball with some intelligent clearances.