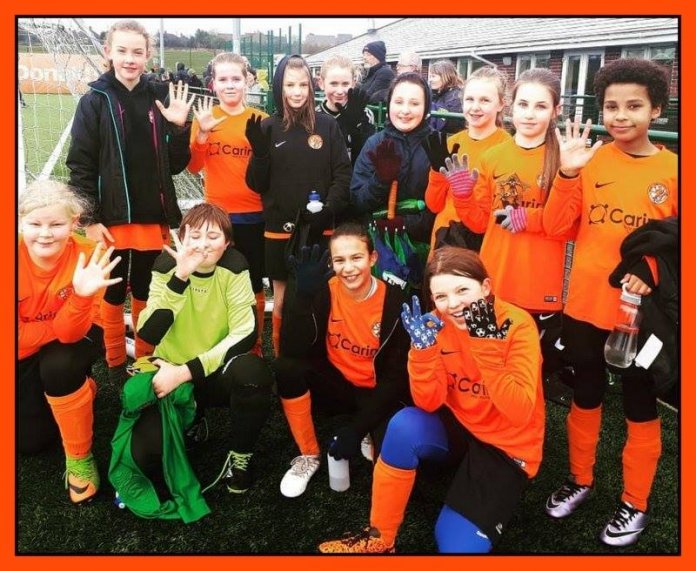 Sponsored by: Lisa Collins Hair Design and Caring Help at Home Ltd
Rugby Town Squad: Ellie A , Ella, Hannah, Erin, Kelsey, Sophia, Ava, Elle J, Mia (C) , Izzy, Tash, Evie
The U12s arrived at Kilsby Lane, only to find the likelihood of a game of water polo rather than football! Luckily, we were able to switch the game to the astro pitch, and the rain decided to subside.
Due to the coaches already being drenched, muddy, and cold, it is fair to say they have both been in better humour and they neglected to write any notes due to the game so this week's match report will be sparse (some of you may be relieved you don't need to read War and Peace.
1st Half
Rugby started strongly, already sensing that the Leicester team, showing great improvement through the season, were not going to be easy opposition.
Leicester had a couple of really quick and skilful players (9 and 11) that really caused Rugby's midfield and defence, significant issues throughout the game.
Hannah had a good game today and was called upon to make a number of defensive runs back during the first half. Ella, in the right back position, made a few really crucial defensive blocks, denying the flying Leicester players a clear run on goal. Left back Erin, showed good confidence today, and although the Leicester forwards were very quick, she didn't allow herself to become intimated.
Around 15 minute in an excellent cross came in for Tash who calmly opened the scoring for Rugby. Well-deserved for Tash who always works hard so it is nice to see her persistence pay off.
Rugby 1 – LCL 0
Ava had another strong half, her effort and commitment to the game is always 100 percent and her control of the left wing was impressive.
Leicester started to push Rugby hard with waves of lightning quick counter attacks. Their determination paid off and they beat the Rugby defence to bag their equaliser, one which Rugby could find little to complain about.
Rugby 1- LCL 1
Sophia had to be sharp in goal today as Leicester were always a serious threat. A few easy saves meant that Rugby went into half time, happy with the 1-1 score line.
2nd Half
5 player swap out saw a new defence and midfield for Rugby and a fired up Leicester side determined to secure the win at Kilsby Lane.
Izzy and Ellie settled into their positions in defence and were keeping in close communication with Sophia in goal. Both defenders saw much more action than they have done in recent weeks and general coped well with what could only be described as a bit of an onslaught.
Mia had a busy 25 mins in the defensive midfield position and had to work really hard against some very determined LCL players. Mia acquitted herself very well, showing tenacity and effort, and released some very good balls forward to Evie and Elle.
Elle J, Evie and Kelsey are a fantastic team up front and are starting to intuitively know where their team mates are going to be. Elle's skill on the left wing was excellent and Evie on the right wing, was chasing down every LCL player who dared venture in her direction.
Evie crossed the ball in from the right wing, and whether deliberate or not, scored an excellent goal at an incredibly tight angle. Again, another player who works so hard, being rewarded with a well-deserved goal.
Rugby 2 – LCL 1
Half way through the second half and Elle delivered a sublime corner wide to Kelsey who converted for Rugby's third goal. An excellent assist and goal
Rugby 3 – LCL 1
Trailing Rugby only seemed to fire up LCL further, they now had the bit between their teeth and some of the speed and skills they showed was a pleasure to watch, albeit irksome for the Rugby players.
The pressure eventually proved too much for Rugby and LCL scored 2 goals in a 5 minute period, levelling the score in this very tough game.
Rugby 3 – LCL 3
It was hard to believe that there could be any more goals left in this game moving into the final ten minutes……
Kelsey picked the ball up in on the halfway line, and simply put on a masterclass, displaying excellent ball control and dribbling and catching most of the LCL players on the hop, she beat the defender and calmly dribbled up to the Leicester goal, making sure she could clearly see where she wanted to place the ball and easily slotted the ball into the net with the minimum of fuss.
Rugby 4 – LCL 3
Unfortunately even with the 4 – 3 lead, LCL were still not about to let Rugby off the hook. A blistering counter attack shortly after the restart saw them level the scoring for the 4th time in the game. No matter what Rugby did, it seemed a draw was on the cards.
Rugby 4 – LCL 4
The final minutes of the game again saw another good run by Kelsey, culminating in her first hat trick of the season, and what turned out to be the winning goal for Rugby.
Rugby 5 – 4 LCL
Summary
Rugby Town 5 – 4 Leicester City Ladies
A very evenly match game with some heavy battles seen in midfield. Leicester were a formidable opposition who came from behind four times and made Rugby work hard for every second of the game. I was very impressed with how Leicester kept battling to equalise.
One league game left for the U12s before our league cup fixtures start. To celebrate their very successful season so far, the parents treated the team to Pizza after the game. The noise levels in the restaurant, were even more epic than the games score line.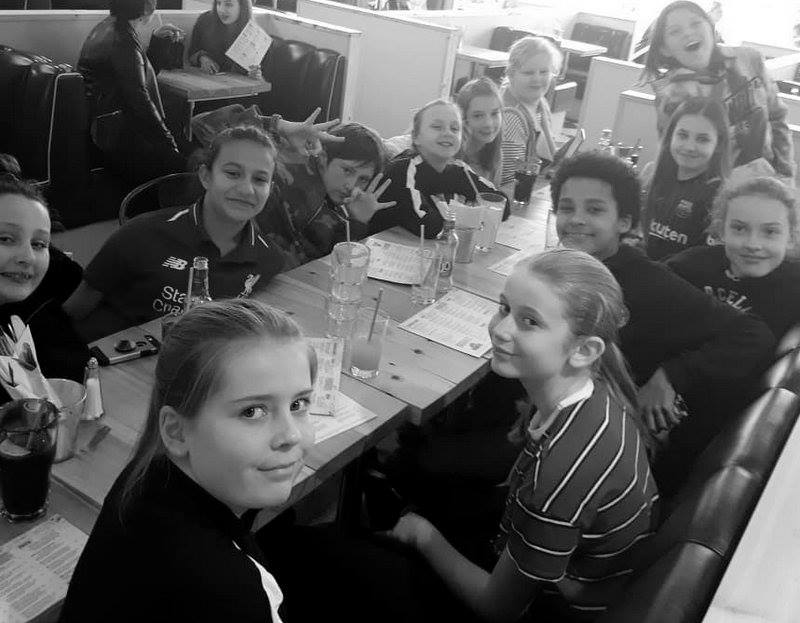 Coaches Player of the Match – for outstanding individual efforts and her first hat trick of the season: Kelsey
Parents Player of the Match – for some excellent and crucial blocking tackles in the first half: Ella
Thank you to Lauren for refereeing our game.