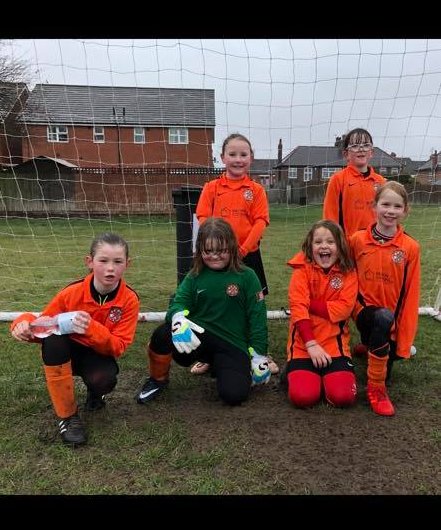 Team – Matilda, Anna, Chloe, Freya, Meghan and Holly
The u8 wildcats faced an away game against Coalville town and with previous meetings against the team always being a battle it was important that the girls attacked from the off.
As always their smiling faces and passion to fight as a team, the girls battled hard in the opening minutes. With Matilda in goal, wearing her brand new gk gloves, all of the girls player tirelessly in their positions. Freya and Holly started at the back and the opposition failed countless times to break the deadlock, Anna was battling hard in midfield with some great ball control and passing to her team mates, Chloe and Meghan fought with all of their energy to battle in the opposition end.
Meghan's throw ins as always caused lots of trouble for Coalville, such a key feature for the girls to always attack, Anna slotted the first goal away with such composure and the girls momentum was building.

The passing and the enthusiasm built with all of the team throughout the half with Chloe weaving in and out of the defence, with holly and freya standing strong for Rugby, as half time approached I could feel the belief they had in themselves.

With the second half underway the wildcats started from where they left off, and with a change in formation saw freya and holly playing further forward. The determination of them all increased the chances and they soon paid off with freya battling hard, setting her own personal record along the way, the wildcats were sure to finish on a high.
Each and every player gave it their all today and I can only say how proud I am of them all. Every week they play with courage and passion, it's a joy to both watch and be a part of as a guest coach.
Today's player of the match for great skill, passing and determination throughout was Anna. Well done girls super proud of you all!