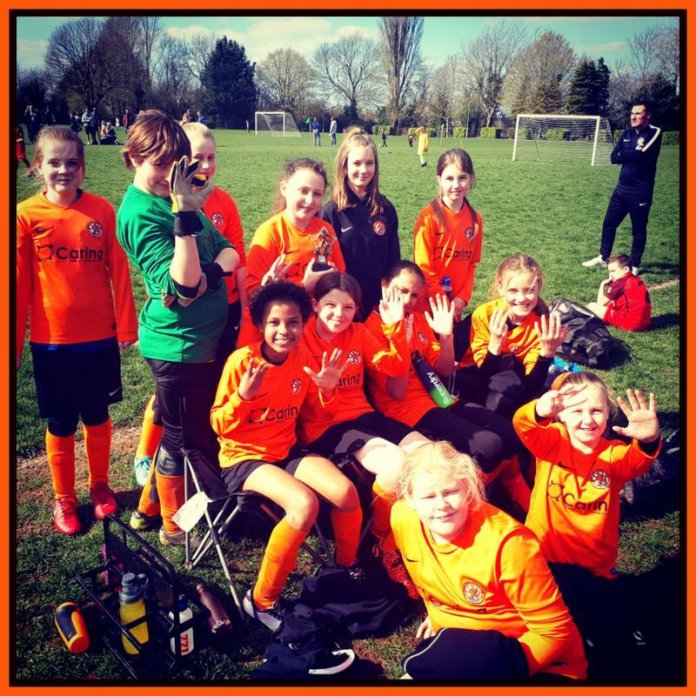 Sponsors: Lisa Collins Hair Design and Caring Help at Home Ltd
Rugby Town Squad: Ellie A (c), Ella, Erin, Kelsey, Elle J, Hannah, Izzy, Evie, Mia, Ava, Sophia, Tash
The Rugby Town U12s team travelled to Hinckley to play our 2nd round league cup game against GreenTowers (GT) Hinckley,
1st Half
In near perfect conditions, Rugby were dynamic from the referees whistle.
An early push from GT saw them win an early tackle which was well defended by Rugby and caused no issues. Rugby formed a strong counter attack and a hurried clearance from GT earned Rugby a corner. Hannah delivered a lively ball in which was cleared well by GT.
Rugby were clearly enjoying playing an attacking game and there were numerous pushes forward in the first ten minutes with several shots on target by Rugby, all well saved by the GT keeper.
Mia provided a good throw in and Evie and Tash linked well to allow Tash a run on goal, seeing her shot go just wide of the GT goal. Ava, Evie and Tash were now mounting a pretty much constant onslaught on the GT goal, with well provided balls from Hannah. The GT keeper did exceptionally well to keep the score at 0-0.
With the attacking play and with most of the action being seen in the GT half, most of the Rugby players were well up field. GT saw an opportunity and broke through, pressuring Sophia in a 1 on 1 situation. As always, Sophia kept a clear head and executed a solid save.
Although not as busy as in previous games, both Erin and Ella had an excellent first half. Erin gave one her best performance so far this season, her enthusiasm and confidence was a pleasure to see. Ella gave a masterclass in defence, running the GT attackers down, and not allowing them an inch of space to formulate any effective attacks.
GT, finding they could not get as near to the goal as they would like, had one of their players take a splendid strike from distance, unluckily for them, blasting just wide of the right post.
Tash was having a very good game on the right wing, performing strongly and defending from the front; she teamed up well with the forward players and showed good game awareness. A great ball from midfield allowed Tash some space, running forward and slotting the ball cleanly into the GT goal.
GreenTowers Hinckley 0 – 1 Rugby Town
Evie was making some great tactical runs up front, which with the right ball, would have seen her net a couple of impressive goals. Ava, as always, was 100% effort, and commanding her left wing position with an impressive performance.
Towards the end of the half, GT had a brief spell of attacking play, making Rugby work defensively. Rugby stood firm and absorbed the pressure well, before turning the table and pegging GT back into their own half. A final Rugby push gave Ava the opportunity to have a shot on goal, delivering a cracking strike, just wide.
2nd Half
A 5 player swap out for Rugby saw fresh legs and a determination to put some more numbers on the scoresheet.
Elle J set her stall out on the whistle as was off like a rocket with the ball, down the right wing and cutting in and seeing her shot saved by the GT keeper. Rugby cranked up the attacking play another 25% from the first half, and it was fair to say, GT were looking a little out of sorts.
A couple of minutes in, RT won a corner. Elle J delivered a sublime ball in, which whistled past the goalmouth, right to the feet of an unmarked Ava on the far post, who was waiting for just this opportunity to tap the ball into the net.
GreenTowers Hinckley 0 – 2 Rugby Town
Not to be outdone on the goal scoring front, from the restart, Kelsey quickly gathered up the ball, ran amok around the GT defence and stuck the ball into their goal.
GreenTowers Hinckley 0 – 3 Rugby Town
Rugby Town were now on fire, the passing, attacking play, determination to win the ball, was exceptional and a joy to watch. They were camped in the Gt half, and showed little interest in moving for the rest of the game.
Mia was having a cracking game in midfield, she caused any GT player who dared to presume they would have a run towards the Rugby half, all sorted of problems. Shutting down play, providing great through balls and generally proving to be pretty impenetrable.
Ellie A was providing some top class throw ins, most making up a third of the pitch in ground. I don't know how she does it, but she is taking the next throw in practice session on a Friday night! One of her throw ins turned out to be an assist as the ball found Kelsey, so made a brilliant solo run to score her second of the game.
GreenTowers Hinckley 0 – 4 Rugby Town
From the restart, Rugby were back at it again, forcing another clearance and corner. Elle J delivered an absolutely screamer, proving yet again that the U12s are more than ready for bigger pitches, saw the ball sail over everyone's heads and over and out for a throw in.
Ava swapped out for Hannah to give Hannah some practice on the wing. Hannah made some excellent runs and used the space she had very well. Immediately she teamed up well with Kelsey and Elle J to keep the push on GT. Elle J provided a great cross into Hannah, who was disappointed to see her cross fly the wrong side of the left post. The goal kick was collected in midfield by Elle J who supplied another blinding solo run up the right wing, unfortunately just not finding her finishing touch.
A rested Tash came on for Hannah and immediately joined in with great linkup play with Mia and Elle J to allow Elle J a sweet shot on goal, happily for her, converted.
GreenTowers Hinckley 0 –5 Rugby Town
Restarted, and GT had a period when they found a little space through the Rugby midfield. One of these runs gave them their best change of opening their scoring, only a suburb save from Sophia denied them.
Again, although not particularly tested, Ellie and Izzy in defence had another good game using their well-developed and successful partnership. Izzy in particular had a very confident game with excellent positional play, denying GT space on a number of occasions.
GT were now visibly tired, but they kept working to try and stop the Rugby attacked. However, today, little was going to stop Kelsey and Elle who were simply fearsome! Elle J executed a perfect ball in from the right wing, providing a great assist to a calmly delivered Kelsey goal.
GreenTowers Hinckley 0 – 6 Rugby Town
It was now Tash's turn to provide a throw in assist for Kelsey, who worked the ball past a now defeated and depleted GT defence for her forth of the game.
GreenTowers Hinckley 0 – 7 Rugby Town
In the closing minutes of the game Rugby were showing no signs of fatigue or slowing down and a final play by Elle J, with some impressive work in midfield to win and retain the ball, released to Tash, who only had to step and strike for her second and Rugby's final goal of the game.
GreenTowers Hinckley 0 – 8 Rugby Town
Summary
GreenTowers Hinckley 0 – 8 Rugby Town Girls
A very comprehensive display from the girls see them easily progress into the quarter finals of the league cup.
Today was a whole team performance with every player giving 100% commitment and effort. The teamwork they displayed today was exemplary.
We are drawn against unfamiliar opponents, East Goscote, for our quarter final match on 7th April. This fixture promises to be an interesting and challenging game.
Coaches Player of the Match: for a committed and confident display in left back, which im looking forward to seeing more of: Erin
Parents Player of the Match – for excellent work in midfield, numerous assist, and great skills display: Elle J
Thank you to the parents for bringing the players to the game and for your continuing support.