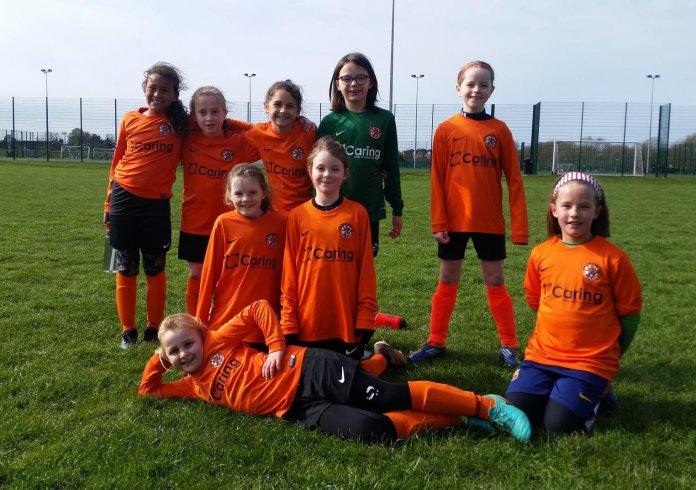 The Under 9's travelled away to East Goscote today to face a side in good form having recently reached the cup final. The Rugby team had a number of regular players missing once again so adaptability, flexibility and positional changes were needed so that the girls weren't up against it from the outset. Nonetheless a squad of nine travelled for a six-a-side match which shows that the girls have a strong squad with great depth of talent and none of them complained about having to play out of position.
Captain Isobel returned to her regular defensive role and was as strong and stable as ever, getting stuck in from the start and even finding time for a brief foray into the opposition half with a strong run. She was joined by her usual partner Connie at the back who showed once again what a fantastic footballing brain she has, naturally in the right position at the right time to make some important tackles and intelligent decision making.
Katie started in midfield with Aurora and both girls demonstrated their customary energy and fitness to get from one end of the pitch to the other, with Katie showing her usual defensive prowess and strength whilst Aurora glided past the East Goscote midfield at pace. Star striker Sofia started in goal in what is proving a troublesome position to fill but she performed bravely and made a stunning save onto the crossbar in the first half.
Beth took over in the lone attacking role and once again got into some excellent positions, showing great movement off the ball with intelligent runs, and she was unlucky not to get on the scoresheet after a goalmouth tangle. A lapse of concentration from the kick off meant the girls were unlucky to go behind very early and a couple of unfortunate bounces led to East Goscote extending their advantage early on – it didn't look like things were going to go our way!
Layla came on to shore up the defence and she got involved in the game from the outset, making some brave tackles and clearing the danger well when called upon. Izzy had spells in both defence and midfield and her stature continues to grow with every appearance – she showed today that she's not afraid to get physical and bravely defended the Rugby goal. Lola came on to show great pace up front, chasing down every loose ball, and also enjoyed a spell in midfield to keep the energy levels high.
The girls came in behind at half-time but the early encounters could have gone either way in a competitive game against evenly matched, good-spirited opposition. All the girls involved were lucky to get positive, encouraging support from both sets of parents and the second half proved to be a thrilling encounter – end to end with some excellent football being played.
The break saw more changes with Isobel moving into goal and Sofia reverting back to her more familiar position up front. Rugby continued to play exciting attacking football with Sofia, Aurora and Beth linking up well and showing great running off the ball – within minutes the changes had an impact with Sofia showing her customary clinical finishing to get the girls back in the game. At the other end Isobel made a number of saves and showed great distribution with her kicking to keep things tight.
As the game progressed Rugby continued to have the upper hand with Aurora running rings around the East Goscote girls and Sofia like a terrier up front; her and Katie fearsomely battling for every ball and not giving the opposition time to think. The girls were rewarded soon after with a second well taken goal and it was clear to see that the balance of the game had changed. The girls continued to press forward and were unlucky not to be rewarded further for their efforts.
All in all it was a great performance in a tightly contested match which could have gone either way – we wish East Goscote well in their cup final next week but our girls should be proud of their performance against a strong side. As always they never give up, always play football in the right spirit and are a credit to themselves – another strong battling performance in their first season together which stands them in good stead for next year. Well done everyone!
Parent's Player of the Match: Aurora showed astonishing energy once again, covering every inch of the pitch and contributing at both ends; a truly exceptional performance!
Coaches Player of the Match: Izzy's skill and confidence continue to develop every week and she made a number of brave tackles and big clearances today to keep Rugby in the game.