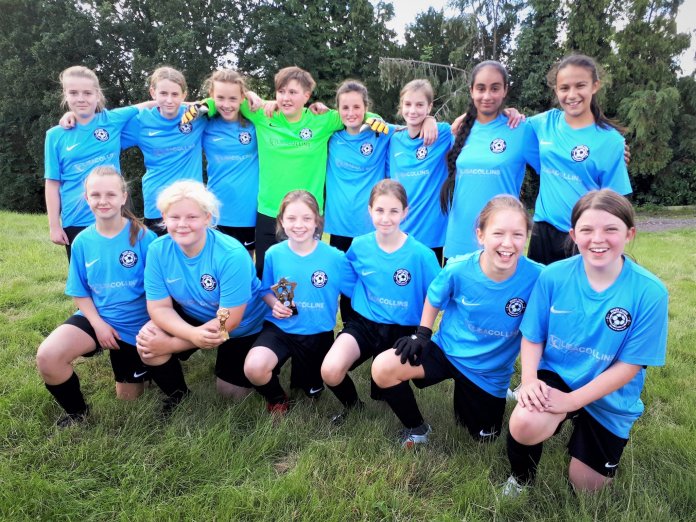 Sponsors: Lisa Collins Hair Design
Rugby Town Squad: Ellie A, Ella, Kelsey, Hannah, Izzy, Evie (C), Tash, Sophia, Sophie, Ava, Mia, Lucy, Priya, Robyn
Exciting times as our first game of the new season saw us playing our first home game at our new venue. The squad all looked excellent in brand new kit and we would like to say a massive thank you to Lisa Collins Hair Design for sponsoring us again this season. Your support is hugely appreciated.
The 2019/20 season brings lots of changes for the team:
* Playing on a larger pitch and goal
* 9v9 game * offside rule
* A number of national football rule changes.
Lots of things for the team to adapt to! The U13s Squad are also delighted to have 4 new signings join us for this new season.
1st Half
Rugby Town kicked off and started slowly, calmly and steadily to get the measure of the Asfordby opposition. Playing a conservative 3-3-2 formation allowed the midfield to control the centre of the pitch and peg back Asfordby for most of the game.
Ava started on the left wing and picked up where she left off last season with excellent commitment and displaying some fantastic tracking back to win balls before they troubled the Rugby defence. Sophie, in central midfield, had a cracking first game for Rugby. She got stuck in from the start and providing some blistering pace, that has been very promising in training and is now coming to fruition.
Ella in right back, made a sound clearance and the back 3 were awesome in moving up and defending very high. This limited the space Asfordby had to mount a productive attack. Ellie, centre back, controlled the back line very well. This type of defence is new to the team and I was really excited to see how well they are adapting. Well done to Ella, Ellie and Lucy, Rich and I were very impressed with your performance today.
Rugby won an early corner, well delivered by Evie, and cleared after a bit of a scramble by Asfordby. A slight counterattack called for Ella to make a sharp and effective defensive run, cutting of a clear run on goal. Lucy, along with Sophie, spotting the attack, joined Ella in working well to push the Asfordby attack out to the right wing and win the ball back for Rugby. Lucy, also playing her first league game for Rugby had a sound first half and worked very well with the rest of her defensive teammates.
Mia, Evie and Ava mounted the counter, and had a good flow of passing building up. Asfordby coped well with the threat and ensured Rugby were stopped. Back down to midfield, our high defence paid off with Ellie making a storming clearance on the halfway line, getting into some very physical football with her opposite number.
Rugby pressure forced Asfordby to make a clearance, awarding Rugby a corner. Mia delivered the ball well and Rugby cranked up the pressure. A couple of shots were blocked by Asfordby in the box before Evie picked up the ball, connecting well, and opened Rugby's score sheet
Rugby Town 1 – 0 Asfordby Amatuers
Asfordby were clearly keen to level the score and had a very spirited period of attack. Rugby worked well to absorb the pressure but conceded a corner. Rugby were visibly confident, and some good communication and positioning saw them defend the corner with ease. Sophia collected the ball for a goal kick. Sophia had a good game today, although not called upon much in the first half, she maintained her concentration and delivered some very good goal kicks indeed.
Rugby again gained the upper hand with sustained possession in midfield and worked to move the ball forward. Ashfordby were forced to pull players back to defend and Rugby secured 2 corners in quick succession. Unfortunately, neither were converted. However, the sustained pressure from Rugby was starting to wear down the opposition.
Kelsey was coming into her own and was putting together some impressive individual runs, happily taking on, and beating, the Asfordby defence. The only thing eluding her was that finishing touch. In the final minutes of the first half, Rugby were still running at Asfordby. After a very solid first half of football, Mia had a good run forward from the right wing and had a great shot on target well saved by the Asfordby keeper.
2nd Half
With a full squad today, we continued our successful game plan from last season and as we had made no substitutions in the first half – preferring to allow the players to settling to the game and get the football flowing, – we made a 5 player change at half time.
Priya, up front with Kelsey, made a very strong start, happily going toe to toe with any Asfordby players that dared to cross her path. Priya made some excellent runs and read the game really well. Working especially well with Task and Kelsey to build up play.
Rugby Town got straight back to business and won an early corner. Hannah, newly in on the left wing, delivered a great ball in and the Rugby players were all over the Asfordby defence. More by luck than judgement, the ball was cleared but only as far as midfield.
Robyn, in central midfield, along with Task and Kelsey were now having fun and causing all sorted of havoc for Asfordby to contend with. Some really sweet passing culminate in Tash banging out a big shot, just inches wide, much to her chagrin.
Rugby kept the pressure on constantly now, this time Ellie, Hannah and Tash combined on the next attacked, again seeing Tash shoot and scrape the paint of the left post. A lacklustre clearance from the Asfordby keeper saw Kelsey pick the ball up on the edge of the Asfordby third and, deciding and excellent individual effort was called for, took on 3 defenders with ease and shooting just wide of the goal.
Another poor clearance from the opposition keeper allowed Tash to block perfectly, working the ball around a defender and passing in to Kelsey, who again just shot wide. The finish touch proving a little elusive for Rugby during this half.
Asfordby decided they were up for a little action and pushed on Rugby, catching them an little by surprise and forcing a corner clearance. Ashfordby delivered in well by Robyn, with a sublime header, cleared with ease. Hannah was having a strong game on the left wing, and unfamiliar position for her, and was providing some nice tight defence in midfield when required.
Priya and Tash teamed up well in the second half and were reading each other's play. A nicely timed run and good ball work by Priya, releasing the ball to Tash, who kept calm and finally found the net for a well-deserved goal.
Rugby Town 2 – 0 Asfordby Amatuers
Again, on the restart, Asfordby were trying hard to get back in the game. A push into Rugby's final third found its way to Sophia who got the ball back into play with an excellent goal kick, Robyn – quickly becoming the Queen of the headers – header the ball forward beautifully to Priya. Priya played a sweet through ball to Kelsey who finally found her touch and scored another well-deserved goal.
Rugby Town 3 – 0 Asfordby Amatuers
The final 10 minutes of the game saw Rugby remain dominant with Asfordby only able to mount two serious threats and two shots on goal, both saved very well by Sophia, who's calm confidence in goal rubs off on the rest of the Rugby squad.
Izzy had a particularly impressive defensive run during the half against a quicker paced Asfordby forward. A cut in and track behind, rather than trying to tackle on her left foot, was a very smart move and prevented a clear Asfordby run on goal.
We had no less that 4 more shots on goal in the final minutes by Tash, Hannah and Kelsey that were either just wide or saved by the keeper. Rugby maintaining their confidence and effort right to the final whistle.
Summary
Rugby Town 3 – 0 Asfordby Amateurs
A very confident team performance with every player contributing well to the game. A number of goal scoring opportunities missed, but the positivity displayed to attack and push forward was very impressive for the first game.
I am particularly proud with how well our new signings have joined in and slotted in perfectly with the squad. It is like they have always been with us. So, a very special mention goes to Priya, Robyn, Sophie and Lucy. Well done and welcome (formally) to RTGWFC U13s, we are very pleased you have joined our football "family".
Coaches Player of the Match: for a very confident first league game performance for Rugby Town, showing tenacity and loads of energy: Sophie
Parents Player of the Match – for a supremely confident defensive performance, which promoted the opposition manager to personally congratulate her on being a "brick wall"!: Ellie
Thank you to the parents for your continuing support, Manesh for "volunteering" for linesman duty and Dave for excellent refereeing