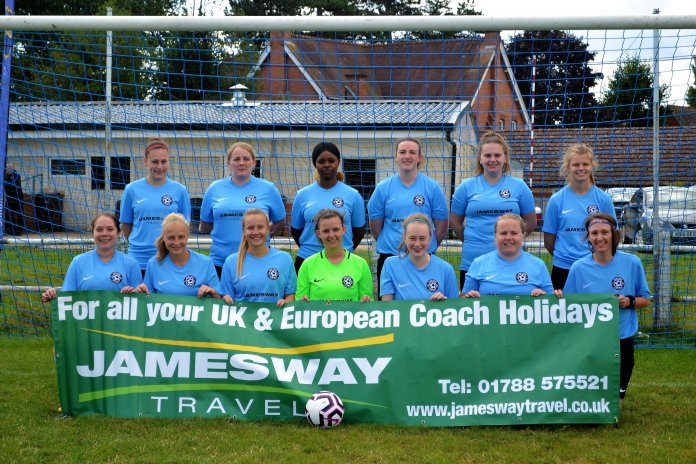 A big Thank You our Sponsor and New kit

Jamesway Travel from all at Rugby Town WFC
Rugby Town Women FC go into the new season wearing blue, an updated name and with a new home at Butlin Road. The season opener being against local rivals Leamington Lions, was always going to be a tough one. Rugby started the better team going ahead through Andie Coupland 0-1, Chloe Debaes made an immediate impact in midfield taking shots and challenging the Leamington keeper early on. Goals followed from Andie and Chloe Debaes before half time. A lapse in defending saw Leamington find there way back in 1-3 half time score.
Rugby conceded a penalty early in the second half with Leamington finishing 2-3. With Leamington back in the game, Rugby needed to improve. The second half saw some excellent running from Hannah Parker and Loren Bliss down the wings running on to balls played from midfielders Chloe Debaes and Paige Gunn. Leah Morris made a phenomenal save to keep Leamington out and Rugbys lead. As the game progressed, Chloe Debaes took a shot well outside of the area, the keeper got her hands to it but quite keep it from going inside the back of the net. With Rugby comfortable up 2-4, they started to calm down and play a better passing game. Playing out from Leah Morris, the ball was passed up the thirds landing at the feet for Kelly Worthington to score for 2-5.
Jamesway Player of the Match: Kelly Worthington
A big Thank You our Sponsor and New kit Jamesway Travel