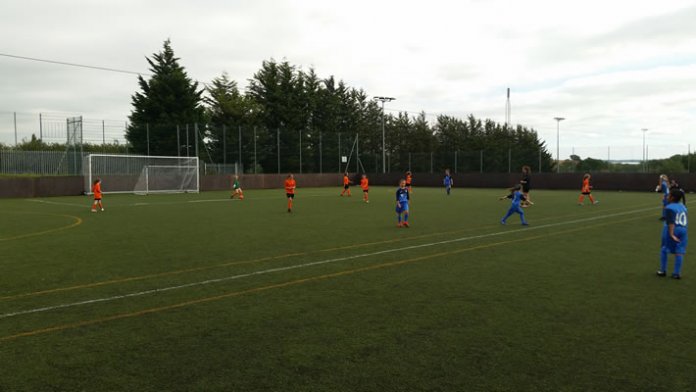 The Under 10's were finally able to start their league campaign with their first official game this season – the girls had a large enthusiastic squad which meant changes were going to be regular. Up against a strong Leicester City side from last season it was important that the girls started well and took control of the game from the outset.
Layla once again bravely volunteered to go in goal, earning a nosebleed for her trouble before the game even started! She performed fantastically once again with faultless handling and great distribution to regularly set Rugby up on the attack. Isobel and Isobel formed an impenetrable back line for Rugby in the opening stages, both showing great strength and bravery with some important interventions and powerful clearances whenever Leicester got forward.
The first half proved to be an exciting spectacle with some breath-taking football played against a physical opposition – the Rugby girls didn't allow themselves to be pushed around and quickly took control of the contest. Aurora and Poppy were electrifying on the Rugby wings showing great pace, footwork and determination to sail past the Leicester defence with ease – creating numerous shooting opportunities.
Sofia led the line for Rugby and showed great movement on and off the ball, demonstrating her selflessness and perfect positioning to link up well as the girls posed a terrifying attacking threat. Lexie completed the Rugby midfield with an incredible performance once again, dominating play from one end to the other whilst creating and finishing a number of chances.
Connie and Katie came on to shore up the Rugby defence and protect the girls' advantage; both getting stuck in immediately with some brave challenges and dogged, determined defending. Indie injected some much-needed energy into the midfield with a spirited performance whilst Lola's pace was an asset, setting up a number of Rugby opportunities through her speed and commitment.
Thank you to Beth for courageously volunteering to go in goal for part of the second half – she made some good saves and distributed the ball well whilst still managing to get in some scoring positions up the other end as part of the Rugby midfield. Captain Isobel finished the game in goal as Leicester came forward to try and get back into the game – it was a nail-biting finish but Rugby's superiority and fantastic football in the first half was enough to see the girls through with a well-deserved victory.
Rugby were in astonishing form going forward and played some incredible football – their movement off the ball and confidence on it is a terrifying prospect for any opposition and a joy to watch. In defence their commitment, bravery and selfless performances for the good of the team are equally noteworthy and every one of the squad should be incredibly proud of themselves and full of confidence going into the rest of the season.
Thank you to Lauren for refereeing a tough match and to all of our parents and supporters for your continued commitment and positive encouragement throughout. Well done to all of the girls involved!
Parents Player of the Match: Lexie covered every inch of the pitch and put in a first-class midfield performance to break up the Leicester threat whilst finishing clinically at the other end
Coaches Player of the Match: Poppy's close ball skills and footwork were exceptional down the Rugby wing, and her selfless passing created scoring opportunities for others in the final third