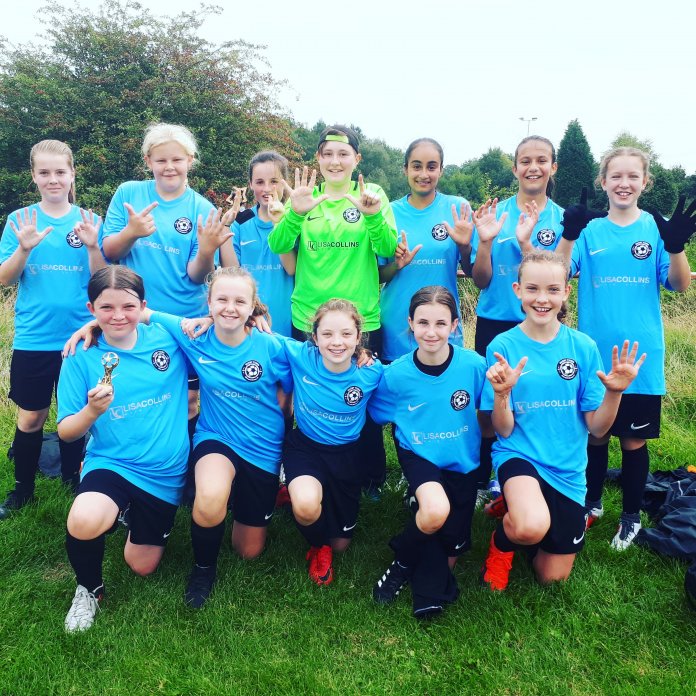 AFC Leicester U13 Vs Rugby Town U13s – Sunday 22nd September
Sponsor: Lisa Collins Hair Design
Rugby Town Squad: Ellie, Hannah, Izzy, Evie, Tash, Sophia, Sophie, Ava, Lucy, Robyn (C), Priya, Kelsey.
After a week off from matches last week due to postponement and several weeks of some very productive training sessions, Rugby Town travelled to Ratby and were keen to get back onto the pitch.
1st Half
Rugby had two basic instructions today, communication being one and using the width of the pitch the other.   We have been working in training to limited being sucked into midfield focussed battles and now it was time to see if the teams hard work is paying off.
Rugby Town kicked of strongly with Priya and Task forming a very strong early partnership with very intuitive play between them.   The 3 back players of Lucy, Sophie and Izzy had a very strong half, with CB Sophie controlling the line well and providing some great covering football. Lucy had a confident game today, managing the runs of the quick AFC right winger well.
AFC had a productive 10 minutes where they began to push the Rugby back line, seeing a couple of shots coming in, one called offside and one going wide. AFC then won the first corner of the game, but all the training is paying off and Rugby cleared with no issues.
Rugby decided it was time to return some of the pressure and a strong throw in by Tash found Priya who put in a confident run and delivered a nice through ball, finding Evie in a great position. Evie just shooting over the cross bar.
The teams were still quite evenly matched, so it was not surprising to see AFC pushing back against Rugby. A good throw in allowed them to attack the Rugby goal, with Sophie called in to make a confident save with her legendary safe hands.
A pattern was now forming, and Rugby were quick to capitalise on a counterattack, catching AFC out with a good long ball and some sound skills up front, Tash connected well with the ball, forcing the AFC keeper to make the save under pressure.
Rugby were caught offside a couple of times during the game, which was actually quite good to see. The team were playing a much higher game today with visibly more intent to push forward. This attacking play is always exciting to watch.
Captain Robyn had a cracking game in CM, most notable for her tight control of her midfield and also for some pretty special headers!   Our midfield and forwards, Robyn, Hannah, Evie, Tash and Priya were have a great first half and were playing some really attractive football. It was a pleasure to watch.
Izzy, in RB, was playing a very sensible game today, running down the opposition on their left wing and cutting off opportunities for any dangerous crosses. Izzy worked hard during the half and made some important clearances.
Rugby were getting into their stride and here was a feeling that the opening goal was not far away. Another push and another strong strike from Evie which could be only parried by the keeper. Unlucky for AFC, the ball landed at Tash's feet, who wasted no time in blasting a strong strike in from the right to find the back of the next.
AFC Leicester 0 – 1 Rugby Town.
On the restart, AFC pushed straight away and had a spell of controlling the midfield and working down to the Rugby goal. Their patience bore fruit and a corner was won.   The goal mouth became a little bit of a melee, with some confusion between the Rugby players allowing AFC to scramble the ball into the net for their equaliser.
AFC Leicester 1 – 1 Rugby Town.
From the restart, it's fair to say Rugby's reply was pretty spectacular.   Evie passed to Priya, both making a run forward. Evie found a great position and Priya showed great awareness, knowing exactly what Evie needed, passed back and allowed Evie to score a very well-deserved goal.
AFC Leicester 1 – 2 Rugby Town
In the final minutes, Rugby looked to be having run with some great free flowing football.   Rugby, Evie and Priya combined to allow Priya a shot on target, saved by the AFC keeper. Some excellent skill from Evie deep in the AFC third again provided Priya another shot on target, again forcing a save from the hard-working AFC keeper.
2nd Half
Rugby won two early corners, both delivered very well by Tash.   Despite not converting either, the practice we are doing is clearly paying off with positions in the set pieces being much better organised.
However, the Rugby defence subsequently had an uncharacteristic lapse in concentration which allowed a run through for the AFC forward to score another equaliser.
AFC Leicester 2 – 2 Rugby Town
The new Rugby forward line up of Kelsey and Ava decided that a draw was not what they were playing for and it was clear they notched up their determination a couple of levels. Great link up play between Task, Hannah, Robyn and Ava descended on the AFC goal and a desperate clearance kick fell to Robyn about 20 yards out. A fantastic lob up, over the keeper, saw the ball into the net to retain the lead for Rugby.
AFC Leicester 2 – 3 Rugby Town.
Rugby were now dominant, and a marginal attacking run by AFC was stopped short perfectly by Ellie in LB, finding Kelsey perfectly, who decided to have a bit of solo fun and shot past 2 defenders, and banged the ball past the keeper.
AFC Leicester 2 – Rugby Town 4
Rugby were relentless and they maintained their positive approach and attacking mentality. AFC were having to defend deep and were not getting many opportunities to escape their own half.  In the space of a few minutes saw Rugby have another shot saved and another go slightly wide.
The Rugby runs just kept coming and with one saw an overenthusiastic tackle on Kelsey in the box resulting in Rugby being awarded a penalty. Kelsey converting with calmness and poise.
AFC Leicester 2 – Rugby Town 5
Restart and Rugby were quick to win another corner, again with a great delivery by Tash. AFC cleared but only as far as midfield. Some solid work by Tash, Ava and Kelsey saw Kelsey convert for her hat trick.
AFC Leicester 2 – Rugby Town 6.
AFC were now looking a little beleaguered and were probably looking forward to the final whistle. However, Ava, Kelsey and Hannah were still flying around up front, causing problems for the AFC defender, the AFC keeper called upon to make a couple more, albeit safe, saves over the next few minutes.
AFC mounted a brief challenge and Ellie cleared well for an AFC corner. The delivered it in well, but Sophia had good control of the goal mouth and saved without two many issues.   Sophie delivery a great long ball to Kelsey, who had timed her run to perfection to avoid being offside.   Running straight on and scoring her forth of the match.
AFC Leicester 2 – Rugby Town 7
The final few minutes saw Rugby awarded several corners. They were all delivered by Tash, with some lovely balls. If we could just get that final touch.
Summary
AFC Leicester 2 – 7 Rugby Town
A very dominant display by Rugby. Most importantly, the teamwork was on point today with great use of the whole pitch and some really clever football.
Coaches Player of the Match: for the most attractive goal of the game – a lovely 20 yard punt over the keeper and into the net: Robyn
Parents Player of the Match – for a great display of energy and tenacity, which, if there was any justice, should have resulted in a goal or two: Hannah
A special mention to Kelsey, who spent the second half scoring for fun!
Thank you to the parents for your continuing support and Andy for linesman duties.