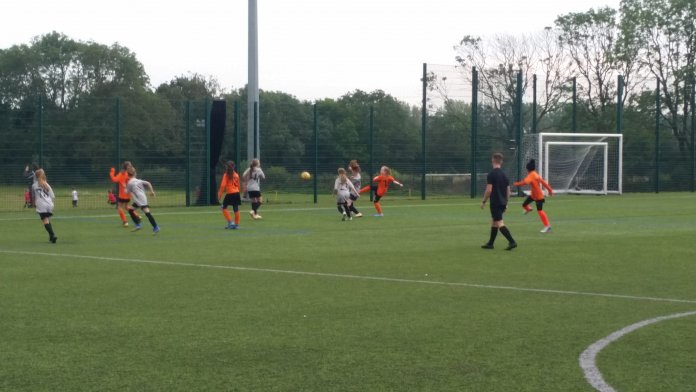 Progressive Skills Academy U10 Girls vs Rugby Town Girls U10
Sponsored by Lit Cars
The Under 10's travelled to Coalville to face some familiar foes under a new guise – our arch nemesis since we started out! We knew this would be a tough fixture but we had an enormous squad once again for the second game of the season – lots of changes meant lots of fresh legs and lots of energy from this fantastic bunch of girls.
Rugby started slowly and found it tough to get a handle on the game from the outset – with different tactics and starting line-up this week I think the coaches can take most of the responsibility for this! The girls were punished early on by some fantastic movement off the ball by the speedy opposition and found themselves playing catch up from the outset. Despite this they all fought valiantly to get the ball on the ground and play football as we know they can do.
Connie and Layla started the game in defence and were put under pressure from the first whistle by a physical opponent; both were kept busy and called upon to make some important tackles throughout the first half. Izzy began the game in defensive midfield which saw her breaking up play effectively as PSA regularly ventured into the Rugby half.
As the game settled Rugby were able to get into more of a rhythm and both teams continued to have chances; with Aurora, Lexie and Sofia from a dangerous free kick all coming close. PSA were committed to playing out from the back and this gave the Rugby girls a chance to pressure high up the pitch – Lola used her pace and determination to hound the opposing defence and Lexie gave as good as she got in central midfield with another fantastic all round performance from box to box.
Beth showed her flexibility by contributing in defence as well as further up the pitch and used her strength and determination effectively to break up play. Indie came on to shore up the midfield, getting stuck in from one end to the other and demonstrating her desire to help the team wherever it was needed. The second half was largely even with Rugby continuing to threaten going forward – Sofia hounded the PSA defence refusing to give them time on the ball and Aurora didn't stop running to the very end.
Poppy used her superior footwork and skill on the ball to show PSA that this Rugby side can play football just as well as their more experienced opposition. Captain Isobel played across the defence, starting the second half with Izzy at the back to give Rugby more options going forward as they chased the game – both girls did well against the skilful, well drilled PSA attack with some great interceptions and clearances.
A special mention has to go to Ria on her debut in goal – it is a thankless task and she performed fantastically, making some brave saves and showing great handling and distribution throughout against an Academy side who have their pick of the most gifted players; training regularly, playing in a boys league, a Futsal league and with a number of players in Regional Talent Centres. That's not to take anything away from PSA who were more clinical on the day and showed their greater experience, superior movement off the ball and aggression to come out on top.
It's given us a number of new ideas to work on in training but shows that our girls can compete against the best sides on their day; large parts of the game were even and there were still some spirited performances as the girls didn't give up and made all of the parents and coaches proud. Well done to all of the girls involved!
Parents Player of the Match: Aurora refused to give up until the very end with non-stop energy and relentless running to pressure the PSA defence
Coaches Player of the Match: Ria made a brave debut in goal, making countless great saves under consistent pressure