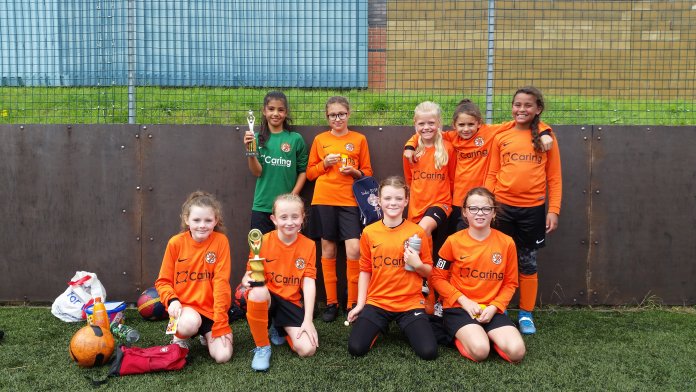 Rugby Town Girls U10 vs. Cosby United U10 Girls Thunder
Sponsored by Lit Cars
The Under 10's entertained Cosby United at Butlin Road on a wet and miserable morning where most games had been cancelled – it makes you appreciate how lucky we are to have the run of the top astro. With a number of players away Rugby had an unusually smaller squad which gave many of the girls the chance for more playing time and allowed the game to flow better with fewer substitutions. Cosby on the other hand had an enormous squad so lots of fresh energy and fresh legs – it was poised to be an intriguing encounter!
Star striker Sofia led the line for Rugby and was as tenacious and competitive as ever, never giving the Cosby defence time on the ball and chasing down every loose end relentlessly. Aurora began the game in her customary position on the right wing and demonstrated her energy and fitness from the outset, covering the whole pitch and never stopped running! Completing the attack Lexie was as clinical as ever, always happy to play wherever she is asked – on the left wing today and she slotted in fantastically; still managing to get back and defend tenaciously as well as getting forward at every opportunity.
Izzy started the game in defensive midfield, battling for every ball and breaking down the Cosby attack before it had a chance to get going – another fine, competitive performance from a player who grows in confidence and technical ability every week. Our regular defensive pair of Connie and Captain Isobel lined up in their familiar territory, determined and brave as ever as they faced a talented Cosby attack and protected the Rugby area from start to finish.
Ria performed fantastically in goal once again in only her second full game – sporting her new gloves she demonstrated great handling, gathered the ball well under pressure and made some incredible close-range saves. Indie came on to shore up the midfield and showed her customary energy and commitment to break up countless Cosby moves down the wing. Lola came on to provide her legendary energy and pace, getting stuck in further up the pitch to create chances for the Rugby forwards and preventing Cosby from playing out from the back.
It was a fantastic performance from every single one of the Rugby squad, with a well-deserved result and wonderful to see the girls working together as a team. There was some breathtaking attacking football on display and wonderful to see such advanced movement, moving into space off the ball to provide an option is the key thing we have been working on in training and it's great to see the girls' hard work paying off. As always this was backed up by a courageous, committed display from the Rugby defence which rounded off a perfect performance.
Well done to all of the girls involved, thank you to Alice for refereeing and to our equally committed parents for your continued support and encouragement.
Parent's Player of the Match: Ria is looking like an assured presence in goal, making some great saves and demonstrating fantastic handling throughout.
Coaches Player of the Match: Sofia was unremitting in the Rugby attack, chasing down every loose ball and not giving the Cosby defence a second to think.