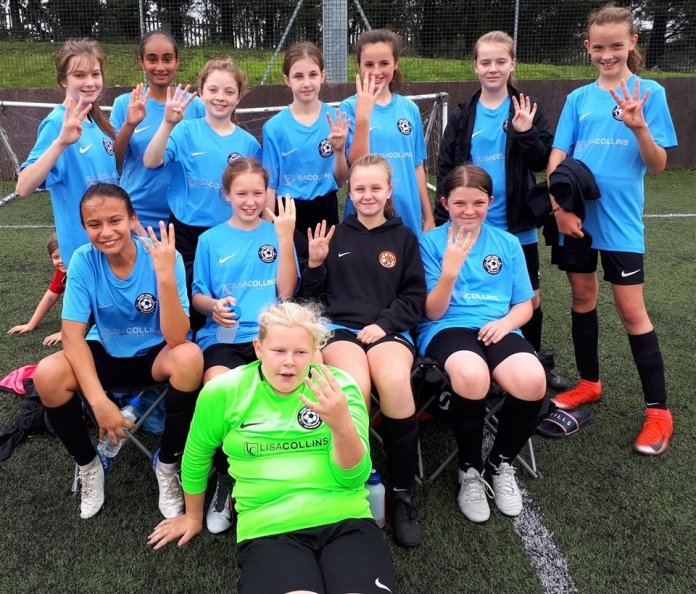 Rugby Town Girls U13 vs Ambleside Falcons U13 – Sunday 29th September
Sponsors: Lisa Collins Hair Design
Rugby Town Squad: Ellie A, Ella, Kelsey, Hannah, Izzy, Evie, Tash, Sophie, Ava, Mia, Lucy, Priya(C) Robyn
Hoping to dodge the rain showers, the U13s squad arrived for our second home game of the season, working to retain the momentum of a strong game last week and a good training session on Friday.
Rugby settled into the game slowly, looking to get the measure of Ambleside. Evie and Priya worked early on to forge their first half partnership up front.
Ambleside were much improved on last season and were not going to be intimidated by Rugby, showing their motivation to attack in midfield and run at the Rugby defence. The early part of the first half was dominated by end to end play. Rugby being pegged back by the strong and efficient Ambleside number 9. Ambleside got an early strike it, luckily for Rugby, it hit the post and the rebound was cleared well by Mia.
End to end continued and Rugby were awarded a free kick for a shirt tug. Hannah delivered well and Priya got on the end of the ball to strike, forcing the Ambleside keeper to make a good clearance. Corner for Rugby delivered again well by Hannah but cleared with no trouble by Ambleside.
The Rugby defenders of Lucy, Mia and Izzy were working well together. Lucy showing much improved confidence had a busy half. Mia, in a new position for her in CB, showed willing and determination and Izzy again was blocking Ambleside attacks down the right wing very well indeed.
Evie had another very confident half, playing intelligent football and showing that she is really growing into the forward position. Her intuitive football is serving her well.   Feeding the balls up to Priya and Evie were our solid midfield players of Ava, Robyn and Hannah. All worked hard during the first half with Ava covering ground at her usual striding pace, Robyn sticking some awesome headers and Hannah happy to go toe to toe with the Ambleside midfield.
Mia was playing sensible football in RB and provide a clever through ball to Ava to played and excellent cross to Robyn who, spotting the development in play, had made an excellent run forward. Robyn was millimetres from getting her toe to the ball for a certain goal.
Rugby were now pushing well on Ambleside and the play was slowly becoming more one sided.  There were numerous throw in for both teams who capitalised well and used them to make up significant ground.  Rugby continued their push and were rewarded with two corners in succession, Hannah delivered both well, but Rugby are still missing the final tough in set pieces and neither corner bore fruit.
Shortly after, the Ambleside keeper made a very unfortunate error with a lack lustre clearance that was intercepted by a quick reacting Evie, keeping control and not allowing this opportunity to go to waste, Evie opened Rugby's score sheet.
Rugby Town 1 – 0 Ambleside
Upon the restart, the Ambleside keeper was cleared a little rattled from their error. Another goal kick saw Evie collect in midfield, skilfully manoeuvre past 2 defenders and strike just wide of the right post. Now on the score sheet, Rugby now looked much happier and were gaining ascendancy in the game.
Another free kick for Rugby and stand in GK Ellie stepped up to take. Pushing forward Rugby allowed the ball to run on and the Ambleside keeper collected the ball easily. However, yet again, Rugby intercepted the goal kick, with Ava capitalising on the opportunity but just shooting left of the post.
Literally the first piece of action was an offside against Kelsey who had replaced Evie and was clearly fired up for a bit of running and a few goals.  Rugby were keen to press straight away and were rewarded with an early corner. Tash delivered a sweet ball and Kelsey just swung a shot wide of the left post. Kelsey and Tash were working well together, and another corner was won. Tash delivered to the far post where Kelsey was well positioned. A loose ball caught a Rugby arm and handball given for an Ambleside goal kick.
Ambleside came back at Rugby and had a productive spell with several throw ins being used to good effect.  Sophie, now in CB, was ready for anything Ambleside could throw at the Rugby defence and cleared well to Kelsey who shot up the left wing and released to Tash, who had made an excellent run, Tash's shot cleared for a corner.
Rugby's corner, taken by Tash and cleared well by Ambleside provided them with an opportunity to mount a quick counterattack which Rugby needed to deal with and clear for an Ambleside corner. Ambleside struck an excellent ball, forcing Ellie to make an exceptional diving save. Ella in RB cleared the loose ball to take the pressure off Rugby.  Ambleside kept it up and were back at Rugby, quickly winning another corner but saw the ball drive into the side of the net.
Rugby, bored of defending, decided to turn the screws with Kelsey and Priya irritating the Ambleside defence with quick movements and good footwork.  Kelsey again finding space but shooting wide right.
Ella was having a cracking game in RB and made a couple of very good defensive headers which was great to see.  Again, end to end play was the order of the next few minutes which saw a long range Ambleside effort saved by Ellie and well as another couple of shots just wide by Rugby on the Ambleside goal.  Kelsey, forever displaying an innate desire to score was just caught offside again set the play for the next 10 minutes, the Weetabix clearly kicking in.  Another unfortunate clearance by the Ambleside keeper allowed Kelsey to collect and convert.
Rugby Town 2 – 0 Ambleside
Upon the restart Tash won the ball in midfield and played a pinpoint ball over the top to Kelsey, who timed her run to perfection and converted. An excellent assist and goal.
Rugby Town 3 – 0 Ambleside
Restart again and a loose ball from Ambleside was easily picked up by Ellie, delivered into the Rugby Town midfield and a great through ball allowed Kelsey again to run past the Ambleside defence to score her 3rd of the game.
Rugby Town 4 – 0 Ambleside
Into the final 5 minutes saw Mia take a hard ball straight in the face which forced a substitution. Robyn stepped into CM to allow Mia to be checked.  No further notes were taken as it was more important that Mia was checked and looked after. From what I saw, Rugby remained solid, with Tash having an energetic final few minutes. Rugby seeing out the dying minutes of the second half with no reply from Ambleside.
Summary: 
Rugby Town 4 – 0 Ambleside Falcons
Another solid performance for the Rugby Town team. Very pleased to keep a clean sheet with some solid defending.  A fair few shots wide during the game limited our score, our finishing touch proving a little elusive today.
Coaches Player of the Match: for a very energetic performance, providing support all over the pitch and with a smile on her face the whole time; Tash
Parents Player of the Match: for a much improved and confident performance, displaying lots of energy and tenacity; Lucy
Again, a special mention must go to Kelsey. Another free scoring second half with a hat trick. Kelsey is having a blinder of an opening season!
Thank yous:
· Parents for your continuing support and helping with equipment set up / put away.
· Manesh for "volunteering" for linesman duty – a job well done.
· Dave for excellent refereeing