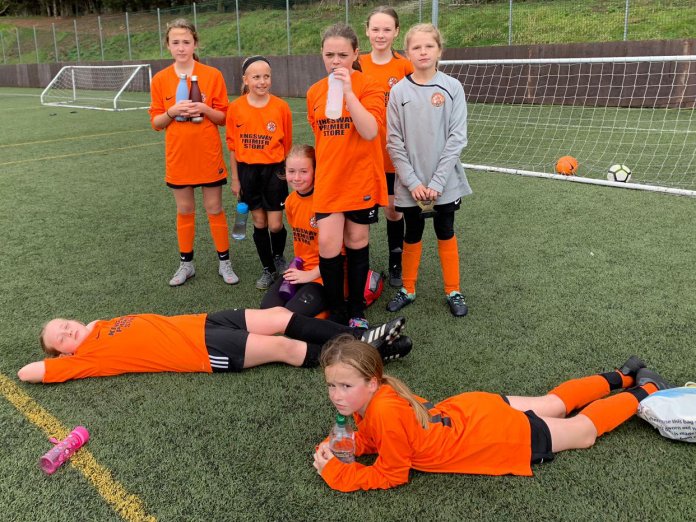 Rugby Town vs Corby Town
Saturday 5th October
Sponsors: Shambles, Lutterworth
Weather: Cold and dull 15c
Team: Skye, Charlotte, Zara-captain, Rosie, Lois, Emma, Carly and Lily
1st half
Rugby Town kick off with an early attack by Emma, Carly and Skye but Skye is offside. Corby Town are now on the attack but are also caught offside, a short ball is passed to Zara but Corby latch onto it, shoot and Lily saves.
Zara is dominating the defence alongside Carly and Lois but Corby are on the attack again, a shot is looped over Lily's head and goes in, 1-0 Corby.  Throughout the 1st half a lot of attacking from both teams and pressure is put on both defences. Corby are caught offside on numerous occasions with Lois, Carly, Emma and Charlotte putting pressure on and commanding the defensive line. Great calling from Lily in goal with help from defence.
Skye, Zara and Rosie show their energy and enthusiasm up in midfield by great ball control with one another and covering the whole of the pitch and never stopped running. A Rugby forward has a shot on goal in the last few minutes but goes wide.
Team talk at half time, all players are quiet as too busy eating oranges!
2nd half
Lois switches to left midfield and Charlotte to right midfield – no substitutes available today!  Corby Town kick off with Rugby closing down and on the attack, Corby gets possession back but loses control and the ball goes out on the sideline. Zara makes a short throw in to Skye who is quick on the attack but has no support, Corby kick out and Rugby is awarded another throw in. This time Rugby's forward is on the counter attack and creating space but Skye is caught offside again. Corby keep creating chances but Carly is growing confidence down the wing and not letting them pass.
A throw in is made from Corby but there's too much traffic in the box and Rugby can't get it clear between them. Eventually it does go out for a Corby corner. It is quickly taken, Lily gets a touch and saves!  Skye is quick on the attack from Lily's long ball, putting pressure on Corby's defence. She is working her socks off today. Rugby get a corner, quickly taken and goalkeeper saves!
Corby are in command again but Zara is brought down and awarded a free kick just past the centre half, Rosie is in control but suddenly loses to Corby's defence, the spring on the counter attack but Lois is quick to the ball and kicks out. Corby gets a throw in but it goes straight to Lily due to a mishap between forwards. A quick ball is taken but it is too short and Corby's forward is too quick for Rugby's defence and scores through Lily legs, 2-0 Corby. After a quick restart from Rugby, Skye is leading the front line with a quick attack but shoots over the crossbar.
The possession from both teams is fairly equal in this second half with 15 minutes played, the defence consisting of Lois, Emma and Carly with help from Charlotte and Zara are showing so much energy and support with one another, it's great!
After 20 minutes gone, a ball is booted into Zara's stomach and she takes a massive blow and goes down – not much sisterly love from Skye as she shouts 'Cmon get up!'. Zara is a tough cookie though and plays on! A free kick is taken but Emma/Rosie both go for the ball and is quickly won back from a Corby forward who goes by herself and shoots, across Lily's path who is a bit far too away off her goal line, 3-0 Corby.
Final 10 minutes to go and both sides seem to be controlling their own halves and putting pressure on each other, Lily making some great saves. Corby deliver some cracking corners but aren't able to break through. With minutes left to play, Corby have a few final chances, 2 shots on goal – Lily makes a cracking save and a shot against the crossbar, parents on the sideline giving a grasp of relief!
With only having 9 players and no substitutes, the team showed a solid performance with technical ability and demonstrated great skills. Manager Paul was proud of the team with being 2 players short.
Coaches player of the match : Carly for her solid performance in the 1st half
Parents player of the match : Lily for her hard work and determination in goal
Many thanks to Tony for referring and to Craig/Tony for running the line.