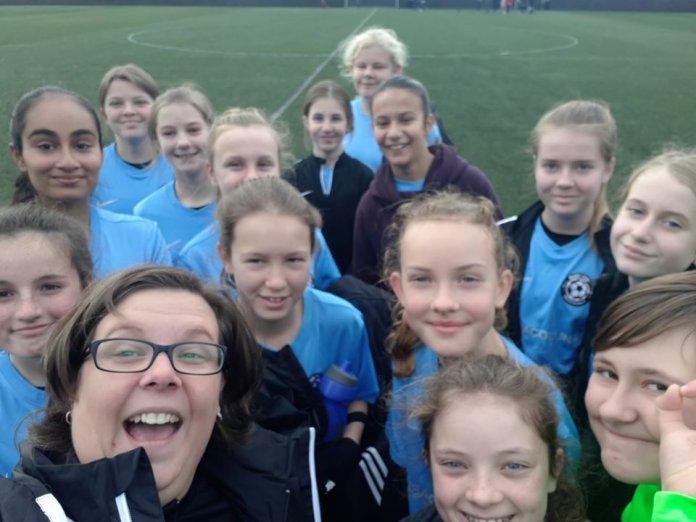 Rugby Town Girls U13 vs Desford Town U13s – Sunday 10th November
Sponsor: Lisa Collins Hair Design
Rugby Town Squad: Ellie, Ella, Kelsey, Hannah, Izzy, Evie, Sophie, Mia, Robyn, Sophia, Priya (C), Lucy, Ava, Tash
Having moved our away fixture to play at home due to Desford having a waterlogged pitch, Rugby Town were keen to continue their strong league form to date. Both teams, coaches and parents very respectfully observed a minute's silence prior to kick off. Lest We Forget.
1st Half
Desford started the game very determined and early play was all in Rugby's half. Desford had several quick players, especially on the wing, and Rugby had to work hard to contact this threat which would become a common theme throughout the match. Warming up now, Rugby began to push back and started to turn the tide on Desford a bit. Robyn had a decisive run up the right wing, passing through to Evie who shot just marginally wide of the Desford goal.
Ella (LB), Lucy (CB) and Izzy (RB) were showing good teamwork and were defending well. Ella had a very positive half with some courageous and diligent clearances. Robyn (RW) was also playing with a very positive attitude and working well with the Rugby midfield to stop Desford attacks and release the ball for Rugby attacking play. Hannah (LS) made some very effective runs forward during the half but Desford were proving very effective in shutting down any Rugby attacks which was making it difficult for Hannah and Evie (RS) to find a way through.
Rugby won 2 corners in quick succession, both well delivered by Robyn. The first was cleared well by Desford who sprang a counter attacked, then stopped by Rugby who roared back up to the Desford goal forcing the second corner. This corner ball flying just wide of the goal from a well-positioned Priya. Rugby were working well and were pretty much camped in the Desford half but could find that final ball or combination to finalise their attack. Desford defended well and cleared for their own counterattack, forcing Rugby to clear for a corner.
The Desford corner was delivered well, and although Sophia got her hands to the ball, the subsequent spill fell just right for Desford to seize the opportunity to open their scoring.
Rugby Town 0 – 1 Desford Town
Rugby did not look happy to be a goal down and there were some decidedly grumpy faces out on the pitch. However, they lifted themselves and went seeking the equaliser as a matter of urgency. Mia (LM) had a good game together and was worked hard by the Desford midfield, rising to the challenge and keeping a calm head in some frantic midfield activity. Priya (CM) also had a tough game today and was having to work hard but showed great game awareness and determination to stop Desford getting through on goal.
Quickly the Rugby team got the ball back into the Desford danger area, providing Evie with pass which she used to demonstrate a really attractive piece of football, gently popping the ball over her opponents head from the side, turning and earning herself with an opportunity for a shot on goal which was well saved by the Desford keeper.
Rugby kept their energy high and won a corner for their efforts, delivered in by Robyn and cleared cleanly by Desford for another Rugby corner. Robyn again delivered but this time Desford formed a lightning quick counterattack and were immediately pushing on the Rugby goal. The Rugby defenders were well beaten, and Sophia kept Rugby in the game with a fine save. Sophia's goal kicks were also very good today, the work she is doing with Jake in training is really paying off.
The final few minutes of the half saw Rugby pushing Desford hard with several shots by Rugby again going wide of the post. Desford were doing exceedingly well in giving no space to the Rugby Town players and on the whistle, Rugby found themselves in the unusual position of trailing the game.
2nd Half
Rugby came out with a few player changes, chomping at the bit with boundless enthusiasm. An unlucky handball by the Rugby player awarded Desford a free kick in quite a dangerous position but which Ellie (LB) cleared without too much issue. Tash (LS), Priya (CM) and Ava (LM) were putting together some nice combination players and Rugby were now looking much for likely to score.
Kelsey (RS) intercepted a soft goal kick by Desford shot wide. Shortly after, Tash and Kelsey linked up very well and Kelsey's shot this time rattled the crossbar. Frustrating for the Rugby attackers, but credit to them they kept battling to chase that equaliser with them playing some great touches between each other most of the half.
Desford regained the ascendancy and back in the Rugby half the won two successive corners, neither of which were too much of an issue for the Rugby defence to clear. Moving out, Kelsey was clattered to the ground by an over enthusiastic Desford player, with Ellie stepping up for the free kick. A powerful strike, just wide of the left post. Rugby collected again in midfield and Tash romped up the left wing, crossing well to Kelsey who was relived of the ball by a sharped eyed Desford defender. A scuffle in the Desford final third saw Rugby win a corner. A lovely delivery in by Tash needed a simple, but well-timed tap in by Kelsey to finally level the score for Rugby Town.
Rugby Town 1 – 1 Desford Town
The game restarted and Ellie, Kelsey and Tash were displaying some really clever football, but Desford were proving to be on their game today and were really causing Rugby problems in their attacking moves. Robyn swapped in for Priya in centre midfield and Ellie and Sophie swapped position to provide Rugby with Sophies exceptional speed at the back to stop the quick Desford wingers and Ellie on the right wing to thump some balls upfield to feed the Rugby forwards.
Ava (LW) was racking up the energy level and again, had some quick Desford counterparts that kept her on her toes, Ava never stops though and always throws 100% commitment to the game.
Rugby were strong during the last 10 minutes of the game, but with all respect the Desford, the kept tight and did not allow Rugby any serious opportunities. Their number 18 in particular deserves a special mention and she denied Kelsey at almost every turn, and not many players can do that.
Summary
Rugby Town 1 – 1 Desford Town
A hard fought and somewhat unlucky game for Rugby Town with the result a draw, proving that a result can never be taken for granted. Finding the net seemed problematic today with numerous chances wide or straight at the Desford keeper. As we have been trialling some new positions for players over the last few weeks it has added a new dimension to the games, with the tactic probably not working out the way we would have wanted today.
Although a solid team performance, there was a lack of the U13s magic that we have grown to know and love, so we can look forward to a fresh week and the opportunity to pick ourselves up and recapture our upbeat playing style next Sunday. Bring on next week, we will be ready to go again!
Coaches Player of the Match: for a very positive and high energy display that on another day would have been rewarded with several goals; Tash
Parents Player of the Match: for another committed and confident performance in central defence; Lucy
The team and coaches would like to thank:
Parents and Pete for your continuing support and helping with equipment set up, mending and put away.
Bert for volunteering for linesman duty
Dave for refereeing