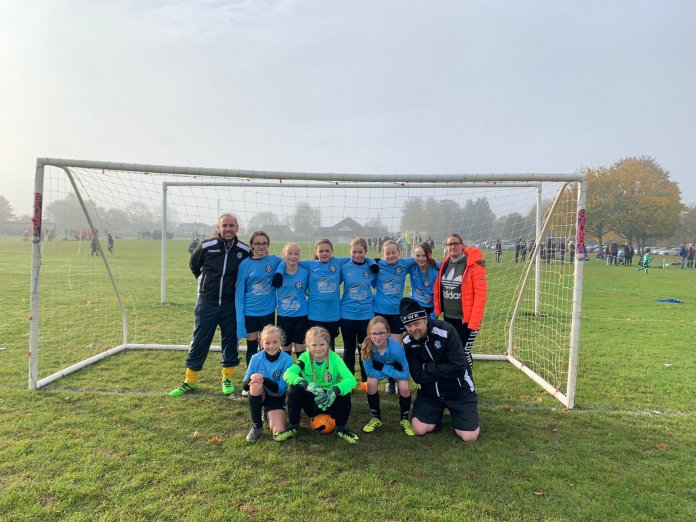 Saturday 9th November 2019
Sponsors: The Shambles, Lutterworth
Weather: Cold and foggy 1c
Team: Lily(c), Carly, Lois, Emma, Charlotte, Zara, Rosie, Skye and Evelyn
Massive thanks to Stacey (Skye/Zara's mum) and family for being our new sponsors and new kit which we got to wear for the 1sttime today! It looks awesome!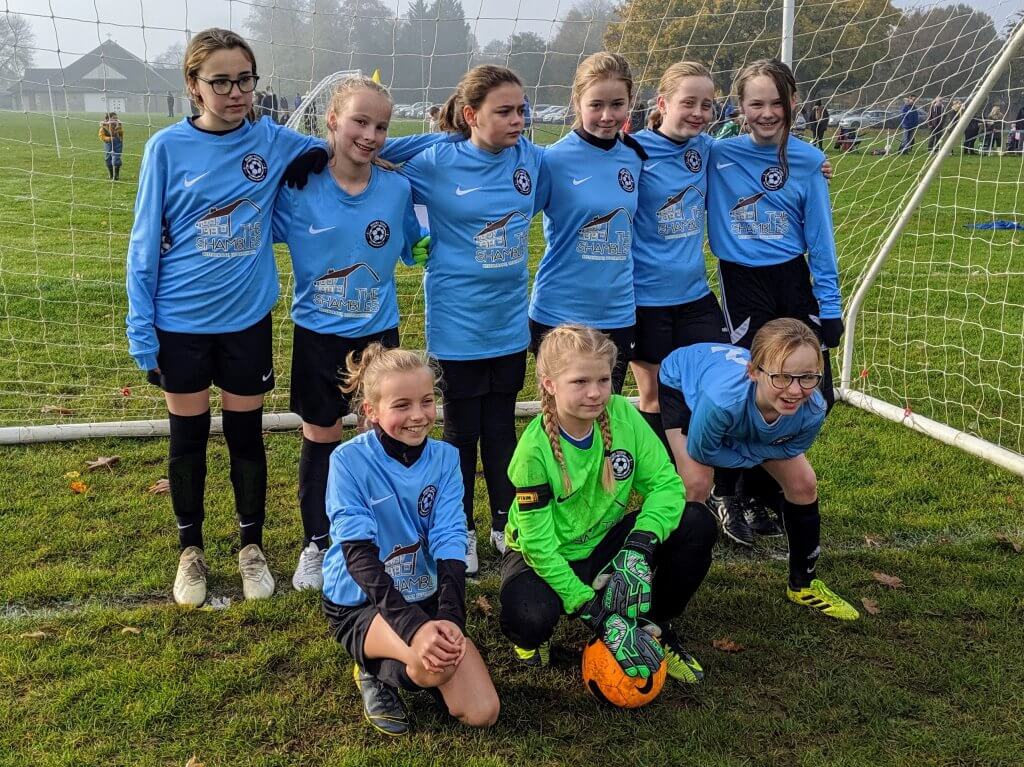 1ST HALF
Kingsthorpe Jets kick off and Rugby Town are quickly in command with Charlotte and Zara pressing hard and working well together in midfield. Carly is controlling the defensive back line as Kingsthorpe go on an early attack, but Lily saves. 20 minutes gone and still no goals from either side. Kingsthorpe have a few opportunities but are unlucky and fail to take them. However, a breakthrough after 27 minutes when a Kingsthorpe attacker goes on her own as Rugby's defence is broken down and scores, 1-0.
Rugby get a quick counter-attack after the restart between Skye and Evelyn but Evelyn is caught offside. Kingsthorpe kick out but it is soon won back by Rugby Town midfielder Zara who passes to Evelyn who's onside this time and scores, 1-1. After another quick restart by Kingsthorpe, Skye intercepts in the final minute and goes for goal but shoots wide. Rugby Town are really putting pressure on Kingsthorpe. A great 1st half and a solid performance from Charlotte in midfield.
2nd HALF
With only 9 players, no substitutions to report!
Rugby Town kick off with Skye pushing forward but Kingsthorpe win the ball back and are then on the attack down the wing. A cross comes in and their forward shoots and scores, 2-1. 10 minutes gone and Skye and Rosie swap positions, Skye goes into midfield and Rosie goes upfront with Evelyn. Both teams are maintaining confidence especially Rugby's defence consisting of Carly, Lois and Emma who are keeping the defensive line strong and not letting them pass. A quick mistake is made, the ball hits Carly's arm and Kingsthorpe are awarded a free kick. WOW – what a free Kick by Kingsthorpe – cracking goal, 3-1 with 13 minutes gone!
Rugby Town are back on the attack, this time Zara and Charlotte are commanding the wing, Kingsthorpe clear and Rugby are awarded a corner. Zara takes a short corner to Skye who passes to Evelyn, who then passes back to Skye. She sees an opportunity to shoot and scores, 3-2. With 10 minutes left to play, both teams are determined and it's end to end stuff. But the defensive lines are staying solid each time and the match ends: final score 3-2 to Kingsthorpe.
Rugby Town showed a solid performance, with high energy levels throughout. Everyone was confident in their positions on the pitch, overall they didn't give up and gave 100% commitment. Many thanks to Andy and Paul for running the line and to all the parents who show their commitment and support on the sidelines for all the players.
Manager's Player: Charlotte – Excellent determination in midfield and showed great team spirit.
Parent's player: Zara – running her little legs off and supporting her team mates on the pitch.