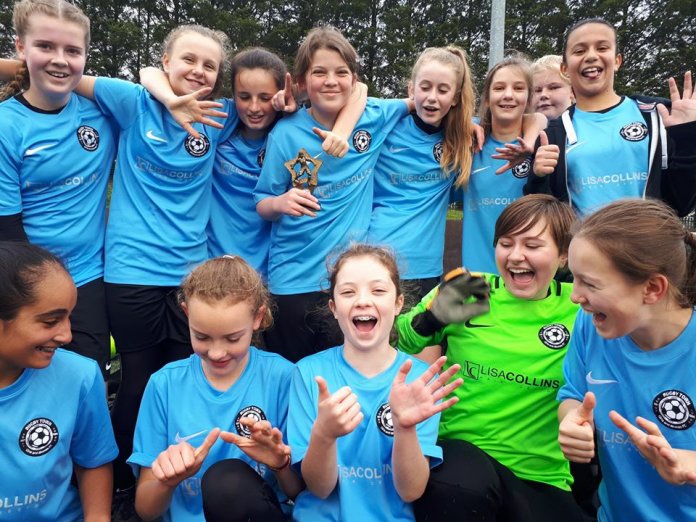 Kibworth Town vs Rugby Town Girls U13 – Sunday 17th November
Sponsor: Lisa Collins Hair Design
Rugby Town Squad: Ellie, Ella, Hannah, Izzy, Tash (C), Evie, Sophie, Mia, Robyn, Sophia, Priya, Lucy, Ava
Although this was meant to be the away fixture for Rugby, the game was played at Butlin Road due to Kibworth sadly suffering the same fate as many Leicestershire sides lately, an unplayable pitch. Let's hope the weather gives us all some respite so that all our league teams can play football.
1st Half
Rugby started well, looking calm and confident and moving the ball around between themselves well. Already, passing seemed much more accurate and done with more purpose than in previous weeks. Robyn collected the ball well in midfield and raced up the right wing, seeing Tash running onto the near post, Robyn provided a well-timed and accurate pass, allowing Tash to direct the ball in past the Kibworth keeper and earning a nice early goal for Rugby.
Kibworth Town 0 – 1 Rugby Town
The teamwork and passing between the Rugby players continue throughout this half with some sharp play on display which is a pleasure to watch. Rugby's strike partnership today of Evie and Tash had a phenomenal game, reading each other's movement and play well and using each other to maximise opportunity and goal scoring potential. I really was impressed. Sophie, in centre back, and despite not being one of the taller girls in the squad, made several defensive headers today which were well control and well executed. Way to go Sophie!
20 min in and Rugby had to defend free kick awarded for a handball. No issues and a tidy clean up to Hannah allowed another excellent run up the right wing. One of several runs Hannah made during high energy, committed and productive half in this position, proving her experience and skill.
Rugby are constantly running onto Kibworth now, who are finding it increasingly difficult to get out of the own half. Rugby earn a corner, and an excellent delivery in, Evie shoots just wide. This set piece showing much improvement after the 6 million corners we practiced in training on Friday!
Rugby pushing again, Tash and Evie, now finding their feet with some impressive combination play, link up one more with a three-pass ball in a triangle, easily working past the Kibworth defence and freeing Tash with a lovely goal for her second of the game
Kibworth Town 0 – 2 Rugby Town
The Rugby defensive trio of Sophie, Mia and Lucy, although not overly busy, had an excellent half. Quick and insightful again with excellent teamwork, linking together exceptionally well to provide cover to each other and get balls forward accurately and cleanly, cutting off the odd soft Kibworth attack. Rugby were caught offside, very slightly it must be said, on several occasions during the first half. Their desire to push forward with such drive not something the coaches were willing to temper or subdue, the trade-off of the odd offside decision considered worth it to see such dynamic play.
Continuing last week's theme, there were a few missed opportunities by the strikers and midfield players today with balls just wide or shot straight at the keeper. However, Rugby were relentless, and another goal was seemingly likely.
Ava was having a cracking game on the left wing, commanding in her position and providing an authoritative figure, easily matching the Kibworth midfield. Tash and Ava combined well, resulting in a great layoff to Evie, well saved by the Kibworth keeper. Kibworth mounted a solid counterattack and showed good speed and did very well to find a space through the usually very solid Rugby back three. Sophie was called upon to show us why she is one of the best keepers in our league and did not disappoint. Supremely confident with a clinical receipt and subsequent goal kick.
Rugby were in the ascendancy and running out to the left of goal with the ball at here feet, Ava. Her left foot saved by parried by the goalkeeper and Ava was not letting her off that mistake and stuck the ball in the net with her right.
Kibworth Town 0 – 3 Rugby Town
2nd Half
Kibworth come out keen and win 2 corners in quick succession. Neither causing concern for the Rugby side but showing that complacency has no place in any game. Tash and Evie were straight back into their first half flow and were taking no prisoners. A wonderful display of intuitive play between these two strikers saw Evie score from the left of the goal.
Kibworth Town 0 – 4 Rugby Town
Rugby now are not giving an inch and Evie sees another two strikes saved very well by a beleaguered Kibworth keeper. Priya in for Ava on the left wing, joining the party well and pushing up with the forwards to up the pressure on Kibworth.
Ellie, in central midfield, provided a solid presence and served some great short lobs up over the Kibworth players allowing the Rugby strikers opportunity to run on. Mia, moving to the right wing in this half was also enjoying having the opportunity to play high and push the Kibworth goal. With most of the Rugby squad setting up camp outside the Kibworth box, and all looking hungry for a goal, left the middle of the pitch a little open, something to bear in mind. Happily, the back three of Ella, Sophie and Izzy, forgave our midfield and did clean up a few Kibworth runs on the counterattack. All three showing good pace and tactical awareness.
Several Rugby shots wide and a couple more offside decisions were the order of the day during the middle ten minutes or so of this half, with Evie, Task, Priya and Ellie still going great guns on the attack. Mia had a great strike from the right saved, the keeper pushing the ball over the bar. Minutes later, Ellie passed a great through ball to Tash who also had a very good strike just tipped over the bar by the Kibworth keepers' fingertips. Evie intercepted a weak goal kick, through ball to Tash, who with some excellent control, giving the keeper no chance, scored her hat trick,
Kibworth Town 0 – 5 Rugby Town
Rugby enjoying the opportunity to play some encompassing football, were playing to the end of the game, work rate was still exceptional. Ellie, Mia and Evie linked up in the minutes, with Evie netting her second of the game.
Kibworth Town 0 – 6 Rugby Town
Summary
Kibworth Town 0 – 6 Rugby Town
Rugby were on fire today. Running the risk of using way too many superlatives (and not caring):
Teamwork – phenomenal
Energy – exemplary
Intelligent football – sparkling
Passing / Skills – showstopping
Singularly the best football performance of the season so far, drawing praise from the coaches, parents, ref and opposition coach. The U13s should be very proud of how they performed today. The smiling faces showed how much they enjoyed it. Great to see the magic back girls!
Coaches Player of the Match: for an excellent performance on the right wing, providing determined and pacey runs, and some clever crosses into the Rugby forwards; Hannah
Parents Player of the Match: for a supremely confident display up front, showing tenacity, determination and for 100% teamwork, forming a great striking partnership with Tash; Evie
Special mention to Tash for some excellent effort and teamwork, resulting in her hat trick!
The team and coaches would like to thank:
Parents for your continuing support and helping with equipment set up, mending and put away.
Manesh for volunteering for linesman duty
Dave for refereeing