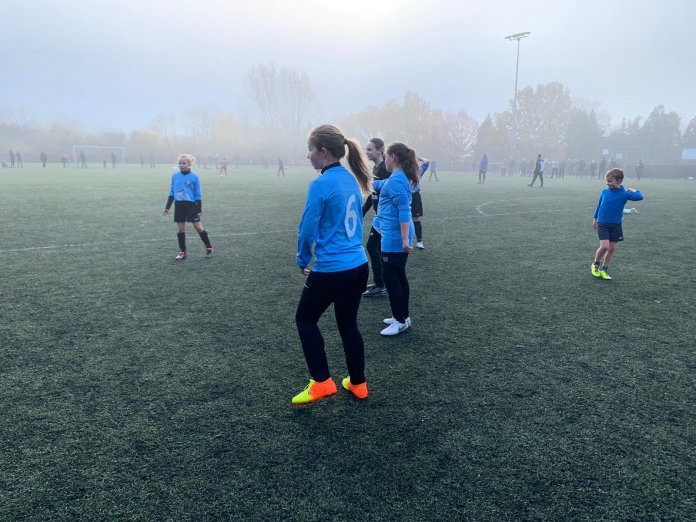 Saturday 16th November 2019
Sponsors: The Shambles, Lutterworth
Weather: 10c
Rugby team: Lily, Lois, Carly, Emma, Ava, Charlotte (C), Zara, Rosie, Skye and Evelyn
1st Half:
Symphony kick off and are on a quick attack but Lily saves. Next it's Rugby's turn to attack with Ava and Skye, but the ball is soon lost to Symphony's defensive line who are very quick to get the ball out down their wing. But Carly is on hand to command the situation and clears. After 7 minutes, Symphony are awarded the 1st corner of the match which they loop over and scramble in, 1-0.
Symphony started very determined and their players were really quick passing between one another. 10 minutes gone and Rugby make a substitute, Lois off and Rosie goes into right back. Rugby's time to put some pressure on Symphony with Emma, Ava, Skye and Evelyn attacking. Rugby' are awarded a free kick, Emma takes a short one to Ava but Symphony intercept. It goes out and Skye takes a throw in to Ava down the wing, but loses out very quickly to Symphony's defence who clear away to give Rugby their 1st corner of the game. Ava takes and there's a lot of tippy tappy between each other but Evelyn is soon on the ball, controls it well and scores, 1-1.
After the restart, Rugby must still be thinking about their equaliser, as Symphony are straight back on the attack and their forward goes by herself and scores, 2-1 Symphony.  With 10 minutes left to play another change is made, Rosie into midfield and Charlotte comes off. Rugby are really feeling the pressure from Symphony… Skye pushes a player and they are awarded a free kick. The back line of Lois, Carly and Emma have been put under a lot of pressure from Symphony's attackers but they are strong and determined to not let anything past them again.
The quartet of Skye, Zara, Ava and Evelyn have shown a lot of determination up front but Symphony's defensive line is really good. They shield the ball well and are first to the tackle. But Ava passes to Zara who tries to go on her own, shoots, but it goes wide. Rugby has not had many chances this half but keep pressure on Symphony in all areas of the pitch. Another substitute for Rugby – Ava off, Charlotte back on.
With minutes left to play, Symphony are back on the attack… they shoot and the ball goes straight through Lily's legs, 3-1 Symphony. Very shortly after the restart, Skye takes a blow and is wounded – she takes a deep breath and carries on!  Symphony are really applying the pressure and Rugby sound a sigh of relief when the whistle blows for half time, couldn't come quick enough!
2nd Half:
Rugby kick off the 2nd half determined to not let Symphony get the better of them. Skye and Ava put pressure on, Evelyn takes a free kick but it goes wide. Lots of passing made by Charlotte to Zara who shoots but is caught offside. Learning that trick from her sister Skye! After 7 minutes gone, Zara is substituted and Rosie comes on.
With 10 minutes played both teams are playing across each other's halves and it's end to end, but Symphony have more quality and composure on the ball. Rugby go to sleep as they lose out, and Symphony score again, 4-1. 20 minutes have now gone and Rugby, seeing the game drift away from them, seem to let their heads go down and Symphony score 3 goals in quick succession within minutes of each other, scoreline is now 7-1!
In the last 10 minutes, more substitutions were made to see if this would help. Rugby have a substitute today and make use of this by rotating players for a well earned breather.  Rugby's forwards Skye and Evelyn are showing their true spirit by trying to push on Symphony's defence but it's too much for them as they lose out down Symphony's wing. Symphony attack and Rugby's defence back off too much, 8-1 to Symphony. Straight after the restart, Symphony's forward goes on her own, and goes straight past Lily for another score, now 9-1.
With less than 3 minutes to go, a fierce Symphony shot from very close range in the box hits Emma's hands as she tries to protect her face. Symphony are awarded a harsh penalty. They shoot and score, now 10-1. Taking a quick restart from Rugby, they still try to go on the attack for one last time but it's cut short and they lose out to a very strong Symphony side, who go back on the attack once again, another shot on goal, 11-1 symphony.
The final whistle blows and Rugby's players put their heads in their hands and look devastated. Bearing in mind the competitive first half, Rugby will be disappointed with their second half display, particularly in the last 15 minutes. Some tough lessons learnt against a determined and skilful Kingsthorpe team.
Managers player: Evelyn for her outstanding work rate on the pitch.
Parents player: Skye for her constant running and link up with Evelyn.