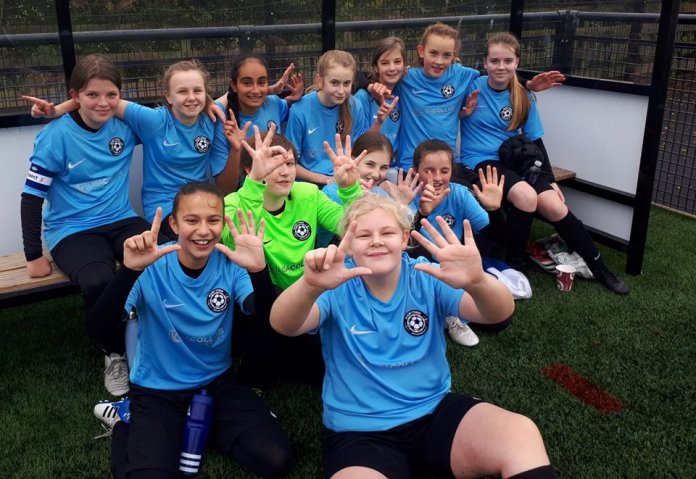 Harborough Town vs Rugby Town Girls U13 – Sunday 24th November
Sponsor: Lisa Collins Hair Design
Rugby Town Squad: Ellie, Ella, Hannah (C), Izzy, Tash, Evie, Sophie, Mia, Robyn, Sophia, Priya, Kelsey, Ava,
Rugby Town (RT) travelled to Harborough (HT) for our first meeting this season. The RT squad are on a good run at the moment and the focused attitude in the warmup showed they were determined to keep up the positive momentum
1st Half
HT were keen from the ref's whistle and had a couple of early runs on the RT goal. Only a few minutes in and HT had a good strike from distance, which Sophia saved confidently. A very fast paced start to the game saw quite of lot of action in midfield as both sides worked hard to gain some ascendancy. Tash and Kelsey, with lovely play back and forth to each other, carved out the HR defence and Kelsey was unlucky to hit the left post. Robyn, solid in centre midfield was giving 100% effort, including some excellent defensive headers, was proving difficult for the HT midfield to handle.
HT were still finding space down the wing and some defensive clearance by RT awarded HT 2 corners in quick succession. RT are now very able at defending a corner kick and neither corner caused any issue, Sophia controlling her defence well. Kelsey had a charge up and running full pelt at the keeper took a tumble and received a knock to the stomach for her trouble. Evie swaps in for Kelsey so she can take a breather and recover. Tash and Evie quickly slot into their productive partnership up front and have several very strong runs at the HT goal, the HT defence just doing enough to prevent them delivering that final touch.
RT win two corners in a row and Hannah is having an excellent half with her deliveries. Neither corner produces a goal. Kelsey comes back on. HT bite back and run at RT forcing Sophia to make a very brave save at the (very close) feet of the onrushing HT striker. RT mount a strong counterattack, Kelsey and Tash again combining very well indeed, Kelsey's shot just wide. Ava and Priya, playing LB and LW respectively, also had a very strong half. Ava, with her fast pace got RT out of a few pickles down in the bottom left corner. Priya was very strong today, her speed and commitment in the tackles serving the team well.
Ella (RB) and Sophie (CB) also had a superb half. Sophie really is lightning quick and can often nip on a peg back any burgeoning attack by a strike trying their luck. Ella is a quiet force there at the back, but I challenge anyone to try and get past her. Another fine performance. Another 2 quick corners won by RT and delivered by Hannah, the second was a lovely delivery, picked up by Robyn, back to Hannah to cross in again by Robyn with a stonker of a strike, the dip just too late, sees the ball graze the cross bar.
RT are now slowly gaining the upper hand and cranking up the pressure on HT. The first goal of the morning looking close now. Tash and Kelsey tear up the pitch again, culminating in Kelsey scaring the HT keeper with a quick and powerful run straight at the goal. The HT keeper did very well and kept her nerve to scoop the ball up from Kelsey's feet. Finally, the link up play comes good and a nice few moves between Robyn, Hannah and Kelsey delivers enough space for Kelsey to open the RT scoresheet.
Harborough Town 0 -1 Rugby Town
On the restart and RT are now starting to overpower the HT side, offering limited opportunity for HT to attack and really controlling the midfield. Kelsey collects the ball on the halfway line and make and excellent individual run. Tash spotted this and provided an awesome supporting run if needed, making great use of the space on the left of the pitch. However, Kelsey take a shot, for a seemingly impossible angle, netting her second of the game.
Harborough Town 0 -2 Rugby Town
The final minute of the first half sees another Kelsey run on goal with a shot, and the HT keeper making a very god save, keeping the score line 0-2 at the end of the first half.
2nd Half
RT start the 2nd half strongly and are now in full on attack mode. Culminating in two goals by Kelsey in quick succession. The first goal comes from a great assist from Evie to Kelsey and the second comes from clever combination play between Evie, Priya and Kelsey.
Harborough Town 0 – 4 Rugby Town
RT win another corner from a HT clearance. Hannah again delivering in a smashing cross. HT clear downfield as far as Ellie (CB) who thunders the ball back upfield. RT are all over HT and in desperation to keep RT out of the HT danger areas, Kelsey is brought down in the box, winning a penalty. Kelsey steps up to take, and although a strong shot, the ball is fired straight at the keeper for a relatively straight forward save.
Hannah and Robyn worked the ball exceptionally well off another RT corner, showing off some great skills and frustrating the HT defence. Mia (LB) is playing high and providing great cover down the left wing. HT manage to work the ball into the RT final third, but Ellie is there to despatch the ball far over the fence for a HT corner. HT corner is punched clear by Sophia and Ellie clears the ball up the field. Izzy (RB) had a good game, her timed runs excellent, shutting off HT play and showing more willingness to get into the mix. Ellie and Izzy also worked well with Sophia to ensure pitch coverage.
HT find the energy to push back against RT a little, but their only serves to encourage RT to up the teamwork. Hannah, Robyn, Kelsey and Evie playing some excellent balls to one another and really keeping HT on their toes.
Priya has the ball out on the left wing and plays an excellent cross over to Hannah on the right of the pitch. Hannah's first shot parried by the keeper and second shot saved. HT make a break on the counterattack and Mia finds herself in a 2v1 situation against the HT strikers. Mia does exceptionally well holding them off, preventing a clear run on goal. Mia has possession and plays a simply sublime ball up to Kelsey, the ball falling perfecting to run on to, beat the defence and slot home RT fifth goal. And excellent assist by Mia and a super finish by Kelsey.
Harborough Town 0 –5 Rugby Town
RT are playing wave after wave of attacking football, with no sign of settling for a 5-goal lead, HT heads are understandably dropping but they keep working to stop the relentless RT onslaught.  The HT keeper has a poor goal kick, and eagle-eyed Evie, nips in to intercept, giving no time for HT to react, passes out to Kelsey on her right, who delivers Rugby's 6th goal
Harborough Town 0 – 6 Rugby Town
Into the final few minutes of the half and a HT throw in on the left of the pitch sees an uncharacteristic error by the RT side, who are all gather over on the left leaving Sophia and the RT goal very exposed. As expected, the throw reaches the lone HT midfielder who as seen the space and Sophia has to make a very good save to maintain the RT clean sheet. A final run from Evie, Kelsey and Hannah, culminating in the ball with Hannah on the right wing, unfazed by the tight angle, quite rightly takes a shot, clearing the keeper, and banging into the bottom left of the net for her first goal of the season.
Summary
Harborough Town 0 – 7 Rugby Town
Excellent teamwork won this game for Rugby Town today. Richard and I were super impressed with the supporting football and clever play that simply outclassed Harborough today. All players contributed 100% and the cohesion in this team is wonderful to see.
Coaches Player of the Match: for an excellent display of effort, determination and commitment, (and some scare faces); Priya
Parents Player of the Match: for high energy, skill and the ever-present hunger for goals; Kelsey
My special thanks to Ava and Mia. Both were playing out of their regular positions and although there were not overjoyed to be there, they both committed to the game and gave a great performance. Their willingness to support the team however they can is excellent and they should be justifiably proud of their efforts this morning.
The team and coaches would like to thank:
Parents for your continuing support
Simon for volunteering for linesman duty