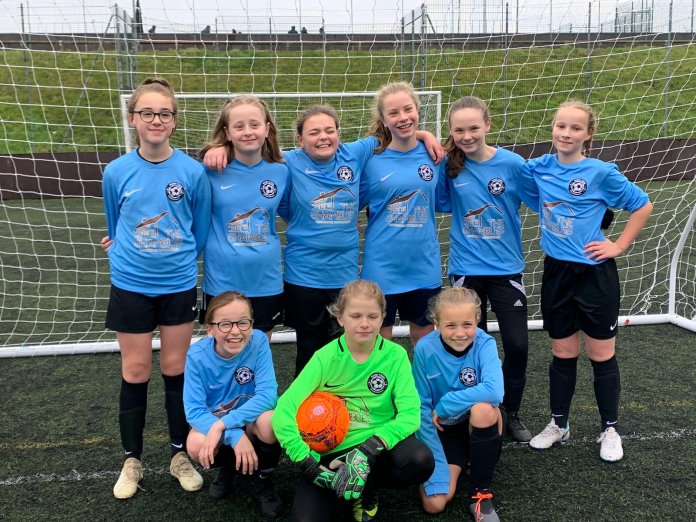 Saturday 23rd November 2019
Sponsors: The Shambles, Lutterworth
Weather: Cold and damp 5c
Rugby Team: Lily, Lois, Carly, Charlotte, Ava, Rosie, Zara, Skye, Evelyn (C)
1st half:
Kettering Town take the 1st kick off and Rugby are straight on the attack, and within 2 minutes are awarded a corner. Ava takes a great corner that flies across the path of the players and goes out. Now Kettering are on the counter attack but the new positions for Rugby Town players keep them on their toes and they are applying the pressure. Kettering has a shot on goal but Lily saves and goes out for their 1st corner. They quickly take a high cross corner but no one is in space to control it except one of the wingers who passes to a forward and shoots at Lily, who has a tumble in the box with the ball and it slowly trickles over the line. 1-0 Kettering, Rugby are at a loss for words!
6 minutes gone and after the restart Rugby are showing 100% commitment and performance as both Charlotte and Rosie take shots on goal but their keeper is on the ball. The trio of Ava, Rosie and Zara in midfield are playing outstanding football commanding the right hand side, with Lois and Carly in the drivers seat in defence by kicking the ball out.
13 minutes gone and Kettering are awarded a corner in which Lily is confident and gets a touch to it and it goes for another corner to Kettering, but they lose out to Rugby. Excellent teamwork by Rugby as they are playing with smiles on their faces and sparkling on the pitch.
Charlotte, Evelyn and Skye are keeping a positive attitude up front and putting remarkable pressure on Kettering's defence. Their goalkeeper retrieves the ball and kicks out. Kettering's attackers are dominant and controlling the pitch, Carly is showing enthusiasm, passes back to Lily who picks it up by mistake and gives Kettering an indirect free kick just outside the box. Rugby's defence are controlling the line and kick out. Both teams are standing firm and showing connection with one another.
Within the last 5 minutes, the extraordinary trio of Zara, Skye and Evelyn all have positivity, delivery and connection with the ball but fail to get the ball into the net; Kettering's goalkeeper is playing well each time. The 1st half has been thrilling from start to finish by all players.
2nd Half:
Rugby Town's turn to kick off with excellent play by Zara, Charlotte and Rosie in midfield. Kettering are on the attack but shoot wide. Carly and Lois are really applying the pressure and keeping the defence line solid. The transmission between Zara and Evelyn are joyous between each other, Evelyn has a shot on goal but goalkeeper saves.
10 minutes played and Rugby are fearless, assertive and unbelievable. Rosie and Ava match highly together and are growing confines Rosie takes a shot on goal, goalkeeper saves, kicks out where Ava is on hand to control the ball and makes a dramatic finish into the net 1-1. Wow, Rugby are flabbergasted! Remarkable goal.
25 minutes gone so far and both team are showing great determination, remarkable backing in defence, thrilling composure and assertive ball control with one another. Scoreline at 1-1 and both teams have had numerous shots on goal especially Rosie and Charlotte are both stunned and shocked that they are not 3-1 up, but great saves made by Kettering's keeper!
This time Kettering is on the counter attack but the defence line of Lois and Carly stand firm and show bravery and kick out where Kettering are awarded a corner. It is taken and comes into the box, Lily gets a hand to the ball but Kettering's attacker shoots and scores, 2-1 Kettering. Straight after the restart, Kettering are on the attack, goes by herself and finishes with an incredible goal in the top right hand corner; 3-1 Kettering.
Now into the final minute and Rugby are showing high energy, solid presence and playing astonishing football. Skye and Ava playing well together in midfield and they get a breakthrough in which Evelyn is left unmarked and goes by herself and scores a consolation goal 3-2. Rugby go on another counter attack, Zara takes a blow and goes down but she's ok, drop ball is given and Kettering kick out. Whistle blows!
Overall performance from Rugby and highlights were: excellent passing moves, developed positional sense and constant effort.  Highlight of the game was the constant stopping of players doing laces up!!
Parents player: Ava – giving support to all team players and sparkled on the pitch.
Managers player: Rosie – great assertive possession in midfield with Ava and showing explosive ball skills.