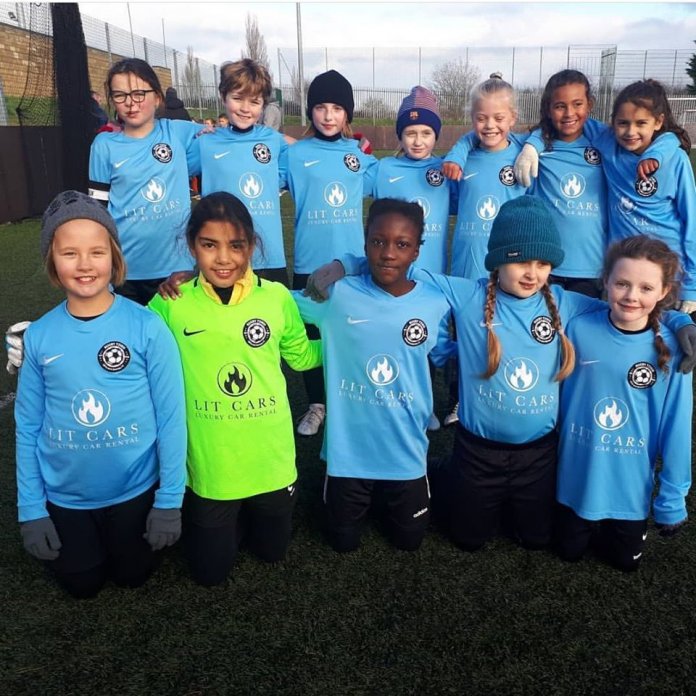 Rugby Town Girls U10 v Progressive Skills Academy U10
Sunday 1st December 2019.
An almost full Rugby town u10s squad hosted the Progressive Soccer Academy today at Butlin Road.  The girls were in a determined mood to take on PSA after a tough game away to them earlier in the season.
Rugby started at a great tempo and the game was end to end, every girl fighting for every ball. Rugby were dominating the early play, and had a some great attempts on goal, the PSA keeper was forced to pull of some great determined saves to hold off the Rugby attack.  Rugby were also solid at the back forcing the PSA attack out wide and reducing their chances. PSA were really pushing in the final stages of the first half but to no avail.
At half time the game was level, and Rugby were unlucky not to have taken advantage of their higher number of chances in the half.  The second half began with same competitive play, and Rugby were giving a great account of themselves. It finally took a great individual run by PSA player to break the deadlock. The attacker managed to capitalise by the very tightest margin.  This did not cause Rugby's heads to drop, and they were still in the game; their attacks still causing PSA real trouble.
Eventually PSA again found some success but were under pressure from Rugby right to the final whistle. PSA would have been the happier to hear it, as Rugby were still giving 100% and pushing forward. There was too much great football to recall all that happened, and the intensity of the play made me feel like I'd kicked every ball, and I am sure the spectators felt the same!
Ria Had a great day in goal and showed no concerns about facing a strong attack. She made some great saves and her distribution was very good.  Isobel and Layla formed a great partnership in defence dealing with the PSA attack and making strong tackles. They also distributed the ball well out to midfield. Both covering well for their team mates against very physical attacking players. Both girls also holding midfield positions during the game.
Also great defensive play by Connie, Eleanor and Beth who all rotated nicely and kept the defence strong. Beth showed some great strength to stop attackers and Connie used her great positioning to force attackers away from goal. Eleanor was her usual calm self and went about her responsibilities well, breaking up attacks. This rotation was important to get the girls a rest, thus allowing the girls to keep up their fantastic work rate.  They all interchanged well with each other, without effecting the smoothness of play.
Katie and Lola did some great work when asked to take up holding midfield positions. Breaking up attacks and getting the ball forward to the Rugby attackers. Both were keen to get to the attacker and cushion the defence exactly how I asked them.  Lexie was asked to play a bit deeper today due to knowing the strength of the opposition. She was given a big task of liking the defence and the attack and I can't imagine the distance she ran today. She made some great defensive tackles in midfield, quickly changing it into a Rugby attack.
Aurora and Poppy were their usually tricky selves showing great attacking play and footwork. However as always they were willing to track back to win the ball back and help in defensive duties. Both players receiving knocks for their efforts, but with the use of rotations from the subs bench they got a breather ready to get back into the action. Both were a handful for PSA all game.  Sofia was so unlucky not to get a reward for her efforts today making some great runs, often a little isolated due to the formation taken to handle the strong opposition. But she never gave up which was great to see.
In the end the girls left their field with their heads held high. I think they genuinely gave PSA a shock today and I'd be very surprised if they have been pushed so hard this season.  Very proud of the girls today, everyone one of them gave their all, and all showed what they can do.