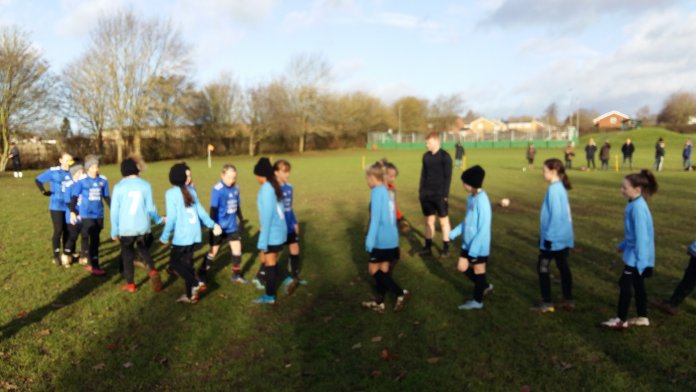 AFC Market Bosworth vs. Rugby Town Girls U10
Rugby Town travelled to Market Bosworth for a rare game on a grass pitch with a number of regular team members missing, but still with high hopes of another fantastic performance to follow last weeks. Sporting their new club Beanie hats the girls lined up against the friendly opposition who are always a pleasure to face, and we were assured of a competitive match played in the right way by two talented sides.
Layla bravely volunteered to step into the role of goalkeeper at short notice and did a fantastic job from the outset, bravely gathering the ball and making a number of close-range saves whilst also distributing the ball fantastically. Captain Isobel started in defence with her familiar counterpart Connie and both girls started well, making some important interceptions and breaking up play regularly with their relentless determination. Isobel went on to have a spell on the right-wing, where she made some surging forward runs and got a number of shots away.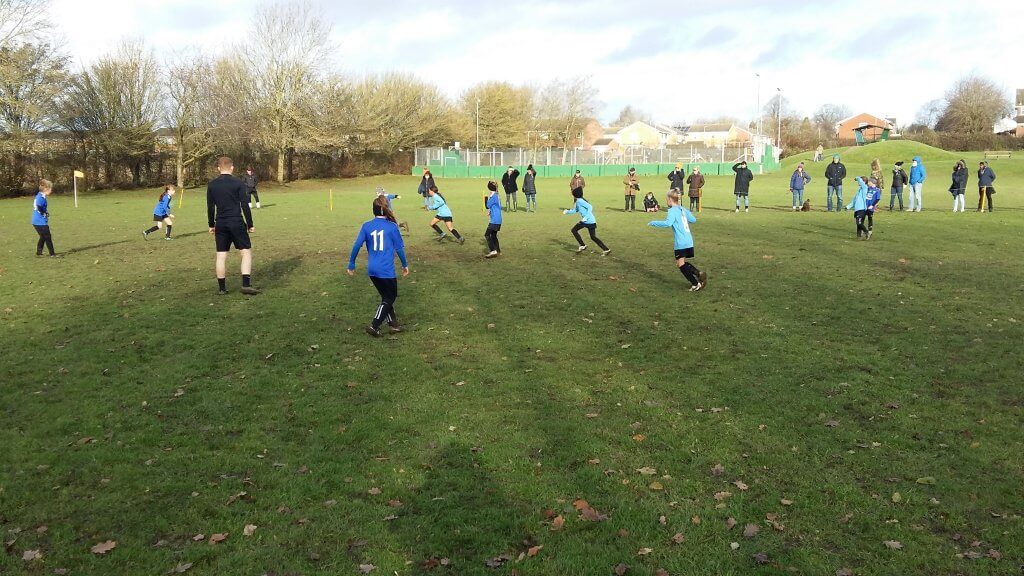 Izzy took up the central midfield role with confidence and was effective in thwarting the Market Bosworth attack whilst still getting forward to support the Rugby attack. With a serious injury to team stalwart Poppy, Lexie began the game on the left wing and was as competitive as ever, covering every inch of the pitch and tracking back to regain possession whenever needed – both girls' attitudes and team spirit were faultless as ever. Aurora on the right wing didn't stop running as always and her energy and determination were a real asset to Rugby going forward – she showed great confidence on the ball and bravery going into every challenge.
Sofia was her usual terrier-like self, hounding the Market Bosworth defence and not giving them time on the ball; she also showed great selflessness in attack, laying the ball off well and moving into space to help her teammates. Eleanor slotted effortlessly into the Rugby defence and made some brave challenges from the outset, she didn't shy away from any 50-50 challenge and was determined to break up play at every opportunity, always playing it safe and not taking any risks in front of goal.
Beth came on in central midfield and was a real asset from set pieces, doggedly marking the opposition throughout a string of corners, and she did fantastically to boss the middle of the park. Lola came on up front and put in a shift today, tracking back to get involved in play and winning the ball back for Rugby on numerous occasions – her pace and tenacity is always a threat for Rugby going forward.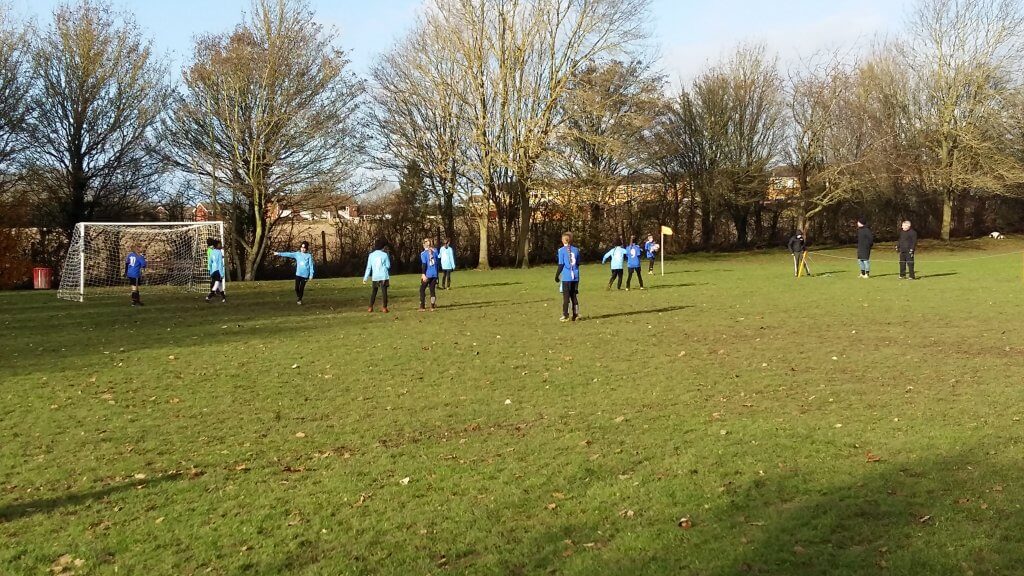 The girls were very unlucky today and the final result didn't reflect the game we watched; things just didn't want to bounce Rugby's way for a change and the opposition were clinical with the chances they had. All of the girls involved played really well and should be extremely proud of their performance – on another day the scoreline could have gone the other way and I think when we play Market Bosworth on the 3G it will be a different fixture. Well done to all the girls involved!
Player of the Match: Connie put in an exceptional performance in the Rugby defence and held off the Market Bosworth for large portions of the game – a fearless display!