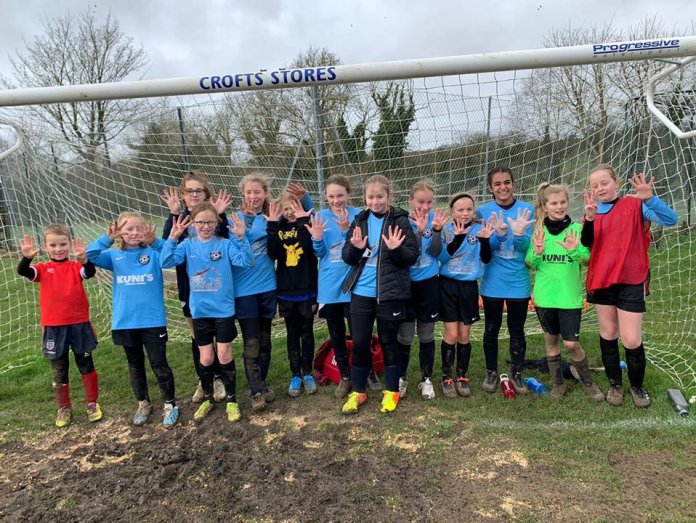 League Cup – Saturday 11th January 2020
Sponsors: The Shambles Restaurant, Lutterworth
Weather: Cold but wet, 8c
Rugby Team: Lily, Frankie, Emma, Carly, Jess, Charlotte, Ava, Rosie, Sophie, Zara, Skye and Evelyn.
Rugby last played Silverstone back in December in the league at Rugby's ground on a 3G pitch in which Rugby turned out as winners. This time it's a reversed fixture in the league cup at Silverstone's ground on grass.
1st Half
Rugby kick off and get possession but Silverstone are quick on the counter attack showing no remorse, but Frankie saves.  The spirit between Evelyn and Skye always shines on the pitch as the partnership never breaks down, Skye has a quick chance on Silverstone's goalkeeper but is unlucky.
Zara is being forceful down the wing, using her controlling skills with the ball, she crosses over to the path of Evelyn but the goalkeeper is on hand to intercept it from her.  In the 1st 5 minutes, Rugby are awarded corners but lose out each time. Amazing play and pressing between the quartet of Ava, Evelyn, Skye and Rosie allows Rosie to get a breakthrough and score 1-0 Rugby.
Emma and Jess are fearless in defence as Silverstone are struggling to get past them. Rugby are putting a lot of pressure on them and it's showing with only 10 minutes gone. Substitution made – Jess off and Carly on.  Silverstone get a quick explosion of attacking play but find themselves offside. Emma takes a free kick, and sees Evelyn in open space, scores, 2-0 Rugby.
After the restart, Carly has got her wits about her as its 3 on 1 in defence as Silverstone try their luck but get muddled up in the box, and Frankie makes a spectacular save allowing Rugby to regroup.  Zara is back commanding the right wing, bursting with energy and showing her determination on the pitch, she passes a through ball to Skye who is unmarked, takes one touch and shoots, 3-0 Rugby.
15 minutes gone and another substitute is made – Charlotte off, and Sophie (making her debut for the under 12s) goes LM. She is making an impressive start with help from Ava who is having a solid performance in CM. The pressing from Rugby is excellent with all players showing great endurance and stamina.  This time it's the partnership of Ava and Zara combining with Rosie and Evelyn who are taking control in the box between each other, there's a fumble on the line and goalkeeper is honest and says it's a goal; 4-0 now to Rugby. Excellent sportsmanship from Silverstone.
Another couple of substitutes are made, Evelyn off, Lily replaces her upfront. Zara off and Charlotte into LM, and Sophie into RM.
With having 3 subs this week, all players are getting their input on the pitch. Silverstone are calling the shots in the last 5 minutes and are trying their chances as they take a confident counter attack but on one occasion the ball goes over the crossbar and the other counter attack ball goes wide. All of a sudden, the defence are sucked into one player, it's laid off to another Silverstone player and they score… ball is chipped over Frankie's head. Nothing she could do! 4-1 scoreline and half time.
2nd Half
Rugby make some more substitutions – Jess back on, Emma off. Lily goes in goal, Frankie off and Evelyn back on with Zara off.  Silverstone kick off the 2nd half, Rugby's defensive line not really doing much as it's the midfield and forwards facing up to the players. Positions on the pitch were changing rapidly, Zara comes back on and Rosie is rested. Jess and Carly are strong, keeping the defensive line together.
Rugby are pressing in their own half with the quartet of Zara and Ava in midfield and Evelyn and Skye upfront, Silverstone kick out and Rugby get a throw in, Ava quickly takes and it goes across the path of Evelyn who has an open goal 5-1 Rugby.
Rugby's forwards are carrying on from where they left off at half time, they are overpowering Silverstone's defence, another throw in to Rugby this time Zara takes, Evelyn controls the ball but goalkeeper shows determination and gets control. Goalkeeper kicks out, struggles to get much distance and Ava is there to intercept it, shoots into an open goal 6-1 Rugby. Rugby are dominating the game at this point.  15 minutes gone and a couple more substitutions are made – Frankie on, Skye off and Ava off, Emma on.
Silverstone's turn to call the shots, Lily saves and fumbles in the box. Carly leaves the ball and Silverstone mop up to shoot and score, 6-2. They are straight back on the counter attack, Rugby's defence sit still as a ball is passed to the other side of the pitch thinking it's going out but it doesn't, it's sitting there as a free take, Silverstone's forward doesn't give up showing stamina and endurance who goes across the line, hits the back post and it goes in 6-3. Everyone is shell-shocked! Superb enthusiasm.
20 minutes gone and it's the partnership of Sophie and Frankie controlling the midfield  alongside Evelyn who is on target again 7-3 Rugby.  In quick succession, 2 goals are scored in less than 2 minutes, one by Rosie and one by Evelyn (her fourth!) – scoreline 9-3 to Rugby.
All of Rugby's players were outstanding especially Zara who was commanding on the pitch, she never stopped running and showed her endurance and energy levels. Also to Evelyn who was leading the formation upfront with the help from Skye, Ava and Rosie.
Overall performance in 3 words – Compelling! Concrete! Courageous!
Managers player: Zara
Parents player: Evelyn