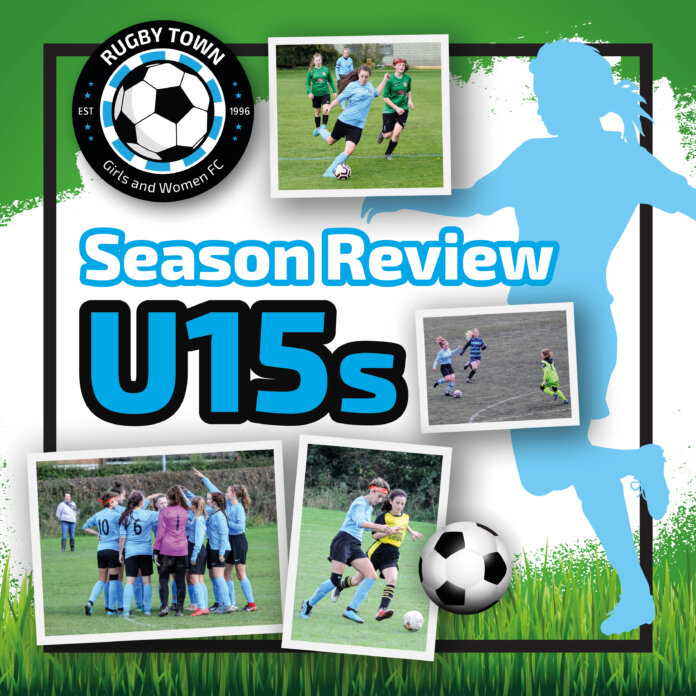 The players came into the new season off the back of a great run the previous year and League Cup and Leicester City tournament victories.  There were some changes to the squad with Molly and Kayla having signed for Birmingham City and new players Maisy, Alisson and Elisha joining the team and of course a change of venue to the club and a great new pitch to play home games on.
The girls had trained well pre-season and were prepared for the first season playing 11-a-side football.  In general results were up and down but the team started strongly with some good victories and generally pleasingly played their best games against the strongest opposition, even if results did not always go their way.  Injuries compounded the weather later in the season but the team were lucky to have played more than most early on and they showed that they were intelligent players who could adapt not only to the 11-a-side game but different styles and roles in the team, which was especially important with a relatively small squad.  The players always trained with enthusiasm and gave their best and enjoyed their time together and laid sound foundations for going forwards together as a squad.
Thanks once again to the parents for being behind the team so well by supporting the players and there always being a volunteer to help with running the line during a match or assisting with preparation, to Lee who in addition to coaching also once again sponsored the team and all their new kits and to Jill for running teambuilding sessions to aid the players.
Playing Squad
Ella
Team captain Ella was always determined and committed to the team and showed strong leadership to the team and effective communication. As happy taking the ball forwards from defence as thwarting opposition attacks and did plenty of both.
Jodie
It was Jodie's first season as full time goalie and performed well, learning and improving technique with Jake's coaching and making saves as the season progressed that would not have been possible at the start.
Lexy
Lexy continued her development as a really strong defender.  She was always really hard to beat and extremely consistent and also improved on playing the ball out of the defence and taking it forwards.
Erin
Erin developed into a strong defensive leader. Always strong in the tackle and in addition to learning and improving positionally, she added to her ability to play the ball out and move the team forwards.
Amber
Amber was a very strong defender with no fear and never gave up trying to stop the opposition. She also generally only needed a few minutes to get a goal if given a chance to move up front showing her versatility and ability on the pitch.
Maisy
This was Maisy's first season with the team and she was generally to be found driving the team forwards from midfield. Strong in the tackle and with a real ability to burst forwards and brush opponents aside and score important goals.
Mims
Mims often showed her extremely fast dribbling and troubled opposition defences when bursting forwards at full pace whether with ball at feet or making a run in behind. She scored plenty of goals with a variety of finishes.
Charlotte
Charlotte played mainly out wide but also in the middle when some additional steel was required. Some cracking goals from range and always a threat to the opposition with her direct play.
Cesca
Would often burst furthest forwards and then track back to last line of defence. Always working hard with or without the ball, pressing opponents and with skill and pace she would cause nightmares for opposition players. Both a provider and scorer of goals.
Megan
Whether playing as striker or out wide Megan would go directly at the opposition and cause problems and often be in the right place to score.
Josiane
Josiane played equally ably in defence and midfield; she is always a thoughtful player and by keeping possession would often give the team a platform to move forward and attack.
Savannah
Savannah played as a wide player who links well with others on the pitch.  She impressed most going forwards when being direct and using pace and strength to keep on the ball.
Charlie
Charlie unfortunately missed most of the season with injury but had some encouraging time on the pitch which showed when she recovers she will be a welcome addition back in the team.
Alisson
It was Alisson's first season playing football.  Always enthusiastic and at times she was a handful for defenders and scored her first goal.
Elisha
Elisha was another player in their first season of football and she always gave her all whilst learning and improving and gaining experience to take forwards.
Awards
There were votes for a variety of players in all the categories showing that a number of players had caught the eye this season.
Parent's Player – Amber
Always strong, always committed and consistently high standard of performance despite sometimes being hampered by injury.
Manager's Player – Cesca
A difficult choice as a number of players were committed in training and matches. One particular performance stood out to gain this award as often the best performances are in victory but a standout individual performance this season came in the toughest game at Cosby when Cesca was flat on her back at half time exhausted from her efforts and yet did it all again in the second half.
Player's Player – Lexy
Always working hard for the team and with a smile on her face.  An excellent and respected team mate for all the players.