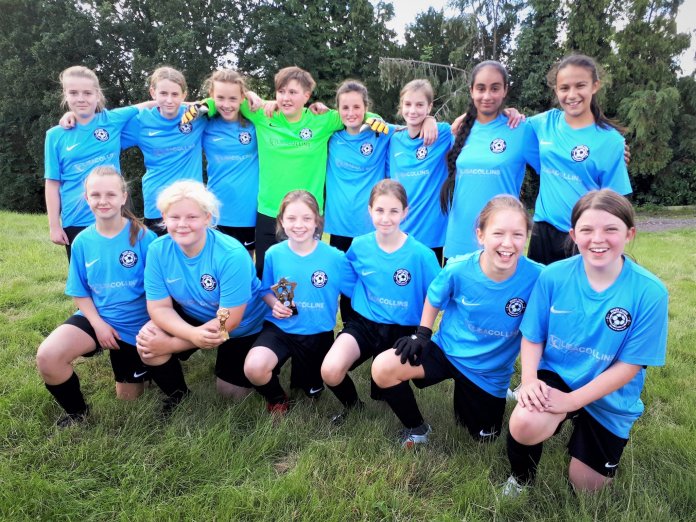 Sponsors: Lisa Collins Hair Design
Rugby Town Squad: Ellie (c), Ella, Hannah, Izzy, Evie, Tash, Sophia, Sophie, Ava, Mia, Lucy, Robyn
Rugby Town travelled to Leicester on a beautiful morning to play Leicester City in our first away game of the season.
1st Half
Rugby kicked off and were looking for their first away win of the season. The game was soon stopped as the opposition decided they wanted us to wear bibs due to similar kits. Upon the restart the Rugby team mounted a good combination with Tash and Evie working well together to push the Leicester defence back. Evie got a shot in on target forcing an early save from the Leicester keeper.
Back into play and Rugby won a thrown in and were back down to the Leicester half. However, Leicester, having and very good centre back, made short work of the clearance and mounted a counter- attack. This end to end play set the theme for the rest of the game.
Ella, Ellie and Izzy had a very strong game in defence, holding their lines well. Izzy, in particular had a much more confident performance today which was lovely to see. Sophia in goal, worked well with the back three and the communication in our defence is improving all the time.
In centre midfield, Sophie gave another strong and confident performance today, her energy and commitment to win back balls and stop Leicester play gave our opposition quite a few problems to deal with.
Ava, with a huge amount of determination was all over the pitch again, with her pace and athleticism proving very useful on several occasions when she was called upon to drop back and defend.
Leicester were really pushing the Rugby midfield now and were gaining more ground than the visitors would like them to have had. Ellie was her usual dominant presence in central defence and defended a Leicester short corner well. Leicester picked up the ball again and released a shot, calmed gathered up by Sophia.
Play switched from end to end with a good number of throw ins and corner for both teams. Rugby defended corners very well and were also proficient in delivering corners after some practice at our last training session.
Mia was kept very busy on the right wing as she was required to peg back some very quick Leicester players. Mia is always happy to get into the mix and proved a strong support for the Rugby midfield.
Leicester made a break down the right wing almost to the corner flag and the player released and exception strike and a tight angle which just came into the inside of Sophia.
Leicester City 1 – 0 Rugby Town.
Upon the restart, Rugby were chasing the equaliser and upped the tempo a bit. Ava was working her socks off and getting bashed about in the process, but continued to drive into her tackles, break play and get the elusive through ball for Rugby.
Tash was starting to come into her own and was trying to work the ball past the Leicester defence. Receiving slightly less service than they were used to, meant that Tash and Evie had to play a little deeper, collect the ball and then make their attacking runs. The Leicester defence spotted this quote early and did a proficient job of marking both of forward players well.
Ella finally found the space to deliver a good through ball to Tash who went 1 on 1 with the opposition who defended well and cleared for a corner, which was again cleared well by Leicester. Rugby were getting a little frustrated that it was proving challenging to break the Leicester lines, but kept on looking for chances to release Tash and Evie.
Evie took every opportunity to press the Leicester keeper, who kept and cool head, and despite Evie's efforts, she could not force a keeper error. Sophia had a busy last few minutes with Leicester mounting several waves of attack, but her determination and commitment to rush and kick / collect balls before an opposition attacker could get a toe to the ball, allowed Rugby to finish the half with only a one goal deficit.
2nd Half
Leicester kicked off the second half and were clearly keen to increase their lead. They gained and early corner, putting the Rugby defence under pressure and luckily for Rugby, just shooting wide. As in the first half, there was pretty much continuous end to end play with some significant midfield battles taking place.
Evie formulated and excellent individual effort down the right wing and very skilfully skipped past a couple of Leicester players. Evie released and excellent cross over to Tash, who had timed her forward run very well and connected for a very strong strike which just grazed the paintwork on the right post.
Again, Leicester worked there ay back down the pitch using Rugby defensive kicks into tough, and the subsequent thrown ins to make up ground. Leicester were pushing hard, and their attack forced a very skilful goal line clearance from Ella.
Rugby moved into a more positive spell with Ellie, Robyn and Evie joining up some good play and moving the ball up towards the Leicester goal. Robyn and Evie in particular working well together, just not finding that last pass or touch to complete some very good link up play.
Rugby pushing the defence forced and error when a Leicester defender passed back to their keeper who collected the ball up, the referee awarding Rugby free kick. Ellie stepped up and released an excellent shot which, beating no less than 6 Leicester players, stuck the ball perfectly in the top left-hand corner of the goal.
A brief second of delight was soon extinguished by the referee as the goal was disallowed as it was taken direct instead of indirect. Although the correct decision, Rugby found this to be very frustrating as they were not clear on the referee instructions and unconfident with the process. Additional frustration was added as the referee had allowed a good number of foul throws to be retaken by Leicester earlier in the game as a learning opportunity. It maybe would have been fairer to Rugby to use the free kick as a learning opportunity as well.
Understandably, a tired and disappointed Rugby Town team dropped their heads a little and the coaches worked hard to encourage then to move forward with a positive attitude and finish the game as we knew they could play.
There was lots of positive action from Rugby in the final minutes with Evie providing some excellent and impressive football down the right wing, Ella solid in left back and Lucy and Hannah showing great determination. Hannah, having her work cut out in central midfield, put in the effort right to the whistle. Lucy, in her best performance to date, provided some really sound defensive play.
Summary
Leicester City 1 – 0 Rugby Town
A good effort by the Rugby Town squad but a reluctance to challenge aerial balls proved to be a bit of an issue today. Confusion around the free kick also means we have a few things to work on this Friday at the training ground. However, the team are working very well with the offside rule and are settling into positions well which is good to see.
Coaches Player of the Match: for a very confident display throughout the game, which good communication and control: Sophia
Parents Player of the Match – for a hugely energetic performance with maximum commitment: Ava
Thank you to the parents for your continuing support and Darren for linesman duties.