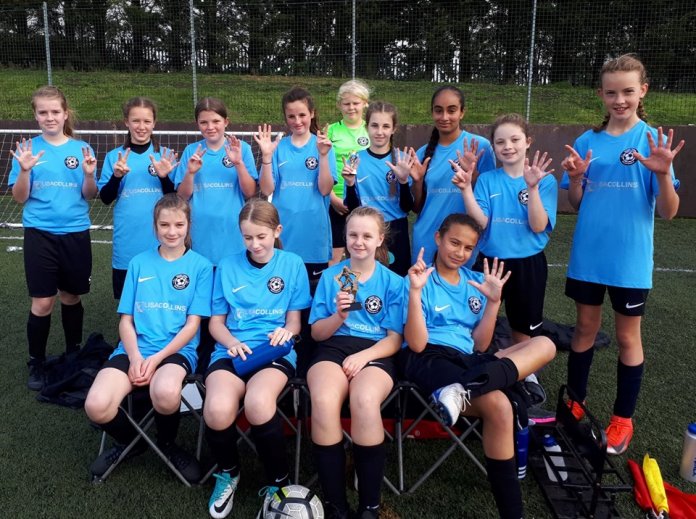 Rugby Town Girls U13 vs Greentowers Hinckley U13s – Sunday 6th October
Sponsors: Lisa Collins Hair Design
Rugby Town Squad: Ellie A, Ella, Kelsey (C), Hannah, Izzy, Evie, Tash, Sophie, Ava, Mia, Lucy, Priya Robyn
Rugby Town U13s faced a home tie against Greentowers Hinckley FC, who were sitting above Rugby in the league.  Eager to continue a good run, Rugby understood that this game may test them more than recent fixtures.
1st Half
Rugby Town kick off and win an early thrown delivered by Evie.  Greentowers are straight into the game and show impressive pace and strength down the right wing, something the Rugby team is going to have to manage.  This run allows Greentowers an opportunity of a shot which fortunately for Rugby is just wide of the right post.
Rugby have possession and nice combination play between Kelsey, Tash and Ava sees us push forward well. An overenthusiastic run forward sees Rugby caught offside. From the free kick, Greentowers dominate the left wing this time, and meeting very little in the way of resistance, open the scoring.
Rugby Town 0 – 1 Greentowers
Kelsey, Ava and Tash now settle into the game and a playing some good football.  Evie's positional runs on point again today Rugby win a corner which is cleared, only as far as Ella on the halfway line. Ella delivered a great ball back to Tash, who lacking confidence on her left foot, swapped the ball to her right and just shot wide of the left post.
Very little to separate the two teams at the minute with possession swapping frequently. Evie chips a lovely ball over to Kelsey who releases a great left foot shot to levelling the score sheet only minutes after the Greentowers opener.
Rugby Town 1 – 1 Greentowers
From the kick-off Greentowers just come right back at Rugby, catching their defence unprepared with a blistering attack, regain the advantage.
Rugby Town 1 – 2 Greentowers
Rugby are now trying hard to get back into the game and their determination levels to win and retain possession are clear.  Kelsey and Tash both have shots in quick succession, both shooting just wide.  The Greentowers keeper clears the ball, down to Mia in midfield who promptly boots the ball back to the keeper's hands, proving a few seconds of light relief to both teams.
Rugby have possession and Kelsey charges at the Greentowers keeper. The keeper keeps her cool and confidently runs out from her goal to stop Kelsey in her tracks with millimetres to spare. Some very impressive work by Greentowers.  End to end play continues with neither team managing to gain the ascendancy.
Kelsey in tackled heavily on a forward run and is awarded a free kick. Tash delivers to Kelsey who cross back to Task to shoot, forcing an excellent save by the Greentowers keeper.  Greentowers are very quick on the counterattack and are straight back to the Rugby defence, Ella making an important clearance and stopping the Greentowers charge.
The Rugby defence of Ella, Lucy and Izzy are really coming into their own now and working very well as a team, covering each other well and proving quite difficult to get past. Mia in CM and having a good half, is on hand to provide further defensive support as required, as well as feeding the Rugby wingers with some good passes.
Ellie has had a good half in goal, communicating well with her defence and collecting some good balls under pressure. A goal kick from Ellie is up to Kelsey on the bounce and with a double header and a tap in, Kelsey levels the scoring.
Rugby Town 2 – 2 Greentowers
Off again and Rugby, having now engaged 5th gear and realising they are more than a match for Greentowers, are starting to dictate the play. Ava delivered a perfect ball into to Kelsey who bangs in a hard-right foot shot to put Rugby in the lead. A great assist by Ava and finish by Kelsey.
Rugby Town 3 – 2 Greentowers
Rugby are flowing now, with some lovely football being player. Greentowers not getting much of a look in at all.  Ava, with an excellent throw in, finds Tash. Tash beats two of the Greentowers defence and sticks in a great right footed shot which the keeper has no change of saving.
Rugby 4 – 2 Greentowers
Although conceding two goals in quick succession, credit to Greentowers who did not let their heads drop and were back at Rugby, piling on the pressure and desperate to close the gap.  Rugby defence were well beaten and only a super reactive save by Ellie kept the ball out of the back of Rugby's net.
Kelsey collected the ball in midfield, making a great individual run, culminating in a strong and accurate shot, gave Rugby another goal and stretched the lead going into half time. Ava and Tash finishing the half with good work to get another shot on the Greentowers goal, just wide.
Rugby Town 5 – 2 Greentowers
2nd Half
Having experience the very skilful wingers and sharp counter attacked that Greentowers were more than capable of mounting, it was important that Rugby did not concede and allow the opposition back into the game.  Just minutes into the second half and Kelsey found herself with the ball and with acres of space on the right wing, took advantage, beat the defence and helped herself to another goal.
Rugby Town 6 – 2 Greentowers
Greentowers win a corner, and an uncharacteristically poor clearance by a Rugby player, sees the ball played in front of an opportunistic Greentowers player who was not about to let Rugby off the error, beating the Rugby keeper and pulling a goal back.
Rugby Town 6 – 3 Greentowers
Robyn was having an excellent game on the left-wing showing commitment in her tackles and her work rate to support the team brilliant. Evie having already played a full half and a bit, having run her legs of with some great play, comes off and Ava replaces her on the right wing.  Greentowers lift themselves up and are at Rugby again.  However, an eagle-eyed Robyn spots the dangers, wins the ball from Greentowers and passes to Kelsey, who has another huge run and a barnstorming shot for her 6th of the game.
Rugby Town 7 – 3 Greentowers
Tash replaced Kelsey up front and Rugby see a Greentowers corners shot saved by a diving Ellie.  Greentowers maintain their form and another ball forward again sees Ellie called upon to prevent a Greentowers goal.  Ava is bundled down just outside the Greentowers box and is awarded a direct free kick. The shot cleared easily by Greentowers.  There is very little respite and the game is back to similar end to end play seen in the first half.
Sophie showed huge passion in central defence, her blistering pace allowing a defensive track back to get Rugby out of a pickle on more than one occasion. Priya, playing her now usual insightful football, was working well with the Rugby midfield. Task, Priya and Hannah combining to gain a shot on goal, Hannah just shooting wide of the left post.
Mia was very eager to join back into the game so subbed in for Ava on the wing. Rugby now running down the clock carefully to ensure Greentowers were not given opportunities on the Rugby goal.  Tash, Priya and Hannah linked a lovely few passes together, and Hannah found herself on the left of the Greentowers box, one on one with the keeper.  Hannah just misconnected and the shot went wide.  The Rugby back line of Ella, Sophie and Izzy had a very strong second half. Their held their line well, caught Greentowers offside once and generally dealt with any issues swiftly and without fuss.
Summary
Rugby Town 7 – 3 Greentowers Hinckley FC
After a shaky first 10 mins, Rugby again pulled themselves up and dominated the game. After a strong performance in the league so far this season, Greentowers looked to struggle with a tenacious Rugby Team and a free scoring Kelsey!
Coaches Player of the Match: for a commanding performance in right back, displaying commitment and smart play; Izzy
Parents Player of the Match: for another great free scoring match with no less than 6 goals, dominating the Greentowers defence; Kelsey
The team and coaches would like to thank:
Parents for your continuing support and helping with equipment set up / put away.
Darren for "volunteering" for linesman duty.
Tony for refereeing